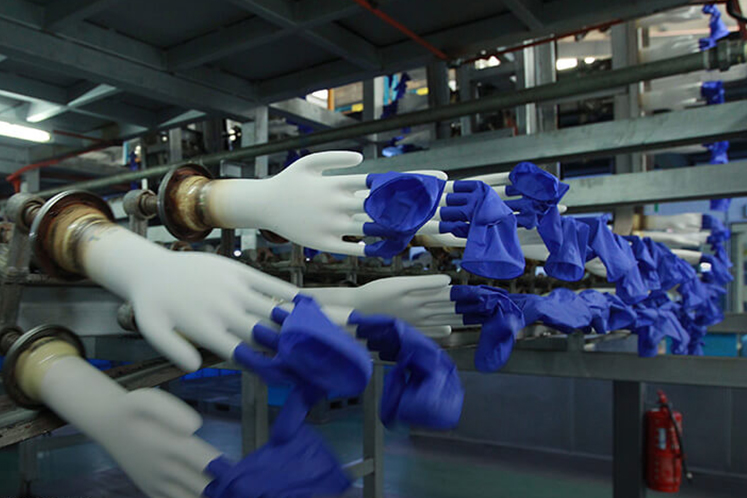 KUALA LUMPUR (Oct 9): Malaysia's projected rubber glove export for this year has been revised down to 188 billion pieces from 195 billion pieces earlier due to the current labour shortage, said Malaysian Rubber Glove Manufacturers Association (MARGMA) president Denis Low Jau Foo.
The figure is, however, slightly higher than the 172 billion pieces exported last year.
"We have to cut down on productivity due to labour shortage; thus for first six months of 2019, Malaysia's export of rubber gloves declined by 4.5 percent simply because we did not have enough workers.
"Hence we are asking the Government to allow us to hire more workers, while ensuring social compliance as set by the European Union (EU) regulations," he told reporters at the Malaysian Rubber Export Promotion Council (MREPC) and MARGMA networking dinner today.
Among others, the EU social compliance requirements include cutting down on overtime, which will result in rubber glove shortage.
Low said the association has appealed to the EU to give Malaysian industry players at least 18 months to adhere to the social compliance standards.
"We will comply, that is our promise to the world," he said.
Last year, Malaysia exported US$1.36 billion worth of rubber gloves to Europe.
Low said the MREPC is working on a Code of Conduct for the rubber product industry, focusing on several key issues related to the rights and welfare of workers to create a safe and conducive work environment.
It is hoped that the code will instil discipline among rubber product companies and ensure their adherence to ethical and best practices in terms of social compliance.
This year, the estimated global demand for rubber gloves is 300 billion pieces, worth US$4.95 billion (RM19.88 billion).
Malaysia is the world's largest producer and leading exporter of rubber gloves, accounting for 63 percent of the global supply, followed by Thailand (18 percent), China (10 percent) and Indonesia (3 percent).