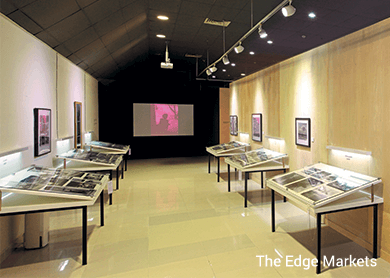 THIS is your last week to catch UNPACK-REPACK: Archiving & Staging Ismail Hashim (1940-2013), a hybrid exhibition that probes the intersections of a posthumous career retrospective and that of an ongoing archiving and unpacking of the estate of the late Ismail Hashim. 
This special showcase was curated by Wong Hoy Cheong, who worked together with archivist Nur Hanim Khairuddin and producers Iqbal Shamsul and Jaafar Ismail, from Fergana Art. It aims to present Ismail Hashim as a photographer and chronicler, a humanist and social observer of people and the environment. 
Ismail remained under the radar through much of his life, and in that time he crafted a complex and paradoxical world built with romance and ruthless scrutiny, framed by the indomitable passing of time, suffused with immense beauty and a hope for renewal but ruptured by the pathos of human inefficacy, frailty and mortality. 
Yet, he had an enduring faith in human courage and resilience, never losing his sense of irony and wit. He was everyman's photographer, who was able to call upon our collective memories to see and reconsider the familiar with new eyes. Ismail died tragically in a motorcycle accident at the age of 73, and today is the second anniversary of his passing. 
Six months after his death, Wong, Hanim, Iqbal and Jaafar ventured into his studio in Nibong Tebal, Penang, to begin the archiving process. Before he died, Ismail had been in talks to put together an exhibition of his work — so what was initially meant to be a living retrospective turned into a posthumous tribute.
Using the vast archives of approximately 20,000 photographs, negatives, slides, documents, books and objects as a starting point, this project sought to unravel the thoughts and preoccupations of the artist. It examines his works and archives from various trajectories, eliciting multiple narratives and readings, and it also lays bare the complexities of documentation and the staging of an artist's archive.
The resulting documentation, analysis, and archival displays form the core of what will be a publicly accessible archive and research hub related to both the artist and the photographic medium, a first for Malaysia. In doing so, the research-driven exhibition hopes to unravel, reveal and gain an understanding of a lifetime of work by this witty, intensely creative and talented man. 
UNPACK-REPACK debuted at Penang's Whiteaways Arcade last year as part of the George Town Festival, and opened at Balai Seni Lukis in KL in February. With more space to play with, the exhibition is much expanded and is a most worthy tribute to Ismail's creative spirit and passions outside of his work. 
Divided into six different sections, the showcase is a unified approach to presenting the breadth of the archiving process. 
Looking Out expresses Ismail's constant desire to travel, his passion to roam with a hungry heart. This section includes images of Ismail photographing while riding on his motorcycle, which establishes his physical and spatial relationship to the surroundings. It examines Ismail's view of the external world, absorbing and capturing the vastness of the land and her people, scrutinising the social and material environment.
Looking In, conversely, is a space for pause and reflection. Ismail goes from commentator of the external world to the world inside, and the images here range from house and home, to family and pets, to the in-between space of garden and compound which buffer the home from the world beyond. The viewer inadvertently becomes a voyeur into this world.
The next section offers a deeper understanding of Ismail's life with a biographical map of the artist as a creative and social being. As The World Turns consists of photographs, drawings, paintings and graphic works exhibited alongside vitrines displaying personal notes, documents, books and newspaper clippings drawn from the artist's archive as well as public records. It begins, hauntingly, with the artist's birth certificate and ends with the last photographic outing on the day the artist died.
Going Bananas is a title and idea used repeatedly by the artist for many of his works on the subject of "all things bananas", and is an apt way to title a section on Ismail's physical environment. This section, which includes stunning recreations of Ismail's studio and darkroom, includes his photographic tools and archives and documentations of his methodologies and processes. 
Yang 'Tu Yang 'Ni, the title of Ismail's 2008 solo exhibition, is a colloquial and casual phrase in Bahasa Malaysia that means "this and that". The single word "yang" also connects parts of sentences and to introduce attributes, physical and metaphysical, transcending time and location. While the previous section presented the artist's works in terms of subject matter and chronology, this space explores the "this and that" of existence: among them, memory and absence, ephemarality and mortality, rationality and spirituality, humour and melancholia, truth and beauty.
The classification, documentation and restoration of Ismail's archives have been ongoing since last year. Thus far, about 14,000 items — including photographs, negatives, slides, notes, documents, books and objects — have been classified, digitised and documented. The final section, Living Archives, consists of over 2,000 items of the archive that are ready to be accessed and made public for viewing and online research.
---
UNPACK-REPACK: Archiving & Staging Ismail Hashim (1940-2013) runs until June 30 at Balai Seni Lukis Negara, Jalan Bachang, off Jalan Ipoh, KL. Opening hours are from 10am to 6pm daily. Admission is free. See www.artgallery.gov.my for more details.
This article first appeared in The Edge Financial Daily, on June 22, 2015.