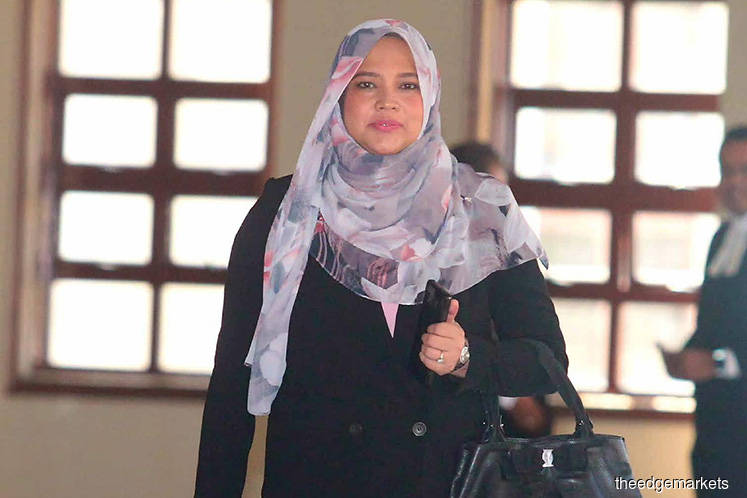 KUALA LUMPUR (May 14): Witness Azlida Mazni Arshad (pictured) has affirmed that the minutes of meeting of Kumpulan Wang Persaraan (Diperbadankan) (KWAP) never indicated that it was forced to approve loans to 1Malaysia Development Bhd's former subsidiary SRC International Sdn Bhd.
During cross-examination in the High Court here today, Datuk Seri Najib Razak's lawyer Harvinderjit Singh asked Azlida, who is the legal and secretarial vice president of KWAP, if any member of the investment panel had expressed their opposition to the facilities granted to SRC in any of the meetings held, as this would be reflected in the minutes of meeting taken by the witness.
"Not in the minutes," said the witness.
"It is also not in the minutes that the panel had no choice in the matter as the then prime minister Datuk Seri Najib had asked for the loan to be approved," said Harvinderjit.
Later, he brought up the handwritten note by Najib, which stated his agreement with SRC's application for a RM3.95 billion loan.
He then asked whether the witness agreed that the note was not an instruction from Najib but rather just a statement in agreement, to which the witness agreed.
She also agreed that the prime minister or the finance minister would not have any power to approve the facility.
Earlier, Azlida explained the process in which KWAP approves loans and answered questions from Harvinderjit on the role of the fixed income department as well as the investment panel.
She said the fixed income department has the power to oppose any loan that KWAP proposed to extend.
Harvinderjit went on to point out that the fixed income department and the investment panel had both approved the papers prepared for the SRC loans.
Najib is on trial for seven graft charges related to the misappropriation of RM42 million from SRC. He is facing one count of abuse of power, three counts of criminal breach of trust, and three counts of money laundering.