This article first appeared in The Edge Malaysia Weekly, on April 9, 2018 - April 15, 2018.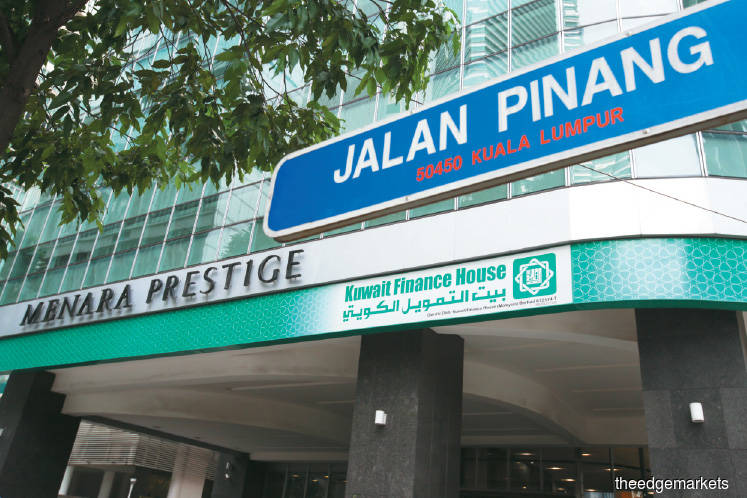 KUWAIT Finance House is offering Menara Prestige, located at a stone's throw from the Petronas Twin Towers in Kuala Lumpur, for sale. It is seeking RM700 million to RM750 million for the Grade A office building, sources say.
Situated at the corner of Jalan P Ramlee and Jalan Pinang, the building is owned by Prestige Scale Sdn Bhd, which, in turn, is owned by Intrared Sdn Bhd.
Kuwait Finance House (M) Bhd and Cayman Islands-registered GRE Investment Ltd own 19% and 81% respectively of Intrared. GRE Investment is understood to be linked to KFH.
"We have addressed the matter with our principals in Kuwait and await their further advice," a KFH Malaysia spokesperson tells The Edge when contacted to confirm the planned disposal and why the company has decided to dispose of it.
Nevertheless, a Savills Malaysia spokesperson confirms that Savills has been hired as the exclusive marketing agent for Menara Prestige, although he would not elaborate.
Rumours of the possible sale of the office building — previously known as Glomac Tower — have been circulating for several years now but this is the first time an agency has been hired to seek bids from interested parties.
The 36-storey Menara Prestige has a net lettable area (NLA) of 550,000 sq ft and over 800 parking bays. It is located at 1 Jalan Pinang, and while not an MSC-status building, it is said to be MSC-ready.
The Edge believes KFH's decision to seek bids for the asset — handed over to it by the developer just 6½ years ago in November 2011 — was prompted by the building's healthier occupancy rate after it signed on American Express Malaysia and oil and gas industry service provider Petrofac as tenants.
"The owner had always intended to sell the building but its low occupancy meant that the offers were not very good," an industry observer explains.
Sources say the two tenants are significant and have helped lift occupancy to 80%.
It is learnt that the rental rates at Menara Prestige are RM7.50 psf for the lower floors and RM8.50 psf for the higher ones.
KFH had bought the yet-to-be-built office tower for RM576.85 million from Glomac Bhd's 51% subsidiary, Glomac Al Batha Sdn Bhd, in 2008. Data sighted by The Edge shows that the planned building had an NLA of 524,266 sq ft, which means KFH paid RM1,100 psf. However, it is unclear why more recent articles place the NLA at 550,000 sq ft.
At 550,000 sq ft, the asking price of between RM700 million and RM750 million would net KFH between RM1,273 psf and RM1,363 psf.
Recent notable office building transactions in the Golden Triangle include Wisma Selangor Dredging, and both Vista Tower and Integra Tower at The Intermark.
Last year, Selangor Dredging Bhd sold the 30-year-old Wisma Selangor Dredging (NLA: 362,782 sq ft) in Jalan Ampang for RM480 million to Golden Eagle Realty Sdn Bhd. The deal worked out to RM1,323 psf, which was at a 29% premium to market value.
In April 2015, Kumpulan Wang Persaraan (Diperbadankan) (KWAP) bought the 39-storey Grade A Integra Tower in Jalan Tun Razak for RM1.065 billion or RM1,400 psf from BlackRock Inc. Integra Tower has an NLA of 760,715 sq ft and 850 parking bays.
Last September, BlackRock sold Vista Tower to AmanahRaya Real Estate Investment Trust for RM455 million or RM825 psf. The price was considered a steal as BlackRock had only a little over three months left before the expiry of fund life and it had to sell the asset.
Meanwhile, a search on the Companies Commission of Malaysia's (SSM) website reveals Prestige Scale's directors to be Ghanem JO Al Banwan, Ahmad YAAF Al Humaidi, Razali Abdul Rashid, Julio Francis Lobo and Saleh TSH Al Khamees. Saleh, Ghanem, Ahmad and Razali also sit on the board of Intrared, whose one other director is Wee Kim Peng.
Based on the latest financials available on SSM's website, Prestige Scale posted a net loss of RM300,788 on revenue of RM24.32 million in its financial year ended Sept 30, 2016. Its accumulated losses amounted to RM88.12 million.
Menara Prestige's history can be traced back to November 2006, when Glomac Al Batha — 49%-owned by Al Batha Real Estate Co — bought a 35,099 sq ft piece of land from Siew Hoe Realty Sdn Bhd and another 21,926 sq ft plot from Creative Harvest Sdn Bhd for a total of RM57.03 million or RM1,000 psf.
In March 2008, Glomac Al Batha sold the building en bloc off-plan to Prestige Scale.
Save by subscribing to us for your print and/or digital copy.
P/S: The Edge is also available on Apple's AppStore and Androids' Google Play.