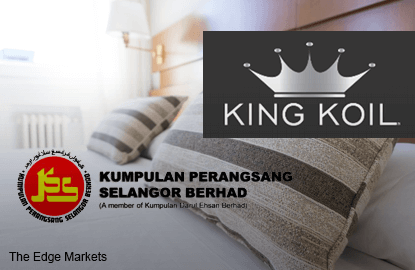 KUALA LUMPUR (May 13): Kumpulan Perangsang Selangor Bhd (KPS) has bought a 60% stake in the licence holder of the King Koil mattress brand, a company currently owned by Can-One Bhd's director and major shareholder, Yeoh Jin Hoe. The price tag for the stake is US$28.8 million (quoted as RM115.93 million).
In a filing with Bursa Malaysia today, KPS said King Koil mattresses have been generating profits with margins of over 25% in earnings before interest, taxation, depreciation, and amortisation (Ebitda) for the five years up to 2014. The brand is also available in 80 countries, and is used by international hotel groups.
KPS said it today signed a share sale agreement with Yeoh for it (or a special purpose vehicle) to buy a 60% stake in Kaiserkorp Corp Sdn Bhd. Previously, Yeoh held 99.9% of the company while his brother Jin Beng held the remainder. After the purchase, the two owners of the company are KPS or a special-purpose subsidiary (with a 60% stake) and Yeoh (40%).
"King Koil products are available in over 80 countries via agreements with 31 licensees. Its prodigious history, which spans over a century, started in the US, which had been the world's largest mattress market until it was overtaken by China in 2014. In the US today, King Koil is ranked the seventh largest bedding producer in terms of sales," said KPS.
"The brand licensing business model represents high growth potential, as the revenue is mainly derived from collection of royalty payments based on the terms of the licence agreements. The business also requires minimal capital expenditure in the future," it added.
Apart from that, the company said the previous owners of King Koil, a brand that has been established for over 100 years, have received 80% of annual net profits as dividends, given the business' strong dividend-paying capability.
Kaiserkorp completed its acquisition of the King Koil brand licensing business in the first quarter of 2015, KPS said. But in the financial year ended Dec 31, 2015 (FY15), Kaiserkorp made a net loss of RM2.02 million on revenue of RM29.25 million.
KPS explained that the revenue came only from its subsidiaries in the US. They were profitable, but Kaiserkorp at the group level made a loss because of its interest expense on its borrowings.
"Interest-bearing borrowings include term loan from a financial institution to fund Kaiserkorp's acquisition of King Koil of RM90 million. In accordance with the terms of the share sale agreement, the term loan will be fully settled out of the purchase consideration," said KPS.
KPS has been low in debt after selling off its 90.83% ownership in Titisan Modal Sdn Bhd, the owner of water treatment operator Konsortium Abass Sdn Bhd, to the Selangor state government. Even though nearly half of the fund to purchase Kaiserkorp will come from bank loan (at RM55.93 million), its gross gearing level will only rise to 0.07 times from 0.02 times as at Dec 31, 2015.
After the purchase, KPS said its pro-forma interest-bearing borrowings will rise to RM86.47 million from RM30.13 million.
KPS shares rose two sen or 1.92% to RM1.06 upon closing today, bringing its market capitalisation to RM528.94 million.