This article first appeared in The Edge Financial Daily, on December 18, 2017.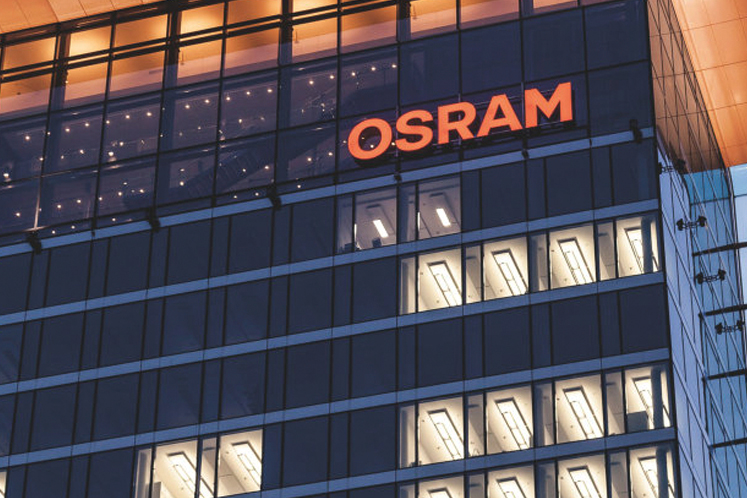 KUALA LUMPUR: Osram Licht AG is a step closer to becoming the world's top producer of opto semiconductors for general lighting with the opening of its new €370 million (RM1.78 billion) plant at the Kulim Hi-Tech Park in Kedah last month.
"For more than one decade, Osram has been a strong number two in the market for opto semiconductors for lighting with a market share of more than 8%," said Osram chief executive officer Dr Olaf Berlien.
"With our new capacities in Kulim, the gap to the number one (Nichia Corp) will shrink further," Berlien told The Edge Financial Daily in an email interview.
He said the Malaysian facility (including its Penang plant) places the German-based group in pole position in the LED (light-emitting diode) market as the Kulim plant enables the company to produce higher-quality goods more effectively and at a lower cost than its competitors in Asia.
According to Osram, the Kulim plant will be the first to bring together all of the production steps involved in chip manufacturing under one roof. The plant employs about 1,500 people, while its Penang plant has 7,700 workers.
"In our opto-semiconductor business, we have reached an operating margin of more than 28% before the opening of our new fabrication plant (in Kulim)," said Berlien.
"Our target for the coming years is between 25% and 29%. Of course, the cost factor in Malaysia plays a role but our venture in Kulim is more about raising capacity for a still growing demand," he said.
Osram has planned for two more phases for the Kulim plant in a total investment of €1 billion, he said, adding that the second phase is expected to start next year.
According to the company, once the final phase of construction is completed in 2020, the Kulim plant will be the largest and most modern six-inch LED chip factory in the world.
LEDs categorised as opto-electronic devices have seen more than 25% growth at times over the past year, Osram said on its website.
It added that the plan is to produce LED chips in Kulim in the medium term for premium applications like automotive lighting and video projection.
It will make blue LED chips with a phosphor layer that can generate white light, and fulfil general lighting needs, such as street lighting and interior building lighting, and special applications like those in horticulture.
Berlien said the close location to its Penang production site ensures optimal ramp-up, and is ideal to engineer products and technology.
Separately, Osram's semiconductor unit chief executive officer Aldo Kamper said that considering the growth rate of 19% over fiscal year 2017, the business unit can make good use of new capacities.
Describing how productive the new plant would be, Kamper said: "Just one week's production would be sufficient to convert all the street lighting of the metropolises of New York, Rio, Hong Kong and Berlin to LED".
Meanwhile, Berlien said the opto semiconductor segment contributed €1.7 billion revenue in the financial year ended Sept 30, 2017.
He said Osram is active and well positioned in fields such as automotive front lighting, and sensing comprising light sources and sensors for autonomous driving, virtual and augmented reality or light sources for horticulture.
"The market continues to be dominated by the replacement of traditional lighting with efficient LED lighting, while the LED share in the automotive segment is growing rapidly in interior lighting, and headlights.
"We also are developing exciting technologies for autonomous vehicles and using our LED chips; we are enabling new technologies for vehicle sensing, orientation and navigation.
"Our horticulture lamps are designed to grow leafy greens and herbs in a controlled environment, ensuring plants receive the best light to grow to their fullest potential with improved flavour," he added.
Osram is also growing in the premium LED segment, investing in new technologies such as laser light, and expanding its technological expertise.
"This demonstrates that Osram's growth rests on several pillars — and the major investment in Kulim is an integral part of that," he added.
According to Osram, the global LED market for general lighting is estimated to be €6 billion in 2018, roughly 6% of which is for street lighting. An average growth rate in the market of 7% per annum is foreseen through 2020. The overall market for optoelectronic components — including general lighting — will be €17.5 billion in 2018.