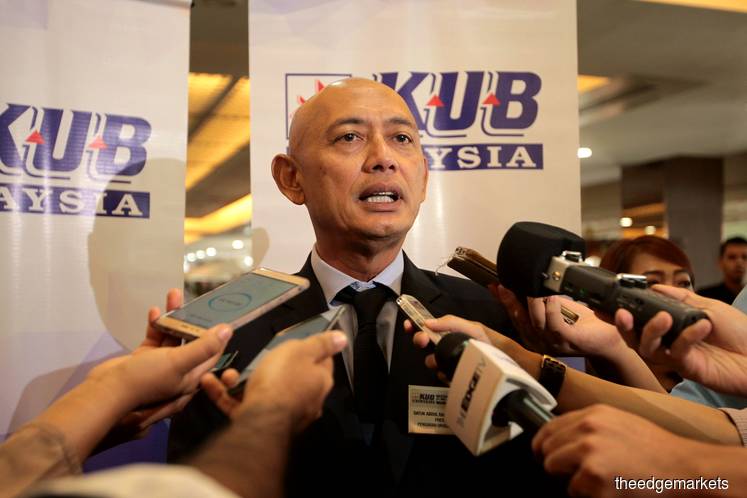 KUB president and MD Datuk Abdul Rahim Mohd Zin speaking to reporters after the group's AGM here today. Photo by: Mohd Suhaimi Mohamed Yusuf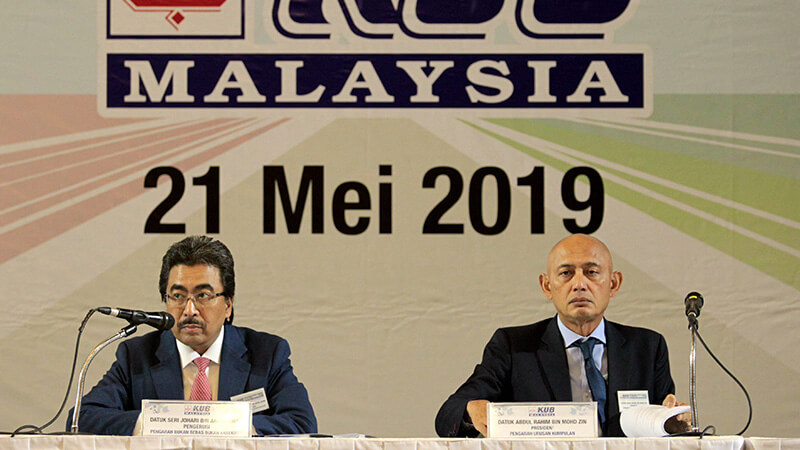 (From left): KUB chairman Datuk Seri Johari Abdul Ghani with Abdul Rahim at the group's AGM today. Photo by: Mohd Suhaimi Mohamed Yusuf
KUALA LUMPUR (May 21): As part of a bid to improve its finances, KUB Malaysia Bhd is looking at laying off part of its 270-strong staff within the financial year ending Dec 31, 2019 (FY19), said its president and managing director Datuk Abdul Rahim Mohd Zin.
Speaking to reporters after its annual general meeting here today, he said the group was still "figuring out" how many employees would be affected by the retrenchment exercise, but noted that staff at its palm oil estates would be spared due to a shortage of manpower.
While vague on details, Abdul Rahim said any offers made to the affected staff would be "good" and that the exercise will take place during this financial year (FY19).
Meanwhile, the group is looking at selling its palm oil mill in Sarawak, and it was in advance stages of negotiation with a buyer.
"This will help to improve our cash flow situation, especially as we have bank borrowings for the mill, and eliminate losses from the mill," said Abdul Rahim.
Abdul Rahim said an announcement on the sale will be made within the next two to three months.
He added that the group is also looking to dispose of some its non-core properties, but the prices are "challenging" to sell at.
When asked if the group was aiming to increase its land bank in East Malaysia, he replied: "We were badly hit on our cash flow, but we need to focus on our investments."
According to KUB's FY18 annual report, in total, the group has three properties in Sarawak — two oil palm estates and a palm oil mill.
Its Sungai Buloh and Sungai Nape estates have a combined area of 4,676.2 hectares (ha) amounting to RM48.22 million.
The estates are owned by subsidiary KUB Sepadu Sdn Bhd.
The third piece of Sarawak property is its mill, KUB Maju Mill Sdn Bhd, which is an 88,745 sq ft palm oil complex worth RM45.48 million that is currently being put up for sale.