This article first appeared in City & Country, The Edge Malaysia Weekly, on June 8, 2020 - June 14, 2020.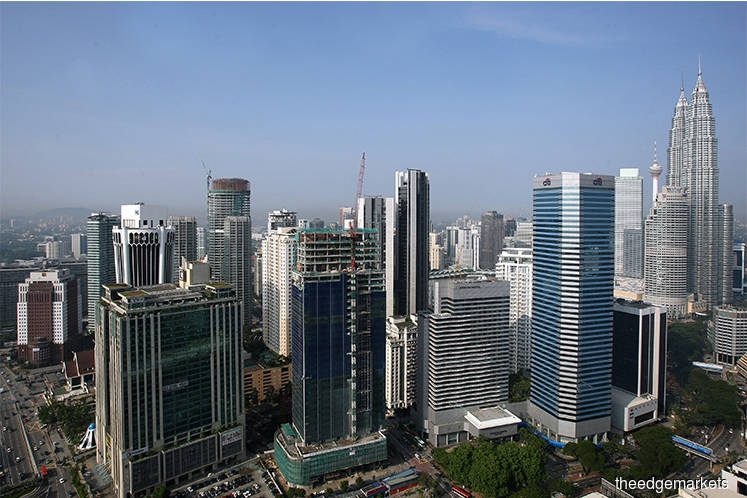 The Covid-19 pandemic continues to impact lives, economies and societies as countries close borders, impose lockdowns and restrict travel to contain the spread of the coronavirus. The severe disruptions have taken a toll on many sectors and industries, including real estate.
"In the near term, the pandemic will exert further pressure on rental and occupancy levels of the oversupplied Klang Valley office market as businesses struggle amid the Movement Control Order (MCO), which has been in place since March 18, [and the Conditional MCO]. In KL city, the impending completion of a high-supply pipeline in the short to medium term will add further pressure on the office market," says Knight Frank Malaysia executive director of corporate services Teh Young Khean in presenting The Edge/Knight Frank Kuala Lumpur and Selangor Office Monitor 1Q2020.
Teh notes that the MCO has forced many companies to limit or halt physical operations and work more flexibly and remotely. "This sense of uncertainty will lead to slower demand as businesses and occupiers will likely postpone major expansion or relocation decisions. In the immediate term, preceding the lifting of the current CMCO, co-working or flexible space may be less popular as there will be reduced desire for clients or members to congregate and interact in person in one location.
"However, once confidence has been restored with businesses back to work as usual, co-working or flexible space may still be a good option for new occupiers/start-ups as well as larger corporations that wish to navigate in the near term before committing to a longer-term plan," says Teh.
On a positive note, Teh says the government has launched a few economic stimulus packages to cushion the impact of the Covid-19 pandemic. The latest package of RM10 billion is aimed at supporting struggling small and medium enterprises (SMEs), which contribute 40% to the national economy. The government also encourages private property owners to provide at least 30% rental discounts to SMEs during the MCO and three months after it ends by granting these landlords equivalent tax deductions. In addition, SMEs operating at premises owned by government-linked companies (GLCs) will also enjoy rent exemption or discounts.
"Amid challenges in the office market, selected real estate investment trusts (REITs) and landlords of older and dated office buildings are reportedly focusing on asset management and enhancement initiatives by refurbishing or upgrading their office buildings.
"To increase competitiveness and occupancy levels, they are also motivated to adopt more effective leasing strategies that are centred on tenant retention and [are able to] attract new occupiers," says Teh.
A slight dip in rents and occupancy rate
According to Knight Frank Malaysia executive director of capital markets James Paul Buckley, in 1Q2020, there was limited evidence to indicate a drop in values but the volume of commercial transactions was significantly impacted by the unexpected change in government, drop in oil prices and the Covid-19 pandemic.
"The curtailment of face-to-face meetings between agents, buyers, vendors and lenders since the MCO will continue to impact transaction volume in the second quarter. Many owners of large commercial properties have decided to delay the marketing of their properties but there is more activity in the smaller building lot size. We expect to see some pressure on pricing in the coming months, although the impact will vary significantly in different markets across Malaysia," says Buckley.
He believes the impact could be tempered by the offsetting influence of substantial interest rate reductions.
On May 5, Bank Negara Malaysia cut its overnight policy rate (OPR) by 50 basis points (bps) to 2%. It said the ceiling and floor rates for the OPR had been reduced to 2.25% and 1.75% respectively. With the latest cut, the OPR has been reduced by a total of 100bps since the start of 2020.
"Amid an uncertain economic climate and poor sentiment, the reduction will have a positive impact to support property yields," says Buckley.
In the quarter under review, Prime A+ and Grade A rental rates in KL city have dipped marginally. Rents in new CBD Prime A+ offices declined 0.4% to RM10.77 psf, new CBD Grade A rents were down 0.3% to RM6.60 psf and old CBD Grade A rents dropped 0.8% to RM5.37 psf quarter on quarter (q-o-q).
Meanwhile, in KL fringe, there was little movement in Grade A rental rates. Damansara Heights and Mid Valley City/KL Eco City (MVC/KLEC) saw marginal changes of -0.7% (RM5.55 psf) and 0.1% (RM6.14 psf) q-o-q respectively.
Rental rates in KL Sentral (RM7.15 psf), Taman Tun Dr Ismail (TTDI)/Mont'Kiara/ Dutamas (RM 5.39 psf), Bangsar South/Kerinchi (RM5.57 psf) and Pantai/Bangsar (RM5.87 psf) remained unchanged.
The overall rental rates in Selangor, too, were unchanged at RM4.32 psf q-o-q. Petaling Jaya, Shah Alam and Cyberjaya stood at RM4.55 psf, RM3.41 psf and RM4.09 psf respectively. Subang Jaya registered very minimal growth to RM4.37 psf from RM4.36 psf in the previous quarter.
As for average occupancy rates, sampled offices in the new CBD and old CBD in KL city registered 69.8% (+0.2% q-o-q) and 71.9% (-4.3% q-o-q) respectively. The decrease in the latter was due to tenant movements from Cap Square Tower. The overall average occupancy rate was down 0.5% q-o-q to 70.1%.
The overall average occupancy rate in KL fringe was up 0.5% from last quarter to 86.4%. KL Sentral stood at 96.3% (+0.1%), TTDI/Mont'Kiara/Dutamas at 84.4% (+1.1%), MVC/KLEC at 71.4% (+2%) and Pantai/Bangsar at 81.8% (+1.4%).
According to Teh, there were tenant movements in Menara LGB in TTDI/Mont'Kiara/Dutamas, Mercu [email protected] KLEC in MVC/KLEC and Vertical Corporate Tower B in Pantai/Bangsar.
Damansara Heights saw a dip of 1.5% q-o-q, recording an average occupancy rate of 79.8%, owing to movement of tenants from Menara Millennium. Bangsar South/Kerinchi remained unchanged at 91.5%.
Over in Selangor, the overall average occupancy rate increased to 78.7% from 78.1% last quarter. All localities saw higher occupancy rates. Petaling Jaya registered 78.3% in 1Q2020, up from 77.6% last quarter; Subang Jaya at 81.5% from 80.8% q-o-q; Shah Alam at 87.9% from 86% q-o-q; and Cyberjaya at 76.1% from 75.9% q-o-q.
Meanwhile, Kuala Lumpur registered negative net absorption of about 63,388 sq ft in 1Q2020, mainly due to significant tenant movements from Cap Square Tower. Selangor fared better with net absorption of about 107,130 sq ft in 1Q2020, which was attributed to positive tenant movements to newly completed office buildings such as 1 Powerhouse and Symphony Square.
The current estimated supply of office space in KL city is 55.88 million sq ft; KL fringe, 29.43 million sq ft; and Selangor, 23.20 million sq ft, bringing the total estimated supply to 108.51 million sq ft.
Knight Frank Malaysia projects an increase of 12.3% over the next three years. KL city leads with 7.73 million sq ft under construction, followed by KL fringe with 3.15 million sq ft and Selangor with 2.49 million sq ft, bringing the total to 13.37 million sq ft.