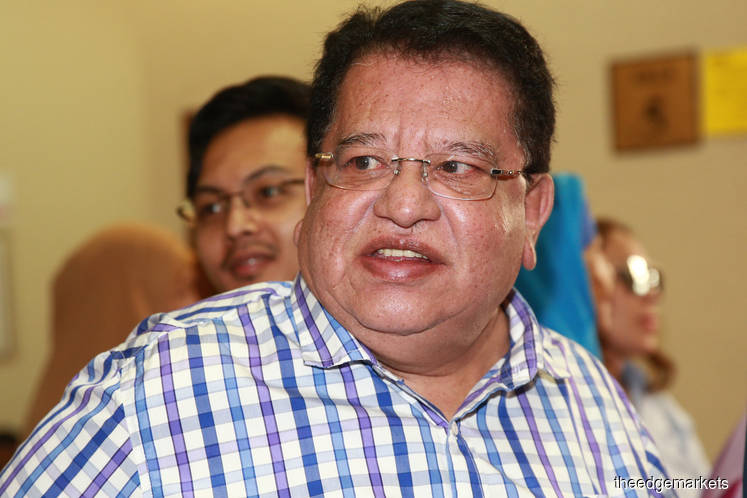 KUALA LUMPUR (Sept 19): Former federal territories minister Datuk Seri Tengku Adnan Tengku Mansor has filed an application requesting High Court judge Mohd Nazlan Mohd Ghazali to recuse himself from hearing the former's RM1 million graft case scheduled today.
This followed Tengku Adnan claiming that the judge, who had fined a businessman RM1.5 million for abetting him in receiving the money, will not give the former minister a fair trial.
Tengku Adnan, popularly known as Ku Nan, filed the motion yesterday afternoon with his supporting affidavit.
This is Ku Nan's second corruption case, which was expected to go on trial today and was supposed to be jointly tried with businessman Datuk Tan Eng Boon's case.
However, in an unexpected turn of events, the property developer, who is also the co-accused in this case, pleaded guilty two days ago to an alternative charge for abetting Ku Nan in receiving a RM1 million bribe. Eng Boon was let off with a fine after he agreed to testify as a prosecution witness in Ku Nan's trial in exchange for not serving a jail sentence.
Lawyer Datuk Tan Hock Chuan, who represents Ku Nan, told the High Court that his client is very concerned that he would not get a fair trial, as the judge had already heard the facts of Eng Boon's case during sentencing.
Apart from requesting the judge to recuse himself, Ku Nan also wants his case to be transferred to another High Court presided by a different judge, claiming that there are another four  judges who can hear his case.
In his supporting affidavit, Ku Nan expressed doubts that Justice Mohd Nazlan may be influenced by the facts of Eng Boon's case, after having sentenced the businessman on Tuesday.
The former minister said the judge had made his remarks by stressing that corruption is a very serious crime as it undermines the country's social and economic development and adversely affects the fabric of society.
"In addition, the media had also reported that Tan Eng Boon agreed to testify as a prosecution witness in my upcoming trial.
"Justice must not only be done, but must also be seen to be done," Ku Nan added.
In reply to the defence's application, deputy public prosecutor Julia Ibrahim said the prosecution needs more time to file in the affidavit-in-reply as it had merely received the application yesterday.
Justice Mohd Nazlan ordered the prosecution to submit the replying affidavit by 3pm today, and he will hear the recusal application tomorrow.
On Nov 15 last year, Eng Boon, 70, a director of a property development company, pleaded not guilty to a charge of giving a bribe to Ku Nan, 68, by depositing a RM1 million Public Bank cheque belonging to Pekan Nenas Industries Sdn Bhd into Ku Nan's CIMB Bank account.
It was allegedly a reward for Ku Nan for approving an application by Nucleus Properties Sdn Bhd (now known as Paragon City Development Sdn Bhd) to increase the plot ratio for the development of Lot 228, Jalan Semarak here.
On the same day, the Putrajaya MP also pleaded not guilty to a charge of corruptly receiving RM1 million from Eng Boon to approve a company's application to increase the plot ratio for a development at Jalan Semarak here.
Ku Nan was charged under Section 24(1) of the Malaysian Anti-Corruption Commission Act. If convicted, he could be jailed up to 20 years and fined five times the gratification amount.
See also: Property developer fined RM1.5m for abetting Ku Nan in RM1m bribery case