This article first appeared in The Edge Financial Daily, on July 10, 2019.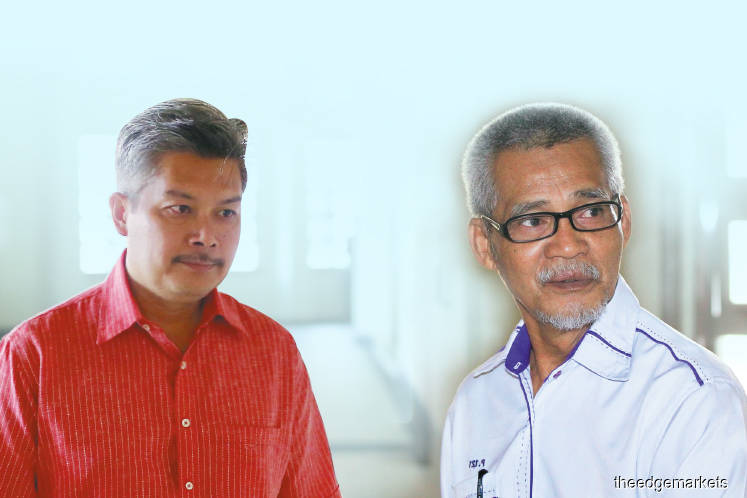 KUALA LUMPUR: Former federal territories minister Datuk Seri Tengku Adnan Tengku Mansor would advance anywhere from RM100,000 to RM300,000 monthly to Umno, his former senior private secretary told the High Court yesterday.
Datuk Mohd Rahimi Rejab, 46, testified that Tengku Adnan, on many occasions, used his own money to advance funds for the party's expenses, including the Sungai Besar, Selangor and Kuala Kangsar, Perak by-elections in June 2016. However, the 10th prosecution witness said he was unsure about the source of the cash advances.
He was testifying at the trial of Tengku Adnan, accused of receiving a RM2 million cheque from property developer Aset Kayamas Sdn Bhd, deposited into his investment firm Tadmansori Holdings Sdn Bhd's account.
Tengku Adnan — popularly known as Ku Nan — allegedly committed the offence in June 2016, knowing Aset Kayamas had connections with his official duties as federal territories minister.
Mohd Rahimi — Tengku Adnan's chief of staff from 2003 to 2018 — said he organised Tengku Adnan's "very busy" schedule which could include up to 20 appointments daily.
During cross-examination by Tengku Adnan's lawyer, Datuk Tan Hock Chuan, he confirmed that whenever the accused was in any of his three offices — at the ministry in Putrajaya, Perbadanan Putrajaya and Kuala Lumpur City Hall (DBKL) — people came in droves, seeking contributions.
Tan: As an SUSK (senior private secretary), can you confirm that Datuk Seri [Tengku Adnan] had spent lots of money on Umno's affairs, including advancing funds to pay Umno staff and expenses?
Mohd Rahimi: Yes.
Tan: This includes expenses for by-election and sometimes election?
Mohd Rahimi: Yes.
Tan: Can you give an estimate? The range and how much?
Mohd Rahimi: For each year or each month? Because Datuk Seri [Tengku Adnan] is not only at the Umno headquarters, [but also at] Federal Territories Umno and Putrajaya Umno, so it is a big sum. For each month, around RM100,000 to RM300,000; maybe more, per month.
Tan: I was told that any meeting with Datuk Seri [Tengku Adnan] to get money would last just two to three minutes? This is because he doesn't have much time.
Mohd Rahimi: True, they will come in numbers, like a fish market.
When Deputy Public Prosecutor Mohamad Firdaous Mohamed Idris asked the witness how he knew Tengku Adnan had given cash advances to Umno or Barisan Nasional, Mohd Rahimi said he would be informed by those seeking an appointment with his former boss that they were asking for "contributions".
He would then arranged for a meeting if Tengku Adnan agreed.
"After they meet Datuk Seri [Tengku Adnan], sometimes he will tell me [that] he gave contributions to these people," Mohd Rahimi added.
He also confirmed that the politician held multiple roles in Umno, including as chief of Umno Federal Territories, a supreme council member, and most significantly its secretary-general.
Earlier, former DBKL enforcement director Ab Salim Mansor told the High Court that no developer would run businesses at a loss.
Last week, the retiree agreed with Tan that the developer stood to lose RM5.7 million to RM5.8 million by selling 120 units of affordable homes at RM150,000 to DBKL staff.
The defence suggested Tengku Adnan had "agreed" to Aset Kayamas' appeals for a discount of the land, and also a postponement on the first 10% downpayment for two parcels measuring 4.048 acres (1.69ha) in Bandar Tun Razak, after the developer agreed to build the 120 units at a cheaper price.
The ninth prosecution witness, however, told the High Court yesterday that the 120 units were in fact part of 427 affordable apartment units that the developer intended to build.
Ab Salim, then DBKL's economic planning and development coordination director, stressed: "In terms of the market price, the developer indeed will suffer losses of RM48,000 for each unit allocated to DBKL staff."
"However, in my opinion, no developer will run businesses at a loss. This is why other units [of affordable homes] will be sold at RM300,000 under the second phase," he explained.
Last week, Ab Salim testified that Aset Kayamas would undertake a three-phase development, with the first including the aforementioned affordable homes.
The second phase comprises a 41-storey apartment block with 623 units and an eight-storey car park, and the third phase includes a hostel for DBKL's training centre.
The trial continues today, with the prosecution expected to call two more witnesses from DBKL.