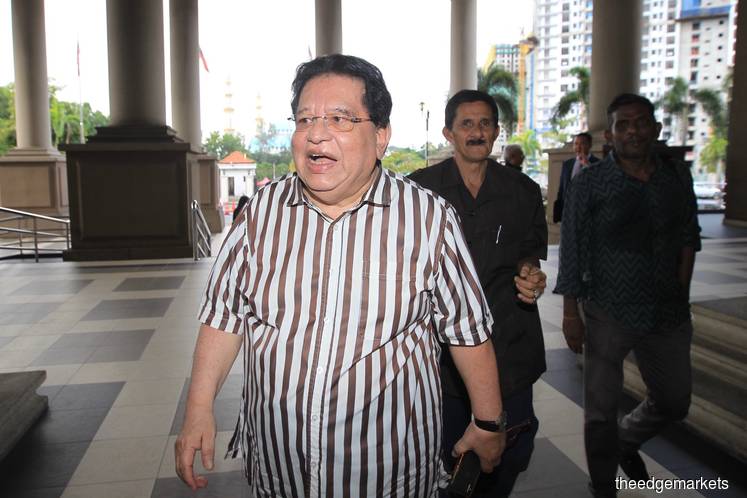 KUALA LUMPUR (March 4): Datuk Seri Tengku Adnan Tengku Mansor's application to have his asset declarations heard in-camera was rejected by High Court judge Mohamed Zaini Mazlan.
In making his judgement, Justice Mohamed Zaini said trial proceedings must not only be done fairly but must also be seen to be conducted fairly and transparently.
"The public have the right to see what court sees and what decisions are being made in the court. I therefore conclude that the defence have not made a case in their application," he said.
Earlier, Tengku Adnan's lawyer Datuk Tan Hock Chuan made an application to have a section of Tengku Adnan's examination-in-chief conducted in-camera because he wanted to tender four documents on his asset declaration, which are deemed sensitive information.
An in-camera proceeding is a private hearing with the judge in the absence of the public and reporters.
Tan argued that the tendering of these four documents is important in Tengku Adnan's defence as they will prove that the accused did not need the RM2 million purported bribe considering his financial status.
The examination-in-chief subsequently continued with Tan proceeding to ask Tengku Adnan, also known as Ku Nan, about his asset declarations, to which the accused revealed that he had over RM900 million in assets as at 2001.
The witness previously testified that he had made four asset declarations to the prime minister in four separate years, and that his reason for referring to these declarations was to show that he was financially comfortable and had no intention to receive RM2 million political donation for his own use.
Tan then went on to ask the witness whether the RM2 million given by businessman Tan Sri Chai Kin Kong was connected in any way to his official function as Federal Territories Minister, to which he said no.
Later, Deputy Public Prosecutor Julia Ibrahim began her cross-examination of the witness.
However, it was cut short after a brief heated exchange between the two.
Julia said: "Referring to paragraph 8 of your statement, you said 'Unfortunately, there is a lot of jealousy and many people would like to see Tadmansori Holdings Sdn Bhd (Tengku Adnan's company) collapse. Even today, they are tarnishing me so that in the business circles I will look bad. This group never realised that Tadmansori Holdings Sdn Bhd has a strong foundation and fundamentals. I do not care about my political position as what I did politically was for the best interest of my country and rakyat.'
"I put it to you that this was your personal opinion."
Tengku Adnan began to raise his voice in disagreement to the suggestion, to which Julia asked the witness to calmly agree or disagree.
Julia: This is a cross-examination, you may agree or disagree with my question.
Tengku Adnan: No I disagree! You see now I have a problem because after I mentioned the (almost) RM1 billion then they will want to sensationalise. Now I am deprived!
Tengku Adnan has been charged under Section 165 of the Penal Code for accepting RM2 million from Aset Kayamas Sdn Bhd managing director Chai via a Hong Leong Islamic Bank cheque belonging to his company.
It was reported that the cheque was deposited into the CIMB Bank account of Tadmansori Holdings on June 14, 2016, when it was known that Aset Kayamas had links to Tengku Adnan's official duties as the then federal territories minister.
According to the prosecution's opening statement, the RM2 million bribe from Chai was in relation to the purchase of two parcels of land measuring 4.05 acres in Bandar Tun Razak here and a subsequent proposal to develop the parcels. 
The prosecution has proof that Aset Kayamas' acquisition of the Bandar Tun Razak land was rejected by the KL mayor through a letter dated April 3, 2015, yet the company continued to deal with Tengku Adnan in matters related to the project proposal despite the rejection.
Trial was subsequently adjourned for the day and will resume tomorrow.
See also:
Tengku Adnan applies for in-camera proceedings for RM2m corruption trial
Ku Nan used own money first to fund Umno before receiving RM2m 'donation'