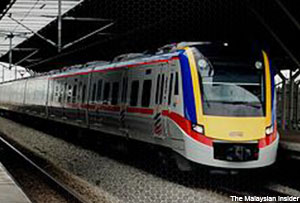 (September 10):  Keretapi Tanah Melayu Berhad (KTMB) continued to reign in defiant employees, sacking eight and suspending 16 others for participating in an illegal picket.
Last week, the KTMB management issued termination letters to Railwaymen's Union of Malaya (RUM) president Abdul Razak Md Hassan and his deputy R. Subramaniam.
Abdul Razak told The Malaysian Insider today that RUM would be presenting a memorandum to the Finance Ministry soon to appeal for Putrajaya's intervention.
"KTMB is owned by the Finance Ministry and we will be submitting a memorandum to appeal to Prime Minister Datuk Seri Najib Razak to resolve this issue," he said.
The eight who were sacked yesterday and the 16 suspended were among 110 union members waiting news about their fate after participating in a picket to pressure KTMB president Datuk Elias Kadir to step down.
"The remaining 86 union members are still waiting for the outcome of a domestic inquiry before knowing their fates," Razak told The Malaysian Insider.
"Who is KTMB to decide that the picket was illegal? The workers were RUM members who were participating in a RUM activity," he said, adding that Section 4 of Act 177 of the Industrial Relations Act 1967 stated that an employee should not be stopoed from participating in union activities.
Razak said he and Subramaniam have filed complaints over their sacking with the Industrial Relations Department, adding that RUM will hold a press conference tomorrow to explain the issue and their next course of action.
Last week, The Malaysian Insider reported that KTMB had sacked Razak and Subramaniam, while another 110 RUM members were issued showcause letters for joining the picket.
Some 700 RUM members participated in the protest calling for Elias to step down as KTMB president.
"Elias moves too slowly and appears to be driving KTMB into the ground. The current dire straits KTMB finds itself in is testament to that," Razak added.
He said an audit conducted in 2011 showed the company suffered RM100 million in losses, and this nearly tripled to RM280 million in 2012.
Razak claimed that the safety of workers, train crews and passengers were at an all-time low, and that KTMB locomotives were in need of an overhaul.
"If you use a car for 10 to 15 years, even the engine would give way eventually. But KTMB has only carried out minor repairs on the locomotives."
Razak said it was the same for the passenger coaches and the power generator cars, all of which were long overdue for major repairs.
He said the railway tracks were also in bad shape, forcing trains to travel at the minimum speed.
Razak said that between 1961 and 1963, KTMB workers had picketed for 23 days, bringing the railway operations to a complete halt.
"Nobody was sacked or subjected to disciplinary action during the picket. Our picketing was mild compared to what had occurred almost 50 years ago. So what is KTMB's justification for sacking me and Subramaniam?" he asked.
He did not rule out the possibility that Elias's actions may be related to the proposed privatisation of KTMB by MMC Corp Bhd, owned by tycoon Tan Sri Syed Mokhtar Al-Bukhary.
The loss-making KTMB has been the target of several companies keen to take it private, including MMC and Gamuda Bhd.
Earlier this year, MMC indicated interest to form a joint venture with Gamuda to take over KTMB in a deal worth more than RM5 billion, but the deal did not materialise.
MMC has since presented a proposal to privatise the cargo operations of KTMB and initial estimates put the sum at RM2 billion.