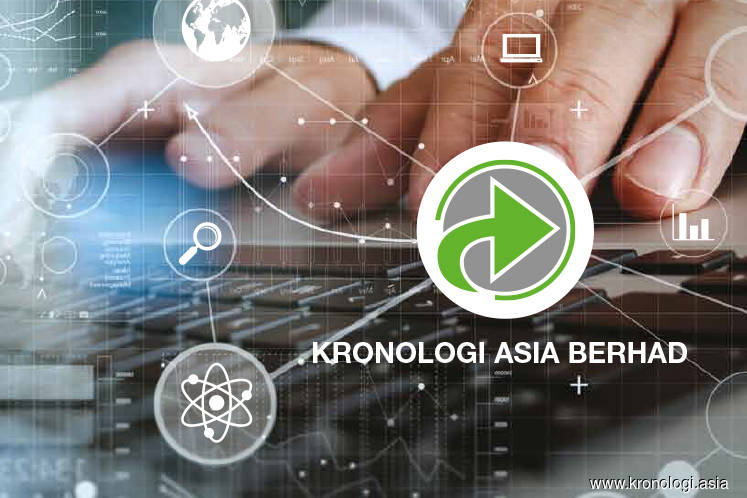 KUALA LUMPUR (May 18): ACE Market-listed enterprise data management and storage solutions firm Kronologi Asia Bhd does not expect any further major impairments to be made for the current financial year ending Dec 31, 2020 (FY20).
Kronologi posted a net loss of RM11.24 million in the first quarter ended March 31, 2020 (1QFY20), from a net profit of RM3.69 million a year ago, despite revenue jumping 60% to a record high of RM51.97 million from RM32.5 million.
The weaker earnings was mainly due to an RM11.64 million one-time, non-cash impairment to property plant and equipment (PPE) incurred during the quarter.
Its chief executive officer Edmond Tay Nam Hiong said a one-time impairment to PPE was taken to present a fair and transparent view of its operating assets.
"In the past two to three years, we had progressively invested in infrastructure for future growth. This year, where the environment is rather unpredictable [due to the Covid-19 pandemic], [we are] taking this opportunity to get ready for new infrastructure, to be prepared for the new normalcy coming this year," Tay told reporters during a video conference call today on its latest financial results.
According to him, the "new normalcy" refers to new types of demand from its customers, and represents an opportunity for the company to refresh its infrastructure.
Hence, the company made an impairment on older equipment, in a bid to refresh its "as-a-service" infrastructure, which is aimed at providing customers with "new normal" data solution offerings and performance.
Also, he said the company wanted to exercise prudence at an early stage of pandemic uncertainty, which could potentially be long-lasting.
"[The one-time impairment of PPE was a] pre-emptive strive to preserve the resilience of our balance sheet by tightening our overall operating expenses, and to review our capital spending strategies," he further added.
Margin, which halved in 1QFY20, expected to improve to low-twenties
The group's profit margin for 1QFY20 also more than halved to 12.2% from 27.6%, following the consolidation of earnings from its recent acquisition, Sandz Solutions (Singapore) Pte Ltd, as the latter's products had lower margin.
The pandemic, which has disrupted global supply chains, further weighed on Kronologi's margin. The disruptions caused component costs for its products to increase, while freight transportation costs surged as much as "three to four times", as the aviation industry slashed their operations by as much as 90%, Tay said.
As a result, the group's costs of sales jumped 93.8% to RM45.63 million in 1QFY20, from RM23.55 million a year ago.
The group, however, expects margins to improve to around low-twenties, when businesses adjust to the new normal in the aftermath of the Covid-19 outbreak.
"When things normalise, customers' budget will resume and this will allow us to be able to sell more to them. And freight and components costs will come down, so margins can further recover," he added.
The group also intends to enhance its margin by increasing pricing for its products by bundling certain services, also known as value engineering, said Tay.
As such, the group remains hopeful and optimistic that it will stay profitable for FY2020. In the past five years, the group enjoyed a compound annual growth rate (CAGR) of 34% in terms of revenue and 25% in terms of net profit.
"Overall, we are poised for growth in the Covid-19 era. In terms of growth rate, we are doing margin expansion through value engineering, [getting more] cloud hyperscale projects wins, and [expanding our] unstructured data vertical. We are also looking at inorganic growth and focusing on the markets least impacted by the pandemic," Tay said.
Cloud hyperscale, said Tay, is not a new product but demand for it has accelerated as most businesses are driven to do more things online now, following the pandemic outbreak.
This pushes cloud service providers to have to achieve massive scale in computing termed cloud hyperscale — to quickly accommodate an increased demand for internet-facing and back-end computing resources without requiring additional physical space, cooling or electrical power.
As for unstructured data vertical, Tay said it refers to the provision of services beyond just backup and data, due to increasing demands for analytical and editing services.
"With the new normalcy coming into space, we are getting a lot of enquiries from schools, such as polytechnics and universities, as they need to allow students to do more projects at home. They not only need backup solutions or data as a service, they also need production and editing services," he added.
To defend its bottomline, Kronologi will also stay away from airports, airlines and hospitality industries — which have been devastated by the pandemic — and focus more on sectors such as government space, financial institutions, healthcare providers and education.
Kronologi's share price ended six sen or 9.68% lower at 56 sen today, bringing it a market capitalisation of RM292.53 million. It saw 48.5 million shares traded, almost four times its 200-day average trading volume of 12.92 million shares.
The counter, which sank to as low as 34 sen on March 19, has risen some 65% since. Just a month before the MCO, however, the stock was trading as high as 91 sen.