This article first appeared in The Edge Malaysia Weekly, on July 20, 2020 - July 26, 2020.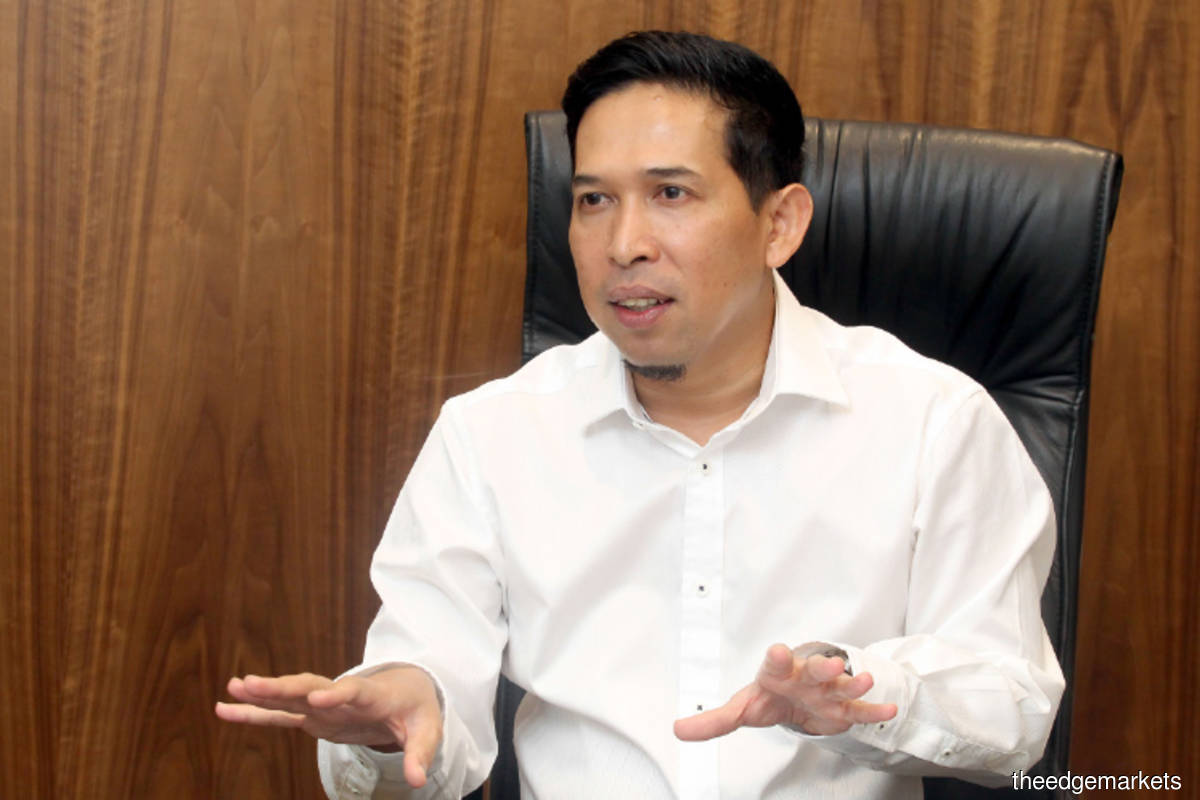 SINCE the emergence of Datuk Dr Abdul Karim Abdullah and Grand Deal Vision Sdn Bhd as major shareholders of KPower Bhd (formerly Kumpulan Powernet Bhd) in June last year, the group's share price has been on an upward trend.
Between June 20, 2019 and last Friday (July 17), KPower's share price has increased more than 240%, settling at RM2.63. The group is currently valued at RM297.4 million, far beyond its roughly RM60 million market value on June 20, 2019.
The rapid increase in KPower's value can be attributed to the fact that, under a new team led by managing director Mustakim Mat Nun, the group has turned a profit, and in a big way.
Now, former banker Mustakim wants to take KPower's value to RM5 billion within five years. Getting there is not impossible, he says, as the group can secure another RM2 billion worth of renewable energy power plant construction contracts next year.
"When we took over the company, it had only about RM70 million in market capitalisation. After one year, we are valued around RM350 million. Today, we have RM1.2 billion worth of contracts and we are growing, with a target of another RM2 billion next year.
"So, we can get RM3 billion worth of contracts in just two years. To achieve RM5 billion market capitalisation, I think it is not that difficult," says Mustakim in an exclusive interview with The Edge.
KPower managed to secure RM802.5 million worth of engineering, procurement, construction and commission (EPCC) contracts in the renewable energy space in the first six months of this year.
On Feb 11, KPower announced that it had been awarded an EPCC contract for an 8mw small hydropower plant in Vientiane, Laos, for a fixed contract value of RM65.88 million. Then, on March 31, the group announced that it had clinched an EPCC contract for the construction of five mini hydropower plants in Perak with a total capacity of 32.47mw and a total contract value of RM354 million.
This was followed by another EPCC contract on May 13, for the construction of a mini hydropower plant with a capacity of 22.9mw in Solukhumbu, Nepal, for a fixed contract value of RM208.08 million. Then, on June 29, KPower clinched another EPCC contract for two mini hydropower plants in Laos for a fixed contract price of RM174.5 million.
As the contracts flowed in, KPower managed to turn its fortune. In the nine months ended March 31, 2020, the group recorded net profit of RM5.48 million, compared with a net loss of RM1.83 million in the previous corresponding period.
During the period, KPower's revenue expanded to RM56.5 million from just RM1.27 million, correspondingly with net profit margin at 9.7%.
Mustakim says gross margin for an EPCC contract typically ranges between 15% and 18%. In addition, most of the group's EPCC contracts also involved designing, which provides it with higher gross margins of around 20%.
KPower had net cash of RM11.8 million as at March 31, 2020. The group's cash and bank balances stood at RM24.7 million, while it had short-term borrowings of RM517,000 and loans from shareholders of RM10 million. Its long-term borrowings were RM2.4 million as at March 31.
From textile manufacturer to RE contractor
Prior to the change in major shareholders and top management, KPower was a textile manufacturer with a plant in Bentong, Pahang. The group also dabbled in property development and investment, with a project in Sentul and an asset in Liverpool, the UK.
The group had been making losses for years, though.
Meanwhile, prior to acquiring a 10.18% stake in KPower, Mustakim was already involved in the renewable energy (RE) industry for almost a decade through a private company called OHP Group.
In 2011, OHP secured its first mini hydropower plant project, located in Kota Marudu, Sabah. It then continued to expand into Laos, Nepal and Indonesia. Over the years, OHP has secured more than RM1 billion worth of renewable energy plant projects.
The company's shareholders and top management felt, however, that to take their business to a higher level, they needed to have a public-listed vehicle.
"[The plan to get listed] was so that it would be easier for us to secure financing and establish our track record. We scouted around to acquire a suitable public-listed company, and then we managed to acquire KPower from the existing shareholders.
"Powernet then was involved in property development, but it didn't have a lot of projects. It only had one project in Sentul at that point in time. So, the structure is quite loose, which allows us to inject a new business and just run it on that platform," says Mustakim.
So, in June last year, KPower was acquired from the then major shareholders. Mustakim, through Grand Deal Vision Sdn Bhd, acquired a stake of about 10% in the group, while Karim of Serba Dinamik Holdings Bhd became his backer, taking a 20% stake.
Karim's involvement is so that KPower would be able to leverage the business networking and expertise of Serba Dinamik to secure more EPCC contracts in the RE sector around the world, says Mustakim.
"Serba Dinamik is expanding very aggressively not only in Malaysia but throughout the world. So, by partnering with him (Karim), we have the opportunity to leverage Serba Dinamik's business network.
"We will ride with them to seek opportunities in other continents. So, for us to achieve RM5 billion market capitalisation in five years is, I would say, very achievable."
Besides mini hydropower plants, KPower is also looking at opportunities in solar, biomass and waste-to-energy (WTE) power plants. For now, however, KPower is focusing on securing mini hydropower plants because they are dependent on the availability of suitable rivers, which are finite in numbers. "Without rivers, even if you have the best technology, you cannot have a mini hydropower plant," he says.
Nevertheless, KPower is bidding in the fourth round of the Large Scale Solar power plant (LSS4) tender, which was recently opened by the Sustainable Energy Development Authority (SEDA). The group is bidding for a 30mwac-capacity LSS as a concession holder.
The group is also partnering with other bidders to become their preferred EPCC contractor if they win any portion of the LSS4, says Mustakim. KPower is in partnerships with companies that are bidding for 300mwac LSS4, he says.
Going into medical fabric production
While KPower has become a full-fledged RE EPCC contractor, it is not abandoning its roots as a textile manufacturer. Instead, the new management is transforming the group's manufacturing business through the application of technology.
Since the new shareholders and management took over KPower, investors have been asking about their plan for the textile manufacturing business. Some say the business should be disposed of, as it is not synergistic with the RE business.
"We see it differently, because there is a way of turning around the manufacturing business through the application of the right technology, joint ventures with the right partners and getting into markets outside of Malaysia.
"For the last one year, what we did was to consolidate the manufacturing business, looking into different technologies to improve the capabilities of our existing plants," says Mustakim.
He adds that the group is looking at producing medical-grade fabric as part of the transformation of the manufacturing business. KPower is one of the companies called upon by the Ministry of Health to explore the possibilities of producing medical equipment to ensure sustainability of supply in a pandemic.
KPower is still in discussions with potential technology partners to produce medical-grade fabric and other medical devices and equipment, says Mustakim. The group is also looking at mergers and acquisitions to realise this initiative.
"We are building up the business by looking at leveraging whatever we are doing now. Our manufacturing capability can be leveraged in the medical industry. But, of course, it is not something that we can do overnight," says Mustakim.