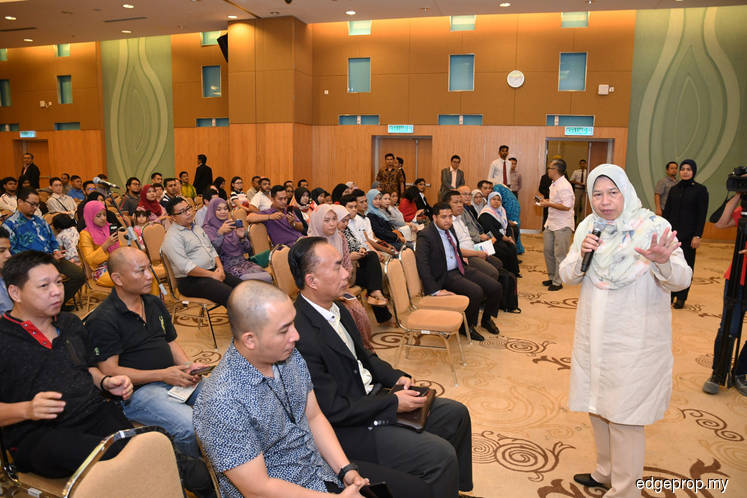 PUTRAJAYA: Housing and Local Government Ministry's (KPKT) minister Zuraida Kamaruddin met with over 60 owners of 1Malaysia People's Housing Scheme (PR1MA) on Thursday (Nov 7), to discuss problems they face over PR1MA including discounts given to new PR1MA homebuyers. 
Present at the closed-door meeting were current owners of six PR1MA projects, namely Alam Damai in Selangor, Rantau in Negeri Sembilan, Brickfields in Kuala Lumpur, Tebrau in Johor, as well as Kuala Ketil and Sungai Petani in Kedah.   
According to Zuraida, the earlier buyers had complained that they have incurred losses due to PR1MA's discounts and rebates of up to 30% offered to new purchasers including rebates of up to 20%, on top of a discount of 10% given under the Home Ownership Campaign (HOC).
Zuraida said the issue may be settled through cash rebates. "The solution will depend on each situation, and subject to discussion," she said, adding that KPKT has identified a few options and guidelines to settle the matter. 
 
"However, the compensation will certainly not be as high as the value demanded by the buyers," she said. 
The ministry will also study the other issues posed by the buyers.   
"There were some buyers asking about other issues such as services, defects and debts. 
"As each project has different issues, we have asked the buyers to elect a representative for each project to continue with subsequent discussions.
"This is the moral responsibility of the Pakatan Harapan government. We want to meet with the buyers to know their situation and try to find the best solution, and at the same time, let them understand the government's position," Zuraida said.
The next round of discussions will be done separately with the representatives and is expected to happen in mid-December this year.
KPKT announced in September this year that the ministry has compiled around 500 "appeal" cases from PR1MA buyers nationwide.
The minister will be meeting PR1MA buyers in Kuching, Sarawak and Kota Kinabalu, Sabah next. — EdgeProp.my
Click here to visit EdgeProp.my for the latest news on all things property