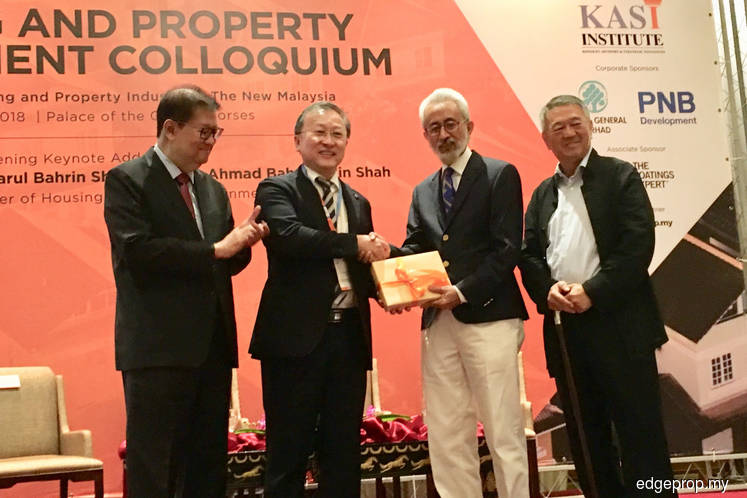 SERI KEMBANGAN (Oct 2): The Housing and Local Government Ministry (KPKT) is now working on a comprehensive database which could help first time homebuyers to own a property, said KPKT deputy minister Datuk Raja Kamarul Bahrin Shah Raja Ahmad.
The database will include market demand and supply, transaction and property ownership data, and become a reference for property developers to better plan their supply as well as help authorities to filter the property investors (purchasers who own multiple properties) from first-time homebuyers.
"We are working hard on it and aim to introduce the database next year. The biggest challenge is we have faced some resistance from local authorities in surrendering the housing market data, this is not a healthy situation," he told the reporters after officiating the opening ceremony of the "Housing and Property Development Colloquium" today.
Themed "Reimagining the Housing and Property Industry in the New Malaysia", the one-day colloquium is organised by Kingsley Advisory & Strategic Initiatives Institute (Kasi Institute).
EdgeProp.my is the media partner of the event.
According to Kamarul Bahrin, all state authorities should cooperate with the federal government to achieve the common goal of improving the country's property market.
He noted that the ministry has met up with different state authorities who have voiced their concerns and an official session to gather all the stakeholders will be held soon.
Meanwhile, Kamarul Bahrin also stressed that the Malaysia property market is in need of adjustment as the data on overhang and unsold properties have showed that there is a big mismatch between supply and demand.
"The problems are becoming increasingly well known. Those with greater purchasing power, instead of buying higher-end properties befitting their income, [they] are purchasing more affordable-priced homes which are meant for those earning much lower income with the intention to resell at higher price or to rent. This has led to the current oversupply," he said.
He noted that the increasing number of foreign buyers in the Malaysian property market is also the primary cause of inflated prices caused by artificial demand.
Besides this, he said local governments played an important role in improving housing by improving their services and infrastructure.
"In recent years, the role of government in housing have diminished, a victim of its own inefficiency and neglect as well as not [being] proactive enough in addressing simple needs, like improving road conditions and security issues, which has caused a general lack of confidence," he explained.
As a result, he added that it has become a trend where developers stepped in to become the "local councils" themselves by having their own private security for substantial portions of residential and commercial areas as well as other provisions of services sand infrastructure.
"Local government should take a proactive role and step up to find ways to develop their towns, cities or districts into comfortable and classy neighbourhood, not letting developers to take up the role," he said.