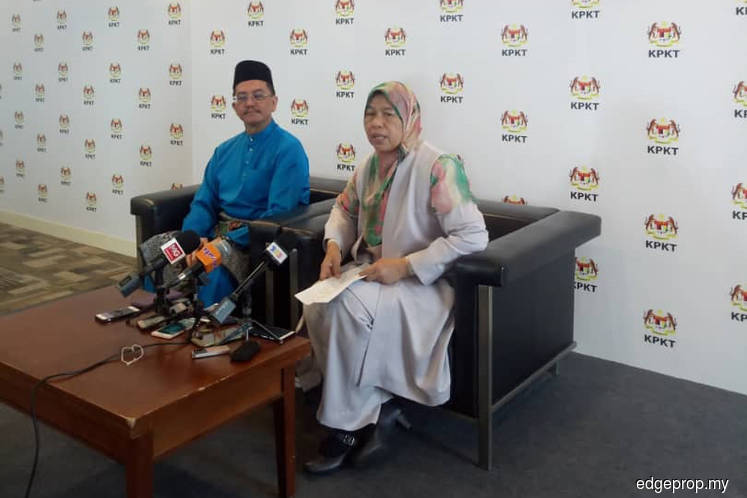 PUTRAJAYA (June 12): Minister of Housing and Local Government (KPKT) Zuraida Kamaruddin has proposed that the number of strata tribunal presidents and interpreters be increased to clear the backlog of 7,000 cases.
"Strata tribunal has a lot of [complaints]. We have 7,000 cases [in] backlog. With that, I suggest to increase the number of presidents, which currently we have around 20, and set up a team of panel interpreters," she said during the weekly ministry press conference in Putrajaya today.
She explained that some cases are forced to be delayed due to lack of Tamil and Chinese interpreters.
By having a team of panel interpreters on standby, it will help to speed up the waiting period for those who need translation, she added.
Zuraida also provided updates on the one-stop online platform for government affordable housing schemes that the minister had proposed to the Cabinet for approval.
"Once we have gotten the approval, we will start to review all the affordable housing scheme and set up National Affordable Housing Council (NAHC)," she said.
On the other hand, she also proposed releasing more decision making power to commissioners of building (COBs) to expedite solving housing issues.
"As the MP of Ampang for the past decade, my observation is the head of COBs has too much work and cannot take care of everything. We suggest releasing more power to COBs to speed up the progress to solve problems and complaints," she said.
She explained that most of the complaints and problems happened in strata property and low cost housing areas.
"Our aim is to provide a comfortable and hygienic living environment to all. By releasing more power to COBs, we are hoping once complaints are received, they will be solved as soon as possible."
Zuraida also had a meeting with Bank Negara and the Minister of Finance to discuss how to increase first-time home ownership.
"We have discussed how to help the youngsters to owner a home. We think the bank needs to take their side income into consideration when reviewing their loan application. Bank also should look at their future projected income but not current income because first time homebuyers are young and their income has room to grow," said Zuraida.