This article first appeared in The Edge Malaysia Weekly, on September 2, 2019 - September 08, 2019.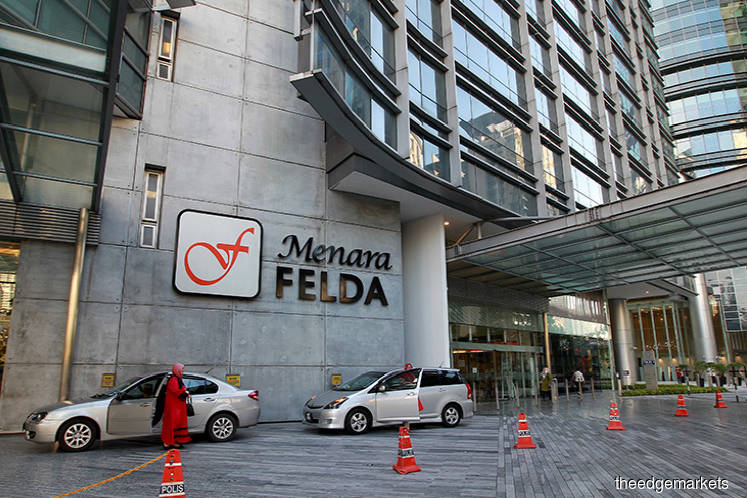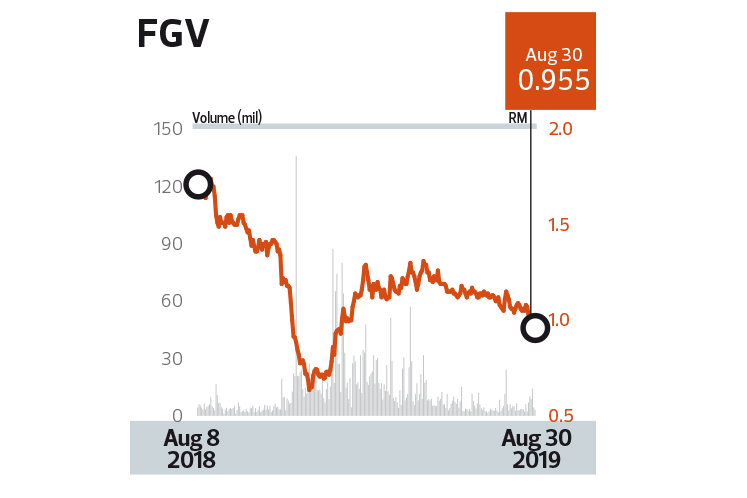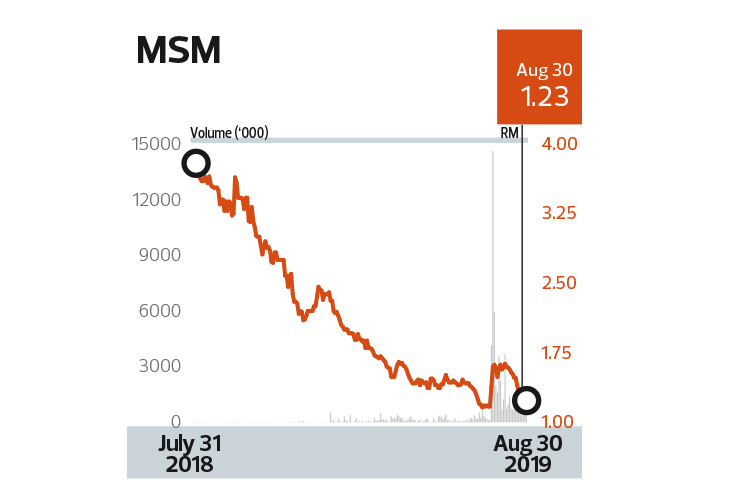 KOPERASI Permodalan Felda Bhd's net profit for FY2018 tumbled 48.43% year on year to RM57.37 million, according to its recently released annual report. Revenue tumbled 20.19% year on year to RM893.89 million.
KPF is a cooperative controlled by and made up of FELDA settlers. It derived most of its FY2018 revenue from the sale of goods and services while the trading of securities formed the second largest component.
It is proposing to pay out RM163.61 million in dividends for FY2018, which marks a 31% dip from the RM237.4 million paid out in FY2017. The cooperative paid out RM250.59 million in dividends in FY2016 and RM260 million in FY2015.
"[Among others] it is because our investments with FGV (Holdings Bhd) and MSM (Malaysia Holdings Bhd) did not do well," a high-level executive at the company tells The Edge.
KPF has 191.27 million shares or 5.24% equity interest in FGV and 107.39 million shares or a 15.27% stake in MSM. FGV and its 51% unit MSM have not been doing well as a result of weak crude palm oil prices and refined sugar being brought in by approved permit holders.
For its six months ended June this year FGV suffered a net loss of RM55.57 million on RM6.55 billion in revenue. For the corresponding period a year ago, FGV's net losses were RM22.30 million on sales of RM7.04 billion.
MSM suffered a net loss of RM74.34 million for its six months ended June, on revenue of RM959.46 million. For the corresponding period a year ago, MSM raked in a net profit of RM30.14 million on RM1.12 billion in turnover.
Neither company paid dividends in FY2018. However, in FY2017, FGV paid out five sen per share while MSM forked out four sen, which works out to RM9.56 million and RM4.29 million respectively.
It is worth noting that KPF has put up for sale its plantations in Samarahan, Sarawak, pegging the value at RM1.03 billion. According to its annual report, there have been a few offers for KPF's plantation assets. Its website says KPF has 20,675ha of oil palm plantations and a 60-tonne processing refinery.
Other assets include buildings — The ICON West Wing in Jalan Tun Razak and  Blok E of Southgate Commercial Centre, in Sg Besi, both in Kuala Lumpur, and 30 Jewels Icon City and Portcity @ POIC, in Lahad Datu, Sabah, among others. KPF also has an arm that provides financial services.
The cooperative has stakes in many companies on a joint-venture basis with FGV. For example, KPF has 17% in FGV Kernel Products Sdn Bhd, 49% in FGV Marketing Services Sdn Bhd and 33% in FGV Refineries Sdn Bhd.
There are also wholly-owned entities such as KPF Trading Sdn Bhd (formerly known as FELDA Trading Sdn Bhd). It has posted losses over the last five years and in FY2018, suffered an after-tax loss of RM17.83 million on RM167.26 million in sales. Revenue in FY2014, FY2015 and FY2016 was in excess of RM460 million.
Associate, FGV Refineries, which processes and sells refined palm oil products, suffered losses for FY2018, bleeding RM17.43 million in after-tax loss on RM79.29 million in sales.
FGV Kernel Products, which buys and processes oil palm kernels and refined palm oil products, registered an after-tax profit of RM397,949 on RM1.45 billion in turnover.
KPF's financial report for FY2018 highlights a number of its investments. Many are so small they were not caught even on the list of the 30 largest shareholders in the annual reports of the companies.
Some of KPF's investments
KPF surfaced as a substantial shareholder in FGV in May 2014, with 207.96 million shares or 5.7% equity interest. The bulk of this is likely to have come from FELDA, which sold 182.4 million shares or a 4.94% stake in FGV at about the same time as KPF surfacing as a substantial shareholder.
FGV's stock traded between RM4.07 and RM3.75 in May 2014 — several times higher than the current price of 94 sen that it closed at last Thursday.
While news reports have the acquisition price for the block in FGV at RM825.3 million, which translates into RM3.96 per share, KPF's annual report has its holding cost for the 191.27 million shares or 5.24% equity interest it still owned in FGV as at end-FY2018 at RM1.69 per share. This would mean that KPF could be sitting on paper losses of RM143.46 million for its stake in FGV. KPF's holding cost in MSM is not clear.
However, there seems to be more than just FGV and MSM that are dragging down KPF. It has 10.24 million shares or a 2.12% stake in Meridian Bhd (formerly known as Meda Inc Bhd). According to its FY2018 annual report, KPF's acquisition in the company was at 47 sen per share or RM4.81 million. Last Thursday, real estate developer Meridian closed at 8.5 sen per share, giving the company a market capitalisation of RM41.1 million. KPF is sitting on a paper loss of RM3.94 million. Meridian has not posted a profit in four financial years.
The cooperative has 6.87 million shares or a 2.91% stake in Brahim's Holdings Bhd with holding costs at 47 sen per share or RM4.54 million. Last Thursday, Brahim's closed at 14.5 sen, which would indicate that KPF is sitting on a paper loss of RM2.23 million.
Other than a 0.25 sen dividend payment in May 2014, Brahim's has not rewarded its shareholders. It last posted a profit in FY2013.
At Vertice Bhd (formerly known as Voir Holdings Bhd), which recently diversified into construction from apparel manufacturing and retailing, KPF has 3.69 million shares or a 1.96% stake. In its FY2018 annual report, KPF says that in FY2017, it had four million shares, acquired at RM1.13 per share or RM4.5 million. Last Thursday, Vertice closed at 88 sen, giving KPF's block of shares a market value of RM3.25 million. Vertice has not paid out any dividends since 2011.
KPF has 5.61 million shares or 2.59% equity interest in logistics firm Xin Hwa Holdings Bhd. According to KPF's FY2018 annual report, in FY2017 it had 3.65 million shares acquired at RM1.27 apiece or RM4.63 million.
Last Thursday, Xin Hwa closed at 34 sen. Xin Hwa paid out an interim dividend of one sen per share in July 2017 and 1.5 sen in March 2016.
Xin Hwa was in the news in June this year when it was revealed after an investigation by external auditors KPMG that the company's funds had been used for the personal expenses of certain shareholders over the past two years.
According to WZ Satu Bhd's FY2018 annual report, KPF owns 1.73 million shares or 0.37% equity interest. KPF's annual report for FY2018 says the cooperative had 1.3 million shares acquired at RM1.14 per share or RM1.48 million in its FY2017 filings. Last Thursday, WZ Satu ended trading at 21 sen.
WZ Satu has been paying out dividends consistently since 2015. The company paid out two sen per share in early March last year, three sen, including a special dividend, in early February 2017 and two sen in February 2016.
KPF has two million shares or 1.27% equity interest in MB World Group Bhd, acquired at RM2.30 per share or a total consideration of RM4.60 million. At MB World's close of RM1.56 last Thursday, KPF is sitting on a paper loss of RM1.48 million.
The cooperative has 10.42 million shares or 4.34% equity interest in furniture maker Sern Kou Resources Bhd, according to its FY2018 annual report. KPF's holding cost, according to the report, is 82 sen or RM8.54 million for the whole block. Last Thursday, Sern Kou ended trading at 55 sen, translating into a paper loss of RM2.81 million for KPF.
Early last week, KPF surfaced as a substantial shareholder in Nextgreen Global Bhd with 25.06 million shares or 5% equity interest.
According to its website, Nextgreen's mainstay is in printing magazines and books but it has diversified into construction, development and management of green technology parks as well as the manufacturing of renewable pulp and paper products.
FELDA has 43.91 million shares or 8.76% equity interest in Nextgreen as well.
At its close of 40 sen last Thursday, Nextgreen had a market capitalisation of RM200.5 million. For its nine months ended March, Nextgreen registered a net profit of RM209,000 on revenue of RM20.55 million. As at end-March, Nextgreen's net asset per share was 30 sen.
During the period in review, Nextgreen had cash and bank balances of RM3.29 million, long-term loans of RM4.58 million and short-term borrowings amounting to RM1.06 million. It had accumulated losses of RM16.83 million for the period in review.
The last time Nextgreen paid out any cash dividends was three sen per share for the financial year ended June 2014.