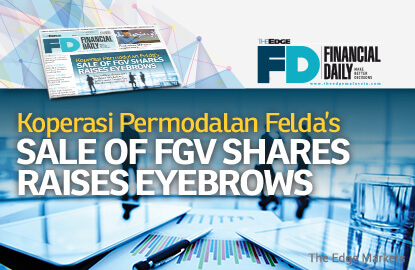 This article first appeared in
The Edge Financial Daily
, on February 7, 2017.
KUALA LUMPUR: While views may be divided over whether Koperasi Permodalan Felda Malaysia Bhd's (KPF) sale of five million shares in Felda Global Ventures Holdings Bhd (FGV) is anything out of the ordinary, the move certainly raises eyebrows.
In a filing with Bursa Malaysia yesterday, FGV said KPF made the disposal on Jan 27 and is left with 206.76 million shares or a 5.67% direct interest in the palm oil conglomerate.
The transacted price was not disclosed. The counter traded between RM1.80 and RM1.89 on the open market on Jan 27, while off-market deals were done at prices ranging from RM1.81 to RM1.89, according to data from Bloomberg.
FGV's closing price on Jan 27 was RM1.87.
According its 2015 annual report, KPF's cost of investment per FGV share was RM4.50, which is 58% more than the highest transacted price on Jan 27 this year.
While the volume may be small at five million shares compared to its original stake of 211.76 million, the transaction raises the question as to why KPF was willing to make the disposal at a loss.
Also worth noting is the familial ties between the two entities. KPF is a cooperative that was set up in 1980 with the aim of advancing the economic status of Federal Land Development Authority (Felda) settlers through equity participation that would provide them with a form of savings and investment.
KPF had a 51% stake in the group's commercial unit Felda Holdings Bhd (FHB) until it was disposed to FGV in 2013. Felda held the other 49% until it was transferred to FGV.
Just before the listing, eight settlers failed in their bid to prevent KPF from transferring its 51% in FHB to FGV. In any case, FGV's listing in June 2012 went ahead with the 51% stake in FHB.
The stake was finally sold in 2013 to FGV for RM2.2 billion cash.
Then on Feb 26, 2014, Felda's wholly-owned subsidiary Felda Asset Holdings Co Sdn Bhd, disposed 5% of its 18.66% stake in FGV to KPF for RM825.30 million.
In its 2014 annual report, Felda said the disposal price was based on the five-day weighted average share price without any discount.
Nevertheless, some argued that the disposal of KPF's five million FGV shares may be a normal course of business as the shares transacted represented a small fraction of its total shareholding in the agribusiness giant.
When contacted, a local bank-backed research firm's analyst told The Edge Financial Daily that there are many reasons for an investor like KPF to make such a disposal.
"It applies to all kind of investors, not only KPF. It could be just a portfolio adjustment, or a change in fund manager. An investor may not invest and wait until there is a profit before selling it. As to why, the best person to answer is KPF," she said.
KPF chairman Datuk Hanapi Suhada was not contactable for comment.
FGV's share price hit a historical high of RM4.83 in early July 2012, slightly more than a week after its listing, before the counter declined by about 60% to lose some RM10 billion in market capitalisation.
Last December, the Employees Provident Fund (EPF) announced that it had ceased to be a shareholder in FGV after "gradually selling down" its stake.
EPF assured its members that it practises "high standards" of corporate governance in its investments, with "robust policies" on risk control and asset allocation.
EPF was one of the cornerstone investors in FGV's public listing in 2012.
The other major shareholders in FGV include Lembaga Tabung Haji (7.87%), Kumpulan Wang Persaraan (Diperbadankan) (7.07%) and the Pahang state government (5%).
Other than FGV, KPF's investments in the capital market include a 1.87% stake in Boustead Plantations Bhd, Brahim's Holdings Bhd (4.55%), Iris Corp Bhd (0.98%), Mah Sing Group Bhd (4.86%), MSM Malaysia Holdings Bhd (15.25%), Pantech Group Holdings Bhd (10.28%), Dayang Enterprise Holdings Bhd (0.93%) and Gas Malaysia Bhd (0.27%).
As at Dec 31, 2015, KPF's portfolio in the capital market was valued at RM1.02 billion, versus an investment cost of RM1.56 billion.
FGV closed one sen or 0.54% higher at RM1.85 yesterday, giving it a market capitalisation of RM6.75 billion.
Felda has been under the spotlight recently as it proceeded with the controversial acquisition of a 37% stake in Indonesian palm oil group PT Eagle High Plantations Tbk for US$505.4 million (RM2.24 billion).
This was followed by the Malaysian Anti-Corruption Commission's (MACC) arrest of five high-ranking personnel from Felda for alleged corruption involving a sturgeon fish-rearing project worth about US$100 million.
The MACC also arrested Iris Corp deputy managing director Datuk Hamdan Mohd Hassan for offences linked to an e-passport project in the Republic of Guinea. Felda owns a 21.33% stake in Iris Corp.
Towards the end of 2016, Umno veteran Tan Sri Shahrir Abdul Samad was appointed as Felda's new chairman, taking over Tan Sri Mohd Isa Abdul Samad, who remains as FGV's chairman.
Mohd Isa is also the chairman of FGV's 51%-owned MSM Malaysia, Felda Holdings and Pontian United Plantations Bhd, both wholly-owned by FGV. He also chairs Encorp Bhd, in which Felda has a 72.27% stake.
After succeeding Mohd Isa, Shahrir, tasked with revamping Felda, ordered all members of Felda Investment Corp Sdn Bhd's (FIC) board to resign in order to facilitate the reorganisation of the company.
FIC is Felda's wholly-owned investment arm.