Click / Tap image to enlarge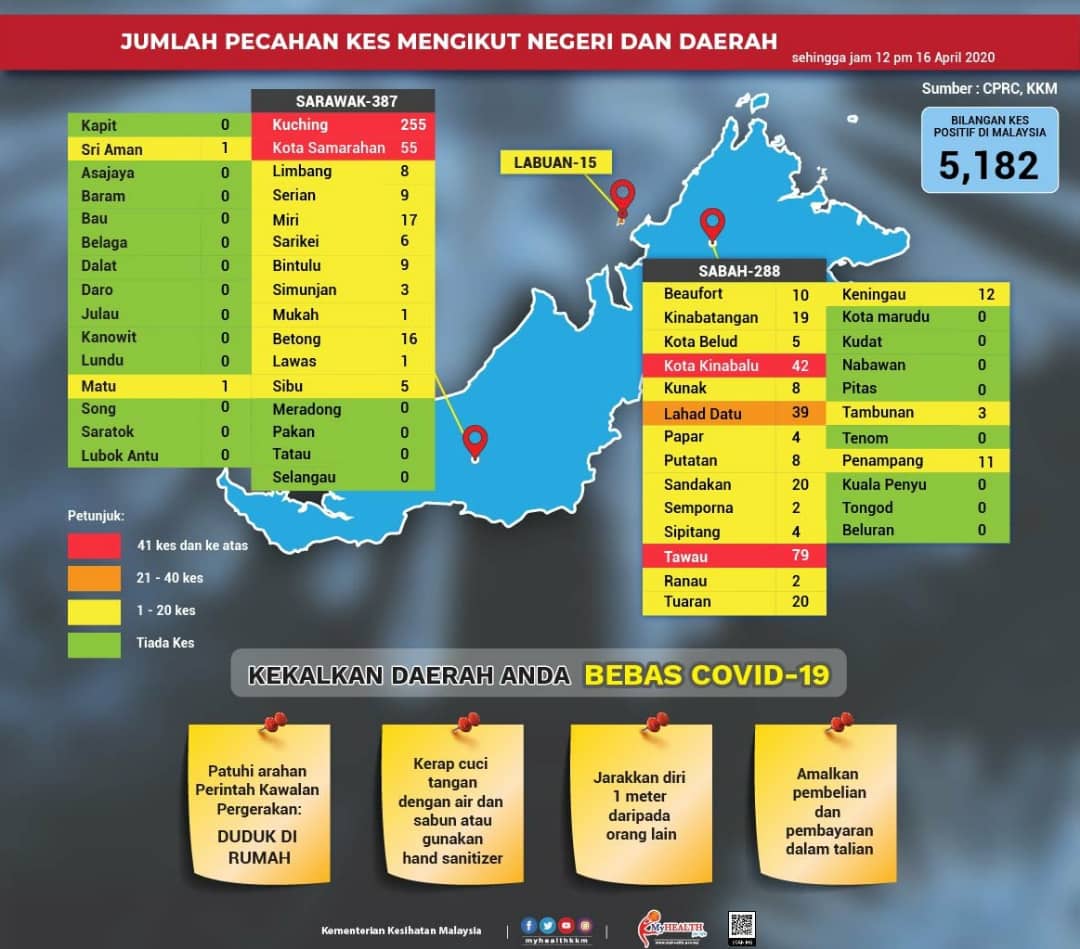 Click / Tap image to enlarge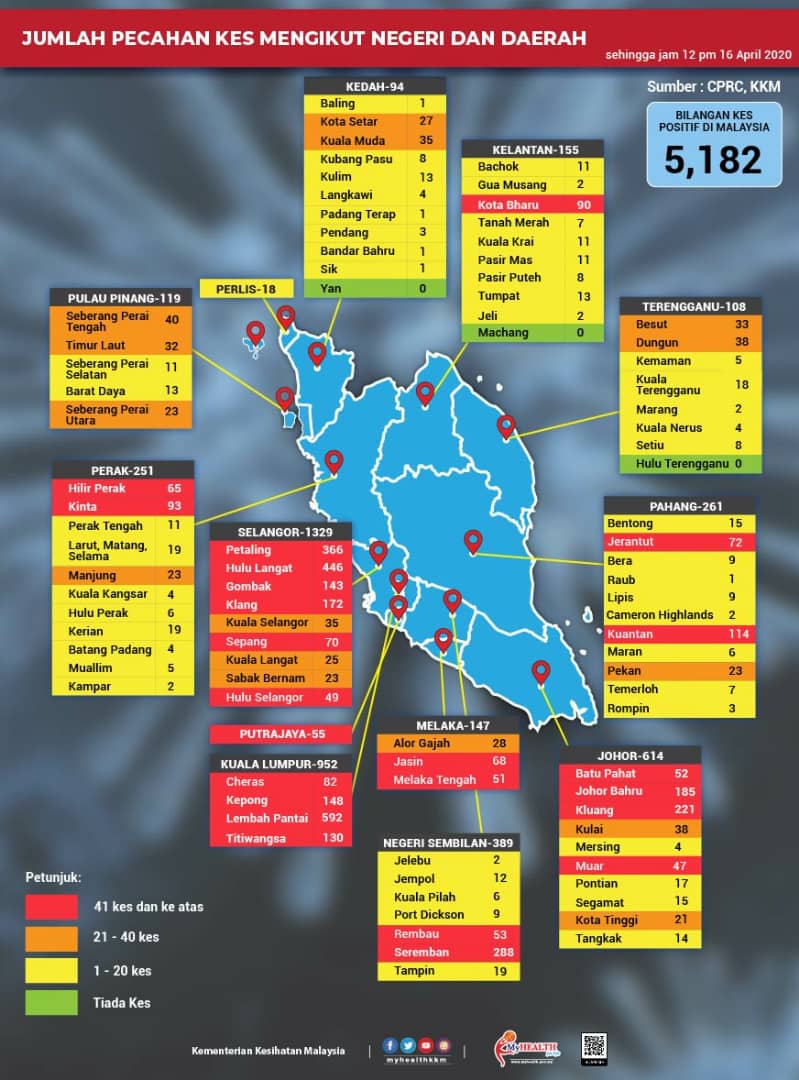 KUALA LUMPUR (April 17): Kota Kinabalu has joined the list of red zones in the country at noon yesterday after it recorded 42 Covid-19 cases, according to the Health Ministry's Crisis Preparedness and Response Centre (CPRC).
Based on a map shared through the ministry's social media, Kota Kinabalu is the second health district in Sabah to be classified as a red zone, after Tawau, which has 79 cases.
In total, Sabah has 288 cases of the respiratory disease, accounting for 5.6% of the total cases in the country.
Meanwhile, Selangor remains the state with the highest number of confirmed infections at 1,329 cases, while Kuala Lumpur has 952 cases.
Lembah Pantai in Kuala Lumpur remained as the top Covid-19 hotspot with 592 cases, representing 11.4% of overall cases.
The health district had 15 new cases yesterday, from 577 as at April 15.
Some areas under Lembah Pantai including Selangor Mansion, Malayan Mansion and Menara City One were placed under Enhanced Movement Control Order (EMCO) after a large number of cases were found in these places.
The EMCO has been enforced in Selangor Mansion and Malaysian Mansion on April 7 after 15 positive Covid-19 cases were recorded at the two buildings, while Menara City One was put under lockdown on March 31 after 17 people contracted the disease.
In Peninsular Malaysia, Hulu Langat is the red zone with the second highest number of confirmed infections with 446 cases, followed by Petaling (366), Seremban (288), Kluang (221), Johor Bahru (185), Klang (172), Kepong (148), Gombak (143), Titiwangsa (130), ), Kuantan (114), Kinta (93), Kota Bharu (90), Cheras (82), Jerantut (72), Sepang (70), Jasin (68), Hilir Perak (65), Putrajaya (55), Melaka Tengah (51), Rembau (53), Batu Pahat (52), Hulu Selangor (49) and Muar (47).
In East Malaysia, Kuching in Sarawak has recorded the highest number of confirmed infections with 255 cases, while Kota Samarahan has 55 cases.
As of yesterday, Malaysia's daily new cases has risen to 110, after recording 85 new cases on April 15 — the lowest daily figure after 28 days of the Movement Control Order.
The number of daily recoveries has exceeded the number of daily infections for the eighth time with 119 cases.
This brings the total recoveries in the country to 2,766.
Yesterday, one death was reported — a 66-year-old Malaysian man who had heart disease and high blood pressure, bringing the death toll to 84.
See also:
Photo Gallery: ALL LOCKED UP
For Menara One City residents, the wait continues
Under tight security, PKNS Kampung Baru folk undergo active screening for Covid-19
#dudukrumahdiamdiam. We will deliver the news to you at theedgemarkets.com.