This article first appeared in The Edge Financial Daily, on May 7, 2018.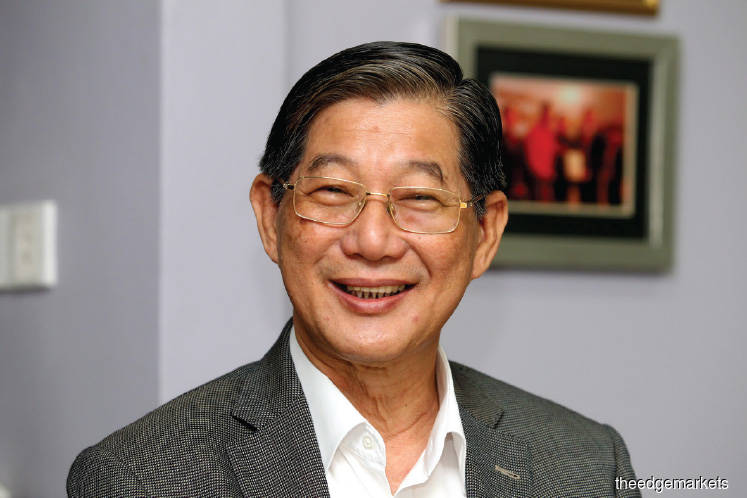 KUALA LUMPUR: Kossan Rubber Industries Bhd's sizeable acquisition of more than 800 acres (323.75ha) of land in Bidor, Perak may have "surprised" analysts, but its founder views it as a natural progression given the robust global demand for gloves.
Tan Sri Lim Kuang Sia, who is also the group's managing director and chief executive officer, said the Bidor site will serve as Kossan's new base and will feature integrated and modernised glove manufacturing facilities.
The project is expected to take six years to eight years to complete at an estimated cost of RM1.5 billion, Lim said in an interview with The Edge Financial Daily.
Kossan announced the acquisition of two vacant plots of land in Bidor for RM82.42 million in March. The vendor of the leasehold industrial land and commercial land, measuring 824 acres in total, is the Perak State Development Corp.
"I think we can generate our own profit, and we don't believe in high gearing," said Lim when asked about funding. He added that the group also has plans to dispose of two parcels of industrial land in Selangor for some RM200 million, which could give its cash flow an additional boost.
Kossan bought the 56-acre plot in Batang Berjuntai and 98-acre plot in Kuala Langat in 2013 and 2017 respectively, for an aggregate sum of RM130 million.
Lim said as the Bidor land is large enough to house its manufacturing processes, the original development plans on the two Selangor land parcels have been put on hold.
"We can't finish that sizeable land [in Bidor]. Technically, for us, 300 acres would be good enough. So after we put up infrastructure for our own use, we will try to subdivide and sell some pieces of [extra] land to invite some of our suppliers to come and put up their factories," said Lim.
Lim said the Bidor land was cheap, given its size and suitability, in terms of access to sources of utilities as well as connectivity since it is located alongside the highway.
More importantly, he said the land acquisition is not just a move to expand Kossan's installed capacity, but also an opportunity for the group to look into improving efficiency, quality, and bringing in higher degrees of automation, and eliminating the issues of space constraints seen in old factories.
"To go for a bigger space is all in line with our future development. While we will still do what we are doing here at our existing plants, we will most likely go for segregation to achieve specialisation," Lim said.
With its plants specialising in different products, Lim explained that the amount of downtime experienced in plants can be reduced, thereby improving efficiency, control and ultimately, output.
The group will also set up a training department there to conduct proper training for new talents, in an attempt to address the over-reliance on foreign workers, he said.
While the group plans to take further action after the more pressing agenda of the nation's general election this week, its two other plants along Jalan Meru in Klang, Selangor — dubbed Plant 17 and Plant 18 — are expected to come on stream soon to boost its annual production capacity to 29.5 billion pieces, from the current 25 billion pieces per annum.
Lim said Plant 17 will be up and running by the third quarter of this year, while installation of machines will begin next month at Plant 18 for a completion latest by the third quarter of next year.
For its financial year ending Dec 31, 2018 (FY18), Kossan is expecting an output lift of about 10%, helped by contribution from Plant 16, which was completed at the end of last year, as well as Plant 17.
Kossan manufactures and exports a wide range of products, including technical rubber products used in industries such as automotive, marine, rail, and aviation, as well as latex disposable gloves through its glove division. Its products are exported to over 190 countries, with the bulk of them to the US, eurozone countries, Japan and South Korea.
Noting the expanding world demand for gloves, Lim said he has "full confidence" that the group will continue to keep growing. He highlighted two growth areas — the replacement of plastic gloves with latex gloves, and the increasing health and safety consciousness across developed and developing nations.
Kossan, which has upheld a zero loss-making record since its inception — turned in a net profit of RM182.06 million in FY17, up 9% year-on-year. Its revenue nearly hit the RM2 billion mark, at RM1.96 billion, representing a growth of 17.4% from FY16.
Kossan's share price fell three sen or 0.45% to RM6.64 last Friday, with a market capitalisation of RM4.25 billion. The stock has risen 19.66% over the past 12 months, from RM5.55 on May 3, 2017.