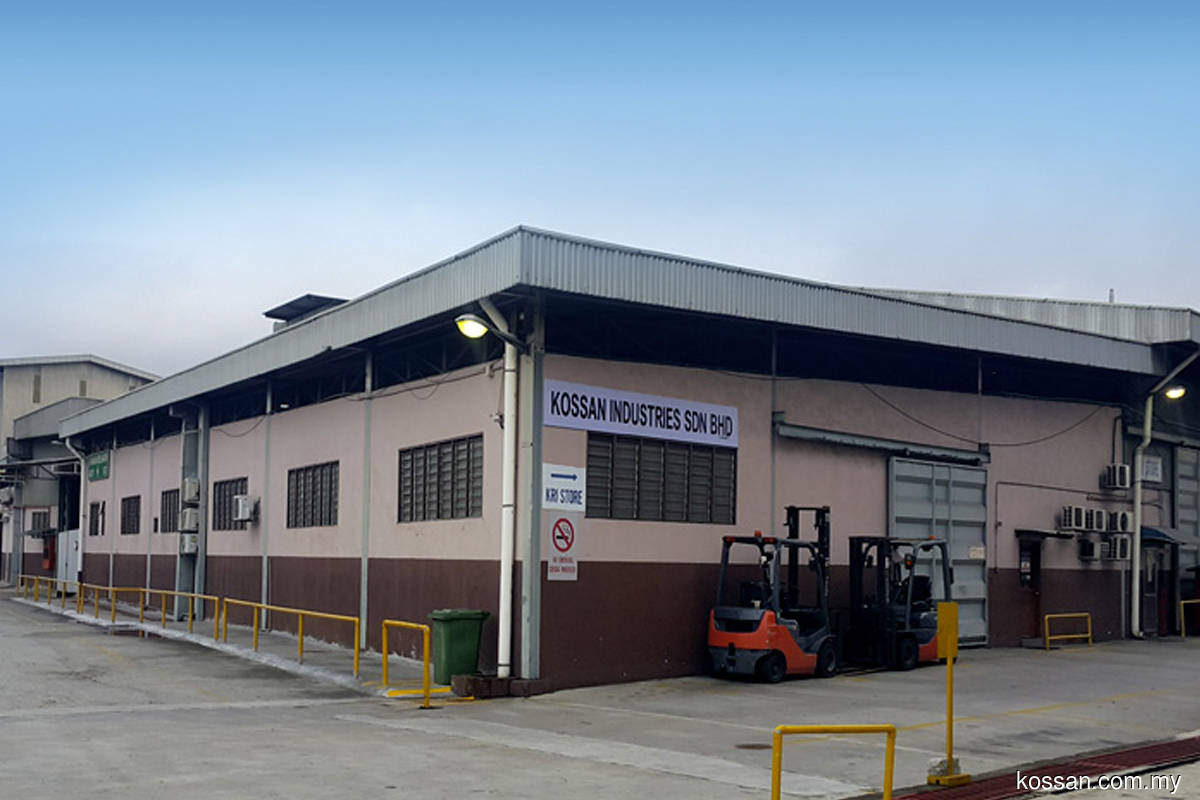 KUALA LUMPUR (April 21): Kossan Rubber Industries Bhd jumped as much as 34 sen or nearly 9% to RM4.14 after the opening bell as the glove maker's record high quarterly net profit beat expectations. The company also declared an interim dividend of 12 sen per share.
The positive sentiment spilled over to its peers Supermax Corp Bhd, Hartalega Holdings Bhd and Top Glove Corp Bhd. Supermax gained as much as 30 sen or 5.56% to RM5.70, Top Glove rose as much as 12 sen or 2.22% to RM5.52, while Hartalega added as much as 31 sen or 3.14% to RM10.18.
At market close, Kossan pared some gains to settle at RM3.93, still up 13 sen or 3.42%. Compared to its recent trough of RM3.19 on April 5, the counter has risen 23.2%.
Likewise, Supermax (up 14 sen or 2.59% to RM5.54), Hartalega (up 25 sen or 2.53% to RM10.12) and Top Glove (up five sen or 0.93% to RM5.45) all gave up some gains but still closed higher.
Kossan yesterday reported a record high quarterly net profit of RM1.04 billion for the first quarter ended March 31, 2021 (1QFY21). The 12 sen per share interim dividend it declared will be paid on May 20.
Among the 12 research houses who issued reports on the company today, eight maintained their "buy" calls on the stock, and one each maintained "outperform" and "trading buy", while two others kept it on "hold".
The highest target price (TP) given for Kossan was RM6.60, while the lowest was RM3.65.
AmInvestment Bank (AmInvest), which has a "neutral" call on the rubber glove sector, commented that Kossan's 1QFY21 core net earnings were above the house and street expectations, accounting for 63% and 43% of the respective full-year forecasts.
"The strong performance was attributed to a higher-than-expected glove ASP (average selling price), which we believe may have risen by over 55% q-o-q (quarter-on-quarter) in 1QFY21," it said.
The research house raised its core net profit forecast for Kossan for FY21 by 38% as it increased its ASP assumption to US$47/1,000 pieces from US$45/1,000 pieces, as well as revising its average cost of natural gas to RM25 per million British thermal unit (MMBtu) from RM34.80/MMBtu, in line with new prices stipulated by Gas Malaysia Bhd.
"We also tweak our FY22 and FY23 core net profit forecasts upwards by 2% and 1% respectively. We raise our average USD/MYR exchange rate forecast to US$1:RM4 from US$1:RM3.98 for both years," it said.
Nonetheless, AmInvest anticipates that glove ASPs will be on a decline in the second half ending Dec 31, 2021 (2HFY21).
"Glove urgency is expected to wane as global Covid-19 vaccination measures start to take effect. However, demand for gloves will likely remain stable post Covid-19 following wider adoption of gloves in developing countries," it said.
The research house maintained its "hold" recommendation on Kossan, and fine-tuned its TP to a higher RM3.65 (versus RM3.60 previously) based on an unchanged price-earnings ratio (PER) of 18 times FY22 earnings per share (EPS).
Meanwhile, RHB Research Institute analyst Alan Lim said Kossan's 1QFY21 net profit makes up 50% and 41% of his and the consensus FY21 estimates respectively, and the outperformance was due to the better-than-expected ASP realised.
He increased his FY21 net income estimate for Kossan by 70% to RM3.55 billion due to a higher ASP assumption of US$65 per box of 1,000 pieces of gloves from US$48.
"However, we keep our FY22 and FY23 earnings estimates as we maintain our ASP assumptions of US$46-US$37 per box," he added.
Despite the increase in his FY21 earnings forecast, Lim, who maintained his "buy" call on the stock, also maintained his TP at RM5.45.
"We expect share price volatility as we approach peak ASPs in FY21. For Kossan, we expect the ASP to peak in 2QFY21," he said.
Although ASPs marched up by about 60% q-o-q, MIDF Research analyst Ng Bei Shan believes that Kossan's ASP may continue to climb in the coming quarters as there is room for the group to catch up with current market prices.
"That said, the trajectory of the pandemic is still filled with uncertainties even as countries roll out vaccination programmes," she added.
Due to the better-than-expected results, she increased her FY21 earnings forecast for Kossan by 232.3% on the back of higher ASP and margin assumptions.
"However, we keep our estimates for FY22 and FY23 pending further clarity of the demand and ASP outlook," she said.
While maintaining her "buy" call on Kossan, she lowered her TP to RM5.83 from RM7.33.
"Looking beyond 2021, uncertainties may emerge for ASPs and the quantum of price adjustment cannot be ascertained at this point. As such, we decide to take a lower valuation of 17.5 times compared with 22 times previously. Our TP is premised on [estimated] FY22 EPS of 33.3 sen," she said.
Affin Hwang Capital analyst Ng Chi Hoong also raised his earnings forecasts for Kossan for FY21 to FY23 by 8.2% to 81.5% to factor in the better performance and higher realised ASP for the quarter.
"We are now pegging our target valuation to a lower P/E (price-earnings) multiple of 15.5 times, which is lower than our previous 23.8 times, as investors remain sceptical about the ASP trend and so [we] lower our TP to RM6.60 (from RM9.30)," he said.
However, he kept his "buy" call on Kossan as he opined that its current valuation is too attractive to ignore.
Read also:
Kossan earnings top RM1b for the first time with latest 1Q results, to pay out a third of net profit as dividends
Kathy Fong, Surin Murugiah & Tan Choe Choe