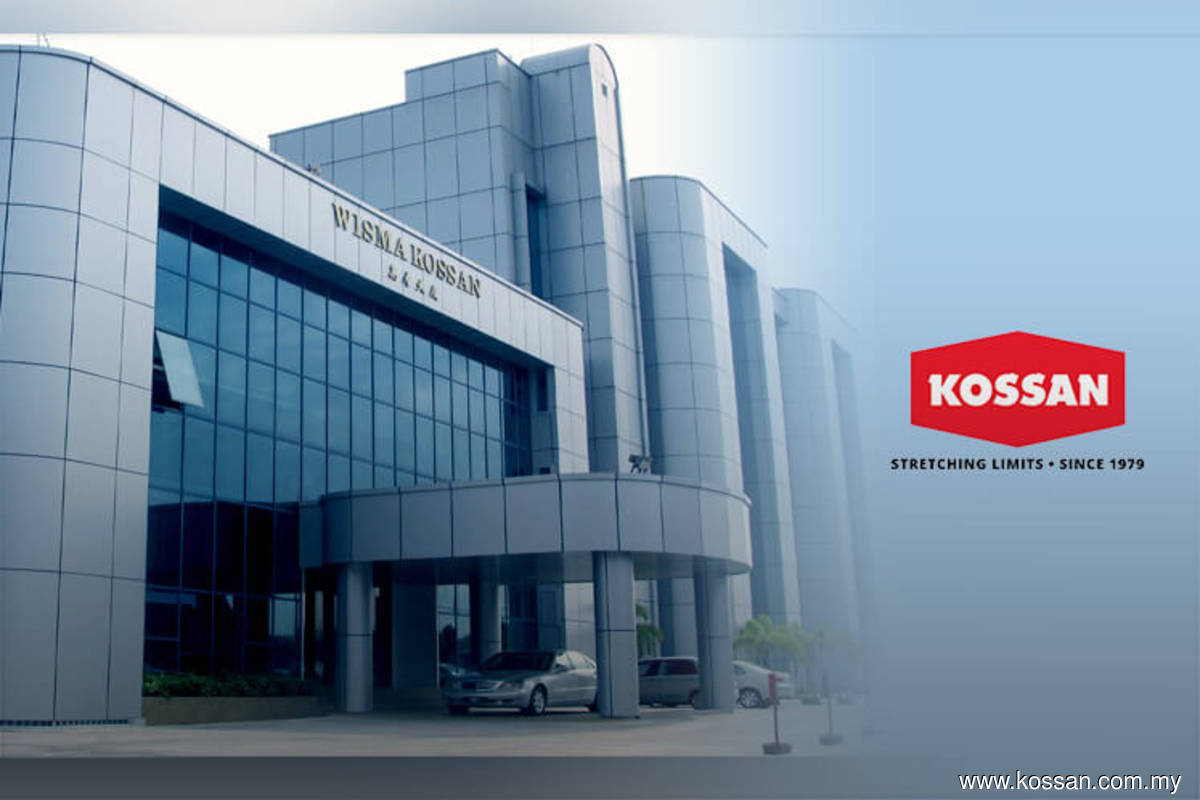 KUALA LUMPUR (Dec 16): Despite 427 out of a total of 7,004 employees testing positive for Covid-19, Kossan Rubber Industries Bhd founder Tan Sri Lim Kuang Sia, who is also the company's CEO and managing director, expects the impact to be less than 2% of the group's bottom line.
Lim confirmed with theedgemarkets.com that only one site out of the group's six locations, or 25% of its total output volume, was affected by the outbreak.
"The impact on production is only for two weeks (starting from Dec 4). So, the impact on our profit is less than 2%," he said.
According to Kenanga Research analyst Choo Ping Khoon, Kossan told analysts in a briefing yesterday that the group conducted a voluntary Covid-19 screening test at its glove division from Dec 4 to Dec 10.
"Out of a total of 7,004 workers, five out of six locations registered zero cases, with only one site reporting 427 positive cases out of 2,104 employees," he said.
Citing management guidance, Choo said the factory had stopped its operations for sanitisation, which had since been completed.
He also said presently, the other 1,667 workers are undergoing quarantine and will undergo a second round of testing today and tomorrow, with the results expected to be released on Friday.
"Thereafter, the group will undergo random sampling for an antigen test for asymptomatic symptoms in every two weeks [for 20% of workers]. The operation is expected to gradually ramp up production by Dec 20.
"The temporary loss in production comprised 25% of total output volume for two weeks, which is expected to impact the FY20 (financial year ending Dec 31, 2020) estimated bottom line by 2%," Choo said.
Choo maintained his "outperform" call for Kossan with an unchanged target price (TP) of RM9.36.
Affin Hwang Capital analyst Ng Chi Hoong also quoted the management as saying the group's overall average selling price (ASP) would increase by at least 50% in the fourth quarter of 2020 (4Q20) and 30% to 35% in 1Q21.
He maintained his "buy" call and TP of RM8.90 for the stock as he was not overly concerned about potential oversupply occurring in 2022.
"We believe that existing players will have a cost advantage against new entrants due to their highly automated production lines. Current strong relationships with established distributors also allow them to sell their products at a premium," he said.
AmInvestment Bank analyst Thong Pak Leng also said he likes Kossan as it is one of the biggest glove producers to benefit from the Covid-19 pandemic due to its expansionary plans and efforts in improving quality and operational efficiency.
"Our fair value (FV) of RM5.40 is based on 27 times (the five-year average) price-earnings ratio (PER) over FY22 earnings per share (EPS)," said Thong, who maintained his "hold" call for the counter.
He also raised his FY21 net profit forecast for Kossan by 46% after imputing higher ASPs.
"We increase our ASP assumption to US$40/1,000 pieces from US$34/1,000 pieces. However, we cut [our] FY22 earnings [forecast] by 23% with [our] ASP assumption reduced to US$29/1,000 pieces from US$30/1,000 pieces. We make no changes to our FY20 numbers," he said.