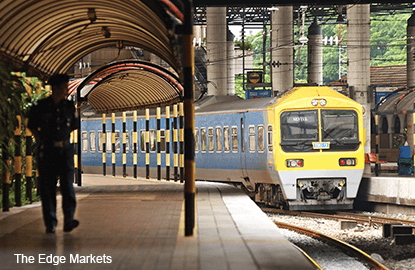 The Komuter train service will be rerouted from December 15 under a six-month trial period in preparation for an infrastructure upgrade and track rehabilitation work.
A statement on KTM Berhad (KTMB) website said one of the new routes is from Tanjung Malim/Rawang to Port Klang. Currently, the train goes to Seremban. The other is from Batu Caves to Seremban/Gemas, instead of to Port Klang.
It said the Electric Train Services (ETS), the Six Car Set (SCS), Intercity and Cargo services and their ever increasing frequencies have made it necessary to improve the track conditions in the Klang Valley to ensure passenger comfort and better service.
The Star Online cited KTMB president Sarbini Tijan as saying that commuters should expect delays in their journeys as a result of the rerouting."We are not sure how long the delays would be but we will try to minimise them as much as possible," he was quoted as saying.
The delays are expected to be caused by various factors such as the weather and works by contractors.
The upgrading and track rehabilitation work is expected to take four years. They are part of the double track project in the Klang Valley which will begin in April.
"The Klang Valley tracks are 25 years old, so wear and tear is at the maximum," The Star Online quoted Sarbini as saying.
Sarbini said commuters would still be able to change lines at the Putra, Bank Negara, Kuala Lumpur and KL Sentral stations.
A survey will be conducted during the trial period to obtain feedback from commuters and gauge the impact of the changes.
As there is a slight change to the train schedules, commuters are advised to get the latest timetable from the KTMB website at www.ktmb.com.my.
Enquiries can be directed to the KTMB Call Centre at 1300 885 862, at @ktmkomuter on Twitter or e-mail [email protected]. – December 8, 2015.