This article first appeared in City & Country, The Edge Malaysia Weekly, on May 9, 2022 - May 15, 2022.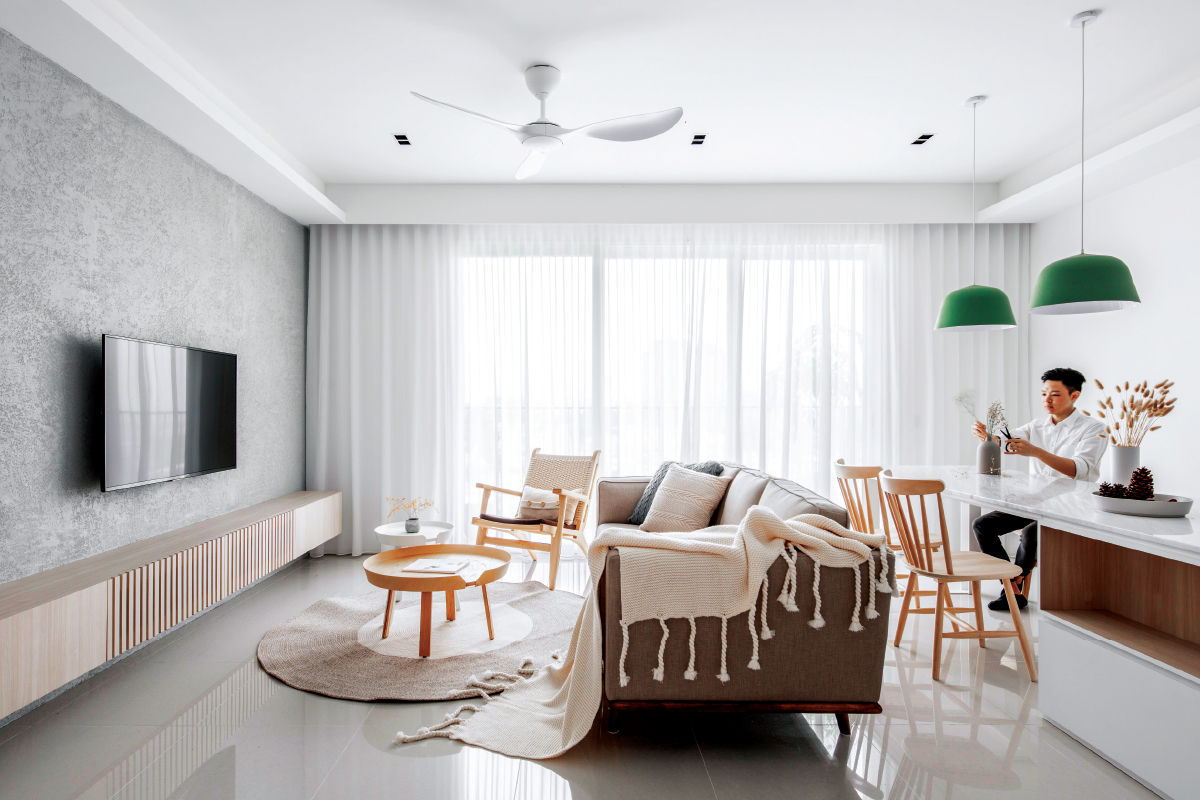 Small space living is cosy and efficient, but it can be tricky figuring out how to decorate and fit everything you need, or want, in the space without making it look crowded and messy.
Naturally, people always want to make their homes look bigger. According to FEI Architect founder and principal Lam Shen Fei, there is usually the use of faux painting and a play on perspective to make a small space look bigger. 
"While, traditionally, the perception of space can be manipulated through the intervention of materials, there are other ways to maximise the use of small spaces. It is now a common trend, due to the rise in house prices in urban areas, where the defined plot ratio [limits] the amount of sellable area for the developer's profit margin," he says.
Lam says the use of mirrors and reflective surfaces may make a space seem bigger, but the overuse of mirrors can cause confusion and discomfort within a confined space. To ensure a natural setting is maintained, elements such as sunlight, outdoor views and indoor plants should be emphasised.  This can be achieved by having large windows or access to the outdoors, thereby integrating outdoor and indoor living.
"If windows or access to the outdoors is not an option, a small garden and collection of plants can be an alternative," says Lam. He adds that homeowners who are allergic to plants can use timber materials and natural colours such as blue and green to minimise the effect of a confined space.
PINS Design Studio Sdn Bhd director Ong Yu Xuan states that lighter, neutral and earthy tones such as white and light grey are the best colours to make small spaces look bigger. Dark colours should be avoided as they absorb light and make spaces feel smaller.
"Another trick is to use stripes. Vertical and horizontal stripes help to enhance a space and have the ability to redirect the eyes, injecting a dose of understated elegance and sophistication when incorporated into an interior scheme," he adds.
An open floor plan is also important to make a space appear larger. 
"Opening the kitchen towards the rest of the living premises creates a unity not only to the spatial arrangement but also to the lives of the homeowners. 
"The feel of spaciousness, free movement and open space in the home is not to be underestimated. With clever design arrangements, a small home can appear big and spacious when free flow is established between the main zones of the living premises," Ong says.
He adds that the homeowner's living habits must be prioritised as this would reduce the waste of space.
According to Lam, the devil is in the details when it comes to using space efficiently. He says the least obvious intervention is through the concealment of construction details in a given space. In architecture, minimalism does not mean having fewer material objects in the building, but is about finding ways to design construction details that help to conceal complicated elements, he adds.
"The concealment of details — such as concealed window frames, flush lighting, hidden handles, recessed skirting and frameless doors — helps to make the space less congested and complicated, Lam explains.
Once the details are considered, built-in furniture helps to engage the space-saving endeavour, he notes. "This makes the space transformative and multipurpose, from the living room to the workspace, by using folding tables to make circulation space, having slide-in storage and moveable furniture, as well as converting a couch into a bed. 
"A number of international furniture manufacturers have identified the phenomenon of dense and small living in urban areas in other countries and have come up with innovative lightweight and compact furniture for those living in small spaces."
Ong concurs, saying that furniture selection is one of the most important aspects to consider in a small space. In a small room, furniture in darker tones may appear to shrink the space even more, making it feel overcrowded. Hence, it is better to get light-coloured furniture as it makes the space feel bigger and airy. 
"One can opt for multifunctional furniture, such as a chest that can be used as a coffee table, a sofa bed or a bed with storage drawers. Expandable dining tables and folding tables that can be tucked away when not in use are also good picks," he says.
Ong adds that there should be a sufficient number of lights in a small home as this helps to improve the mood and creates a warm and bright ambience. Insufficient lighting, on the other hand, will make the space feel cramped and cause people to avoid the area. However, it should be noted that the lighting surface should not be too large and there should be floor-to-ceiling windows or open spaces.
In addition, hidden, unused areas — such as under the staircase, above the water closet and under the bed — can be turned into useful storage space, says Lam. 
"Additional floor space can be built as the mezzanine and loft bed, separating the sleeping space from the living area. This is why small units are usually built with heights of 4.5m to 6m to maximise vertical use and help bring more sunlight into the higher space," he adds. 
"At the early design and planning stage, the division of the shower, cooking, sleeping and working spaces should be determined to minimise unused space in the unit."