This article first appeared in City & Country, The Edge Malaysia Weekly, on October 19, 2020 - October 25, 2020.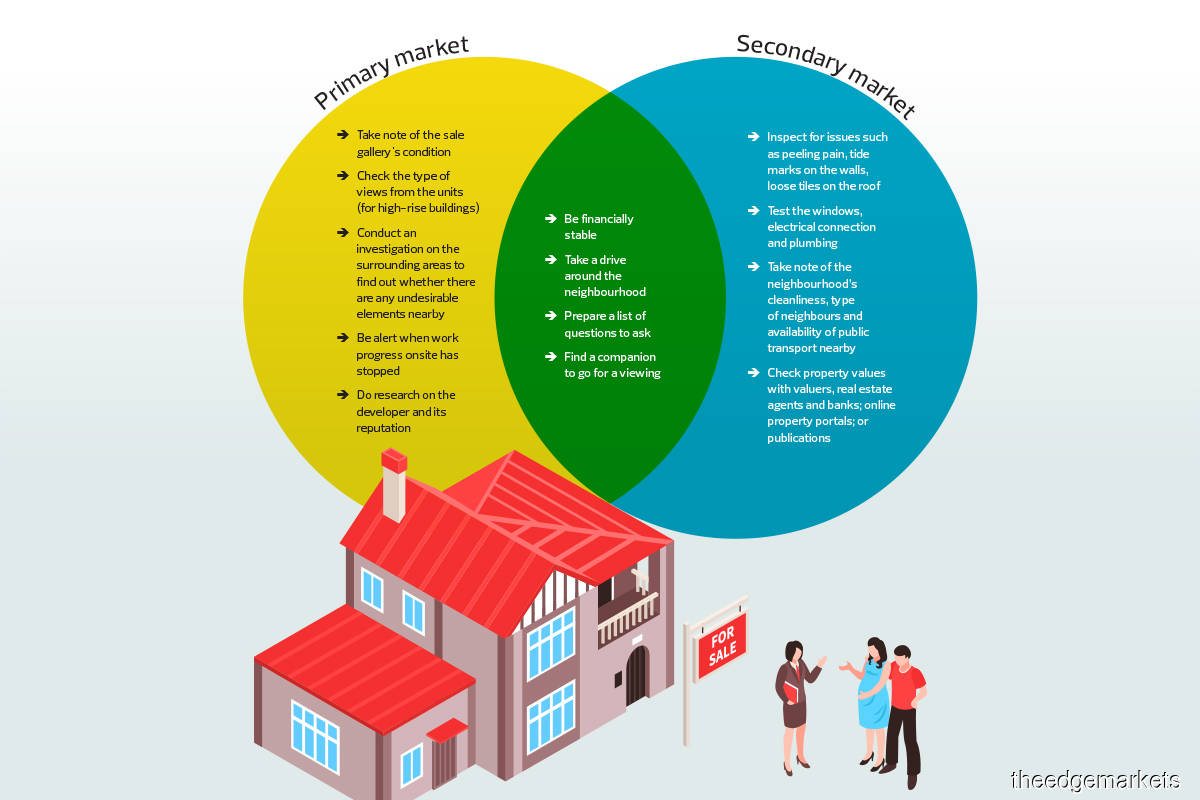 The thought of buying one's own home can be daunting, as it involves a huge sum of money. Besides pricing issues, some may feel lost when it comes to looking for the right home. There are so many choices out there, be it from the primary or secondary market. What should one consider and take note of?
Here are tips for first-time homebuyers who are looking to buy in either the primary or secondary market.
Be financially literate
Property experts cannot stress enough the importance of financial literacy.
The potential buyer should set a budget, says Henry Butcher (M) Sdn Bhd chief operating officer Tang Chee Meng. "He needs to look at how much savings he has to settle part of the purchase price that is not covered by the housing loan. This includes incidental expenses and how much he can comfortably allocate every month to pay for his mortgage instalment."
Real estate agency Hartamas Real Estate cautions that one should not consider buying a home before one has an emergency savings account with three to six months' worth of living expenses.
"He needs to be prepared for both the purchase and the ongoing expenses of a home. There will be considerable upfront costs, including the down payment and closing costs. He needs money put away not only for those costs but also for the emergency fund," the agency explains.
After you have audited your finances and are confident of it, the next thing to consider is the housing loan.
"Loan eligibility is important. He needs to see the loan amount that he can qualify for based on his current income. This will dictate the maximum house price that he can afford," says Tang.
It is advisable to get a pre-approved loan screening through loan evaluation companies such as Loanplus before placing a booking on the desired property, says Hartamas Real Estate.
"It is also beneficial to shop around for a bank and compare interest rates and fees using tools such as a mortgage calculator," it adds.
Shopping in the primary market
Now that your finances are in place, the next step is to figure out your preferences, which include the location, type of property and title, and land tenure.
After you are certain of your preferences, it is time to go shopping.
When you are looking to buy in the primary market, you will probably go to the sales gallery to view the plan and speak to the sales personnel.
Tang advises considering whether the gallery and its internal set-up are done well. "In a way, it reflects the level of detailing that the developer pays attention to."
Meanwhile, a fully furnished show unit will be able to highlight the strengths as well as shortcomings of the design, such as the placement of the bedroom doors and size of the bathrooms and kitchen, he says.
"Note all the extra furnishing and fittings, and check with the developer whether they are included in the standard sales package," he says.
If you are thinking of buying a high-rise unit, check the type of views from the unit that you are thinking of choosing and find out whether your views will be obstructed in the future, Tang says.
An investigation on the surrounding areas should be conducted to find out whether there are any undesirable elements nearby such as cemetery, high-tension wires, oxidation pond and rubbish collection centre.
Therefore, driving around the area is advisable, says Hartamas Real Estate. "First impressions should not be underestimated. Even before the viewing, you should go and see the site. Often, this is enough to know a property is not for you."
Before going for a viewing, you should prepare a list of questions to ask. Moreover, it is advisable not to go to a viewing alone. "Not only is it safer, it is always great to have someone to bounce ideas off and ask for a second opinion," says the agency.
There are still certain risks when you buy from a developer, and they may include poor workmanship and the development being abandoned.
"If the work progress on site has stopped or is moving at a very slow pace, be cautious. You should be suspicious if the quality or condition of the sales gallery or show unit is bad, as it may be a reflection of poor workmanship. If you come across any news articles on the developer or any of its directors about being involved in abandoned projects or receiving many complaints about defects and poor workmanship, you should carry out further investigations," Tang cautions.
Keep in mind that artist's impressions can be very different from the completed product, says Hartamas Real Estate. As there have been instances in which the actual product is different from the images, always check the developer's reputation.
Shopping in the secondary market
Hartamas Real Estate's advice on taking a drive, listing questions and having a companion for property viewing is also relevant for you if you are looking to buy in the secondary market.
"In addition, when you view an existing house, inspect for issues such as peeling paint, tide marks on the walls and any loose tiles on the roof. Test the windows and electrical connection and plumbing," the agency adds.
Tang concurs. "You should also take note of the cleanliness of the neighbourhood, the type of neighbours staying next door and the availability of public transport nearby."
You can find out the value of the property from valuers, real estate agents and banks or go online and check from property portals or publications on the asking or transacted prices of similar properties, say property experts.
"This is to get a feel of the range of prices that sellers are currently asking for. It will also provide the first-time homebuyer with a better understanding of current prices and the appropriate amount that he should offer for the unit he is considering," says Tang.
"It is important to perform the check to ensure the property he is going to purchase falls under the fair market value," adds Hartamas Real Estate.
There may be many things to consider and take note of, but it is crucial for you to know all of this so that you will be able to pick the correct property and live happily in it without regrets.