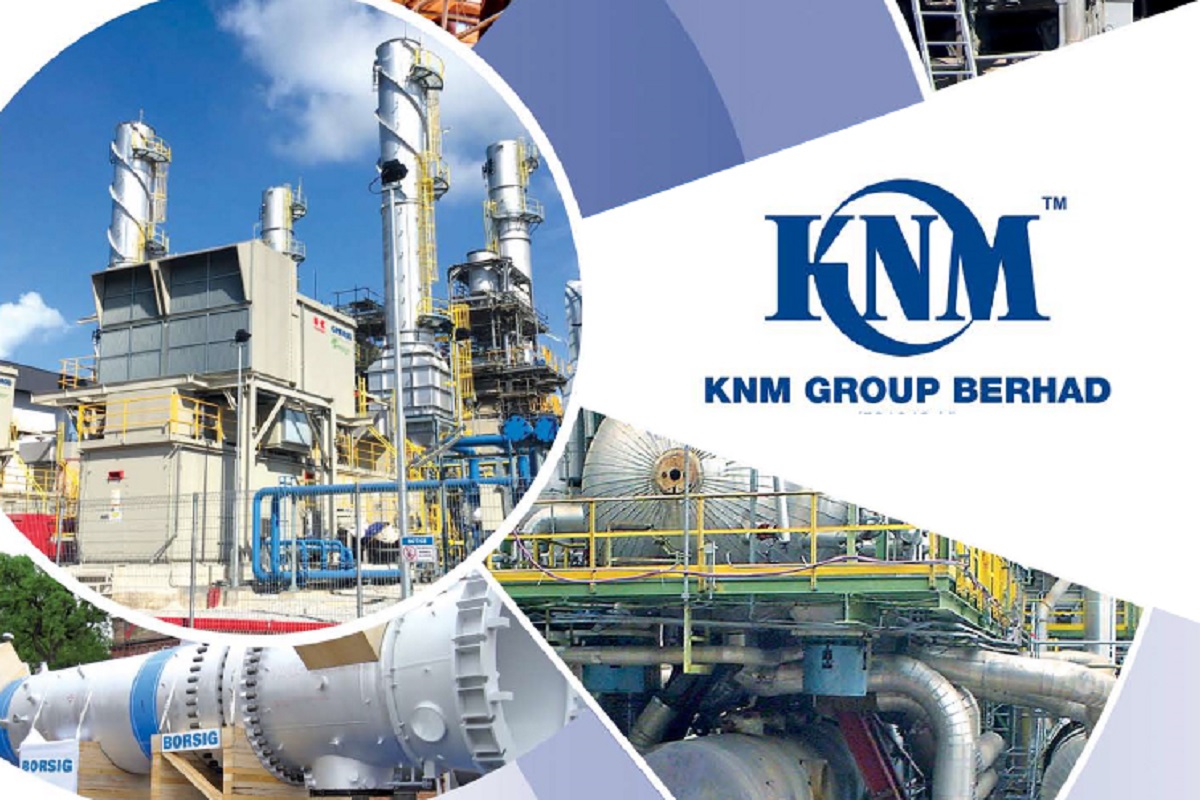 KUALA LUMPUR (Nov 24): KNM Group Bhd posted a net loss of RM32.51 million in the third quarter ended Sept 30, 2021 (3QFY21) compared with a net profit of RM10.56 million in the immediate preceding quarter (2QFY21).
The oil and gas equipment services group noted this was mainly due to the unrealised foreign exchange loss and higher finance costs for certain construction projects of the group that had been expensed off into the income statement in the quarter under review.
The group posted higher revenue of RM326.38 million in the current quarter against RM245.98 million in the preceding quarter (2QFY21), mainly due to higher deliveries of process equipment projects in the current quarter from the Europe segment.
KNM did not declare any dividend. 
On a year-on-year basis, KNM posted a net profit of RM17.98 million in 3QFY20, while revenue was up 1.57% from RM321.32 million, its filing with Bursa Malaysia showed on Wednesday.
For the cumulative nine-month period ended Sept 30, KNM posted a net loss of RM23.96 million compared with a net profit of RM49.46 million in the same period a year ago, in tandem with an 18.9% drop in revenue to RM803.59 million from RM990.91 million last year. 
On prospects, KNM said the board anticipates that the outlook for the financial year ending Dec 31, 2021 will remain challenging due to the continuous uncertainties in the global economy outlook arising from the impacts of the Covid-19 pandemic.
"The underlying industries that drive our business prospect such as oil and gas, petrochemical and energy will remain challenging as recovery of the disruption from the Covid-19 pandemic is largely depending on the roll-out speed of vaccination to majority of the population, stability of the crude oil price and the resurgence of Covid-19 pandemic particularly in Asia," it said.
KNM noted the board will take the necessary measures to manage and mitigate these uncertainties. 
"We believe that with the various efforts undertaken by the various governments, the global economy will show improvement towards the end of 2021 with higher vaccination rate and easing of lockdowns particularly in major economies including the United States of America, Europe and China," it added.
In a separate exchange filing, KNM also announced the redesignation for Tan Sri Zulhasnan Rafique, 67, from non-executive chairman to executive chairman. The former federal territories minister was appointed in September this year as the group's non-executive chairman, following the resignation of his predecessor Datuk Ab Halim Mohyiddin in June this year. 
Earlier this week, KNM proposed a private placement of 10% of its share capital to raise up to RM53.46 million, nearly five months after its private placement of 30% share capital was rejected by shareholders in June.
KNM has proposed the placement mainly to pare its debt (RM30 million) and working capital (RM22.16 million), according to its filing on Monday (Nov 22).  
Prior to that, KNM said it has missed principal and coupon payments on bonds issued in Thailand worth 2.78 billion baht (RM352.57 million) which matured last Thursday.
The oil and gas equipment and services group blamed this on the challenges arising from Covid-19 and the unfavourable operating conditions of its subsidiary Impress Ethanol Co Ltd (IECL) that operates an ethanol plant in Thailand.
In a bourse filing on Thursday (Nov 18), KNM said it is in an advanced stage of discussions with several financial institutions to secure new financing for the repayments of the bonds. However, it said final approval decisions for these new financing facilities are not expected to be made until after the maturity date of the bonds.
It has a grace period until Dec 2 to pay the principal sum, and until Dec 9 to pay the coupon before an event of default occurs.
As at 12.30pm, KNM's shares settled up 2.94% or half a sen to 17.5 sen, valuing the group at RM584.73 million, with some 3.53 million shares transacted so far.
Read also:
KNM appoints former FT minister as non-executive chairman
KNM proposes 10% private placement to raise RM53m for debt repayment, working capital 
KNM misses Thai bond payments amid pandemic challenges, subsidiary's unfavourable operating conditions