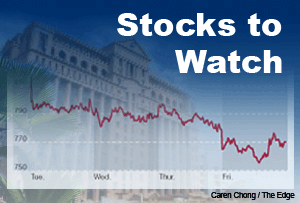 KUALA LUMPUR (Oct 17): Based on corporate announcements and news flow today, stocks that may garner interest next Monday (Oct 20) could include KNM Group Bhd, Bertam Alliance Bhd, Harvest Court Industries Bhd, Pasukhas Group Bhd, Luxchem Corp Bhd and Amtel Holdings Bhd.
KNM Group Bhd has proposed a 1-for-5 renounceable rights issue of up to 430.49 million new shares, together with free warrants on the basis of one warrant for every two rights shares subscribed, to raise between RM233 million and RM310 million, a filing to Bursa Malaysia revealed.
"Assuming an indicative issue price of 72 sen per rights share, the proposed rights issue is expected to raise gross proceeds of up to approximately RM232.61 million and RM309.95 million under the minimum scenario and maximum scenario, respectively," said KNM.
About half of the proceeds will go towards repayment of borrowing while another half for working capital.
Bertam Alliance Bhd has appointed Sabah businessman Lim Nyuk Foh as its managing director, a filing to Bursa Malaysia revealed today. Lim is also the managing director and founder of timber products manufacturer Priceworth International Bhd.
Bertam said Lim is to succeed Tan Ai Tong, who has been re-designated as executive director.
Lim had also recently became a substantial shareholder of building materials manufacturer Sarawak Consolidated Industries Bhd with a 23.47% stake.
Bertam, a property developer, saw the emergence of Wisma Jutamas Sdn Bhd as its major shareholder in July, with a 32.89% stake. Wisma Jutamas, whose individual owners are not known, had acquired the stake from Brem Holding Bhd.
Bertam today slipped 2 sen or 2.38% to close at 82 sen, with a market capitalisation of RM169.54 million.
Datuk Raymond Chan has ceased to be a substantial shareholder of Harvest Court after selling 3.7 million shares or a 1.32% stake in the company yesterday, via open market transaction.
Chan was removed as a director of Harvest Court during the company's Annual General Meeting in June, but had however stayed as its chief executive officer.
His removal from the board came after he was embroiled in a bitter dispute with Datuk Eddie Chai, who had then acquired a substantial stake in Harvest Court.
Harvest Court closed unchanged at 21.5 sen today, with a market capitalisation of RM60.4 million.
Mechanical and electrical (M&E) engineering solution provider Pasukhas Group Bhd has secured a contract worth RM44.43 million, for the sub-structure and external works of a medical tourism project at Barat Daya, Penang.
In a filing with Bursa Malaysia today, Pasukhas said its wholly owned unit, Pasukhas Sdn Bhd (PSB) had on Monday (Oct 13) accepted a letter of award from Senja Aman Development Sdn Bhd, the developer of the medical tourism project.
Pasukhas closed 1 sen higher at 22 sen today, bringing its market capitalisation to RM64.9 million.
Industrial chemical supplier Luxchem Corp Bhd has proposed a 1-for-1 bonus issue of up to 130 million new shares, a filing to Bursa Malaysia revealed today.
In its filing, Luxchem said the bonus issue was proposed to increase its capital base to reflect its current scale of operations while rewarding shareholders.
Luxchem closed 3 sen higher at RM1.36 today, with a market capitalisation of RM175.5 million.
Amtel Holdings Bhd has proposed to acquire a 100% equity interest in property development outfit Mewah Amanjaya Sdn Bhd (MASB) for a cash consideration of RM3 million.
In a filing with Bursa Malaysia today, Amtel, a telecommunications management company, said it had entered into an agreement with Doh Jee Chai, Doh Tee Leong, Doh Jee Ming, Lee Hong King and Doh Neng Chiong to acquire the entire equity interest in Mewah Amanjaya Sdn Bhd (MASB).
"The proposed acquisition provides certainty and an immediate entry into property development for Amtel as approvals for the development has been obtained as at the date of the agreement," said Amtel.
MASB is primarily involved in property development. It is currently in a joint development with Cortes Sdn Bhd, to undertake residential development on a land measuring approximately 1.24 hectares in Damansara. The housing project has approximately RM30 million in gross development value (GDV).
Shares of Amtel closed 4.5sen higher at 80.5 sen today, with only 1,000 shares done. It has a market capitalisation of RM37.45 million.