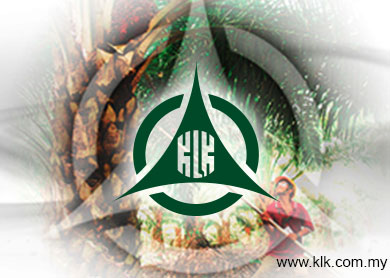 KUALA LUMPUR (Nov 19): Kuala Lumpur Kepong Bhd (KLK) saw its net profit decline 34% to RM170.8 million in the fourth financial quarter ended Sept 30, from RM258 million in the previous corresponding quarter.
The plantation giant commented that the impending large soybean harvest in the US and the low petroleum prices, which affect bio-diesel demand, are capping CPO prices.  
Despite weaker earnings performance, KLK recommended a final single tier dividend of 40 sen per share for the financial year ended Sept 30.  
Its fourth quarter revenue jumped 15% to RM2.78 billion, from RM2.41 billion a year ago.
KLK blamed the weaker net profit on declining palm oil prices, which had pressured its profit margins, resulting in losses from the refineries and kernel crushing plants.
Despite that, KLK's plantations profit climbed 10.9% on the back of higher fresh fruit bunches (FFB) production, lower production cost and higher selling price of palm kernel (PK), according to the financial result announcement to Bursa Malaysia today.  
KLK said its manufacturing sector incurred an RM9.4 million loss, against a profit of RM105.9 million profit in the same quarter last year. The sector was impacted by reduced margins due to weak oil prices, which had necessitated the write-down of stocks.
Its oleochemical division also slipped into the red with a loss of RM13.4 million, from a profit of RM92.3 million last year. Its properties sector recorded profit dropped 42.3% to RM14.1 million, from RM24.4 million previously.
For the full-year, net profit rose 8% to RM991.7 million, versus RM917.7 million in the previous year; while revenue leapt 21.7% to RM11.13 billion, from RM9.15 billion.
KLK said the improved net profit was due to better crude palm oil (CPO) and PK prices, lower production cost and higher sales volume of CPO and PK.
The group's manufacturing sector recorded lower full-year profit by 14.2%, due to the sharp drop of palm oil prices in the fourth quarter.
KLK said bearish oil prices and weak market sentiment in the second half year, had destabilised the overall demand pattern.
KLK's oleochemical division and properties sector also recorded lower full-year profit.
"Plantations profit for the current financial year is expected to be satisfactory, albeit lower than that of the previous financial year," said KLK on current year prospects.
This came on CPO prices that trade between RM2,200 to RM2,300 per tonne, and a weak ringgit, among other reasons.
KLK share price shed 66 sen or 2.8% to RM23.00, giving it a market capitalisation of RM24.49 billion.