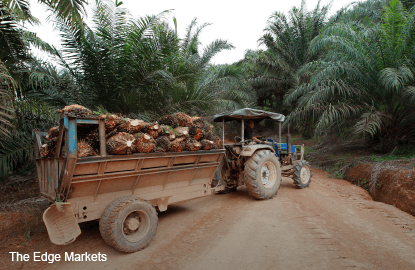 Kuala Lumpur Kepong Bhd
(Aug 20, RM20.24)
Maintain hold with an unchanged target price (TP) of RM22: Kuala Lumpur Kepong (KLK) reported a net profit of RM246.9 million for its third quarter ended June 30, 2015 (3QFY15). The quarterly net profit was up 10.9% quarter-on-quarter (q-o-q) and 15.5% year-on-year (y-o-y).
Revenue climbed 15.4% q-o-q and 21% y-o-y. For the cumulative nine months period (9MFY15), the net profit of RM683.6 million was 16.7% lower than RM821 million a year earlier. Still, the cumulative revenue increased 16.4% y-o-y.
The group's 9MFY15 core net profit after stripping out fair value loss on derivate contracts was derived at RM706.3 million, dropping 12.9% y-o-y. The core net profit was within our and consensus' expectations.
The 3QFY15 core net profit of the group surged 15.7% y-o-y, and 31.5% q-o-q, on higher dividend income from its overseas investment of RM53.4 million, receipt of inter-company interest income upon disposal of subsidiary that amounted to RM12.6 million, and improved performance of the plantation division.
The abovementioned income had offset the weaker performances of its core business divisions. The plantation and manufacturing divisions were weighed down by lower crude palm oil (CPO) prices and lower selling prices of refined products, while its property division reported lower earnings on slower profit recognition from its project in Sungai Buloh.
The plantations division reported a 17% improvement in segment profit on the back of seasonal higher CPO production (+16% q-o-q) that was more than enough to offset the lower CPO prices (-3.9% q-o-q). Profit from the property segment plunged to RM7.8 million from RM28.9 million in the previous quarter as profit from the segment in the previous quarter was boosted by disposal of industrial and commercial land.
Despite the group reporting higher 9MFY15 revenue (+16.4% y-o-y) on the back of higher investment income and higher revenue from the manufacturing division, the core net profit was 12.9% lower y-o-y. The lower 9MFY15 profit was due to weaker performances of the plantation and manufacturing divisions.
The plantation division was dragged down by lower CPO prices (-11.3% y-o-y), despite CPO production growing 3.7% y-o-y. Meanwhile, its manufacturing division suffered from lower margin as its fatty alcohol business was dragged down by falling CPO prices.
We maintain our earnings forecast for FY15 to FY16. We derive our TP by pegging at a price-earnings ratio of 19.8 times FY16F earnings per share. We maintain our "neutral" stance on the group in view of the subdued CPO prices and margin compression in its downstream business. — JF Apex Securities Bhd, Aug 20
This article first appeared in digitaledge Daily, on August 21, 2015.