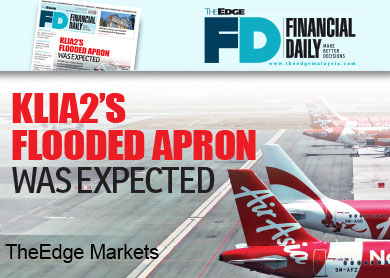 KUALA LUMPUR: Malaysia Airports Holdings Bhd (MAHB) said the "water ponding" or water retention at the apron of the RM4 billion klia2 in Sepang was due to differential settlement and was expected, after a video surfaced on Wednesday showing workers removing water from the area, sparking safety concerns.
The apron is an area used to park, unload or load, refuel, maintain or board an aircraft. Differential settlement refers to the unequal settling of a foundation.
"As has been reported earlier, klia2 is expected to face some differential settlement. We have commissioned scheduled works to address this known item continuously," the airport operator said on its Twitter feed yesterday.
MAHB attached three photos to the tweet, with one showing workers scooping water from the apron surface, and the other two showing workers carrying out resurfacing works in the area.
"The pictures show the contractor's workers removing water from a specific area after heavy rain to enable resurfacing works and to prevent further water ponding in that area," MAHB said.
DAP national publicity secretary and Member of Parliament for Petaling Jaya Utara Tony Pua brought the said video to the press' attention at the Parliament lobby yesterday. He said the "issues and problems arising from klia2 have become an international joke".
Pua noted that the video had gone viral after it was posted on YouTube on Wednesday.
Meanwhile, Transport Minister Datuk Seri Liow Tiong Lai (pic) said the erosion or sunken ground that had caused the water retention at klia2's apron recently had been taken into account during the construction of the new low-cost carrier terminal.
"The erosion that caused it did not affect the safety operations or flights [at klia2]," he said in his written reply to an oral question in Parliament by Pua.
Pua asked Liow to state the total cost of klia2 and the steps taken by MAHB to overcome the cracks and erosions that occur frequently at the terminal's apron and runway.
Pua, a Public Accounts Committee (PAC) member, wants the airport operator to submit the reports prepared by the International Civil Aviation Organization (ICAO) and independent engineering consultant Ikram on the safety issues at klia2 and their suggestions for improvements.
He said due to the safety and flooding concerns at klia2, the PAC had requested for the detailed reports on Sept 30, but to date they have yet to be submitted.
"This is becoming a serious crisis for MAHB because whenever it floods, they have to shuffle the planes around. Luckily, the terminal is not packed," said Pua.
MAHB said the Transport Ministry had released the ICAO and Ikram reports to the airport operator.
"And we are making arrangements to submit the copies to the PAC," it told The Edge Financial Daily yesterday via email, but did not give a time frame.
This article first appeared in The Edge Financial Daily, on October 31, 2014.