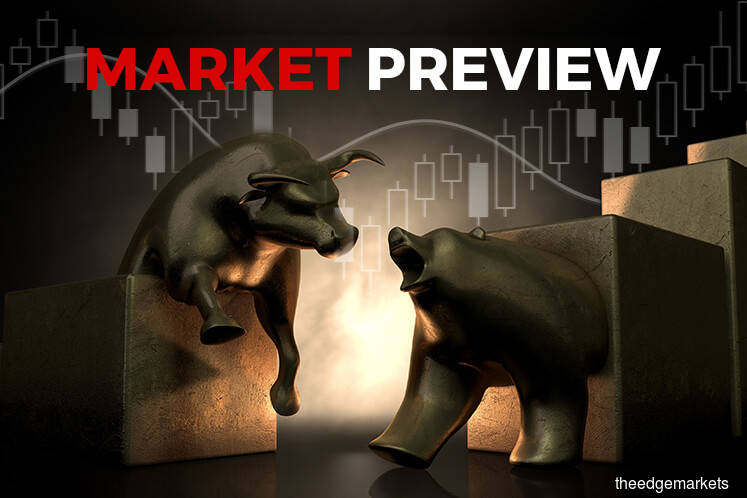 KUALA LUMPUR (July 19): The FBM KLCI is expected to trend higher today, tracking the overnight gains at most global markets, with immediate hurdle at 1,755 points.
Stocks on major world markets climbed to a one-month high on Wednesday after a raft of strong corporate earnings, while the U.S. dollar hit a three-week high against major currencies, according to Reuters.
MSCI's gauge of stocks across the globe gained 0.17 percent and touched its highest point in a month, it said.
On Wall Street, the Dow Jones Industrial Average rose 79.4 points, or 0.32 percent, to 25,199.29, the S&P 500 gained 6.07 points, or 0.22 percent, to 2,815.62 and the Nasdaq Composite dropped 0.67 points, or 0.01 percent, to 7,854.44, said Reuters.
AllianceDBS Research in its evening edition Wednesday said led by the up close in the preceding day, the FBM KLCI had on July 18 traded higher again to settle at the day's high of 1,753.07 (up 15.79 points or 0.91%) in the last few minutes buying of selective blue chip stocks.
"In the broader market, gainers outnumbered losers with 594 stocks ending higher and 295 stocks finishing lower. That gave a market breadth of 2.01 indicating the bulls were in better control," it said.
AllianceDBS Research said the market continued to be in a winning streak with 7 consecutive days of higher high.
It said given the well-placed position of the market settlement at 1,737.28 on July 17, the benchmark index crossed into the 1,740 zone to reach a day's high of 1,753.07 as market participants were still willing to play a buying game.
"This can be seen from the day low of 1,730.38 which was merely 3 points lower than the opening level of 1,733.89.
"The return of the benchmark index to go back up above the previous day's settlement of 1,737.28 somehow made market participants to realise that the market could be recovering, which gave the buying confidence.
"At the day's high of 1,753.07, the benchmark index has recovered about 96 points or 66.6% of the lost ground measuring from the high of 1,801 (June 7) to the low of 1,657 (June 28)," it said.
The research house said following the up close on July 18, there should be buying attempt with immediate hurdle at 1,755.
"The analysis of overall market action on July 18 revealed that buying power was stronger than selling pressure.
"As such, the FBM KLCI would likely trade above the 1,753.07 level on July 19," said AllianceDBS Research.
Based on corporate announcements and news flow yesterday, companies that may be in focus today may include the following: Maxis Bhd, Seacera Group Bhd, Sapura Energy Bhd, MNRB Holdings Bhd, TMC Life Sciences Bhd, Ranhill Holdings Bhd, Hua Yang Bhd, Ikhmas Jaya Group Bhd, Menang Corp (M) Bhd and Tek Seng Holdings Bhd.