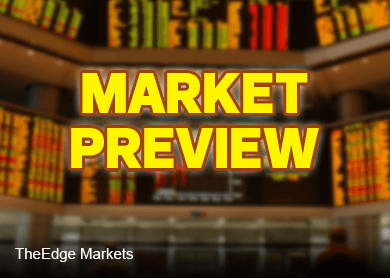 KUALA LUMPUR (Dec 4): Malaysian equities at Bursa Malaysia are likely to be traded cautiously despite the firmer overnight at most global markets, as local investor sentiment remains jittery on the still opaque domestic outlook and weaker risk appetite.
Global equity markets rose and the dollar climbed to its highest since 2009 on Wednesday as momentum grew for the European Central Bank to launch a bond-buying program and data showed U.S. economic resiliency in the face of slowing world growth, according to Reuters.
The Dow industrials and benchmark S&P 500 set fresh record closing and intra-day highs on Wall Street, it said.
AllianceDBS Research in its evening edition Wednesday said despite the strong up close in the preceding day, the FBM KLCI had on Dec 3 only traded to a day high of 1,789.04 after the opening bell as market participants decided not to stage a follow through supportive buying.
It said that in the absence of buying interest, the benchmark index came under renewed selling pressure.
"This pushed the market down to settle at the day's low of 1,758 (- 27.82, - 1.56%).
"In the broader market, losers outnumbered gainers with 678 stocks ending lower and 197 stocks finishing lower. That gave a market breadth of 0.29 indicating the bears were in control," it said.
AllianceDBS Research said the lower high indicated that buyers were unwilling to commit in fear of "flash attack" from the sellers.
The research house said with the market giving back more than what was gained yesterday, sellers were again back in control of the game.
It added buyers basically simply did not see a buying action leading to a high profitable trade.
"Furthermore, the inability of the market to trade higher than 1,789.04 somehow made those market participants with losing trades feeling jittery about the potential market upside.
"This can be seen from the downside penetration of the 1,766 support to the low of 1,785.15 on Dec 3," it said.
AllianceDBS Research said following the down close below the 1,766 level, the benchmark index was expected to trade lower with immediate support pegged at 1,740.
Indicator wise, the MACD is below the 9-day moving average line, it said.
"The analysis of overall market action on Dec 3 revealed that buying power was weaker than selling pressure.
"As such, the FBM KLCI would likely trade below the 1,758.15 level on Dec 4," it said.