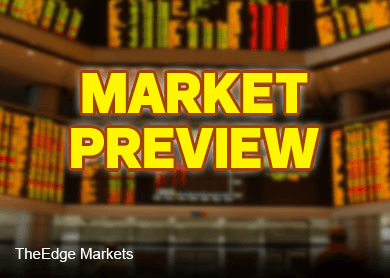 KUALA LUMPUR (June 15): The FBM KLCI is expected to trade range-bound today in line with US and European markets that trended lower last Friday against the backdrop of a setback in Greek debt talks.
A setback in Greek debt talks pushed U.S. and European shares lower on Friday, along with investor views that positive U.S. data may accelerate the timing for a hike in interest rates, according to Reuters.
Oil prices fell on concerns production may rise further, it said.
The International Monetary Fund delegation left Greek debt negotiations on Friday because of "major differences" with Athens on the same day that EU officials held their first formal talks on the possibility of Greece defaulting, said Reuters.
AllianceDBS Research in its evening edition last Friday said that dampened by the down close in the preceding day, the FBM KLCI had on June 12 traded marginally lower to 1,732.59 as some market participants continued to play on the selling side in anticipation of a lower market.
The research house said that in the absence of stronger supportive buying interest, the benchmark index settled near the day's low at 1,734.37 (- 0.39, - 0.02%).
"In the broader market, losers outnumbered gainers with 442 stocks ending lower and 310 stocks finishing higher. That gave a market breadth of 0.70 indicating the bears were still in control," it said.
AllianceDBS Research said that the lower low on June 12 was expected, but the near day's low down close indicated that buyers were still unwilling to part their money at this juncture.
The research house said sellers were still in control of the game play.
"Given the recent market actions, the benchmark index is likely to trade between 1,727 and 1,752 in the coming few days.
"To see an upside breakout of 1,751, a positive catalyst is necessary to instil the buying confidence.
"However, a downside breakout of 1,727 would put pressure on the market down to the immediate support zone, 1706 - 1,718," it said.
The research house said that indicator wise, the MACD was below the 9-day moving average line.
"The analysis of overall market action on June 12 revealed that buying power was weaker than selling pressure.
"As such, the FBM KLCI would likely trade below the 1,732.59 level on June 15," said AllianceDBS Research.