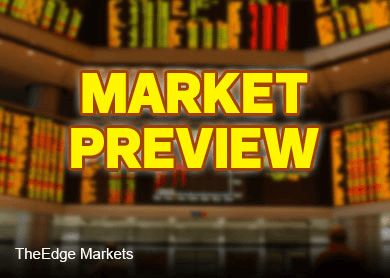 KUALA LUMPUR (Dec 18): The FBM KLCI is expected to trend higher and test the psychologically crucial 1,700 point level today on the back of the higher overnight close at Wall Street and most global markets.
U.S. stock averages posted their best day this year and the dollar strengthened on Wednesday after the Federal Reserve signaled America's economy was strong enough to handle interest rate hikes in 2015, though it emphasized that shifts in policy would be gradual, according to Reuters.
The dollar rose against most other currencies, but declined sharply against the Russian rouble, whose dramatic drop in recent weeks has caused a national economic crisis, it said.
Wall Street rebounded after three days of declines, adding to gains after the Fed, in its statement after its last policy meeting of the year, said it was adopting a "patient" approach to raising interest rates. The Fed said that investors should view its latest outlook as similar to its frequent use of the phrase "considerable time" before raising rates, said Reuters.
AllianceDBS Research in its evening edition Wednesday said the FBM KLCI had on Dec 17 traded marginally lower to a low of 1,671.82 after the opening bell as some market participants continued to play on the selling side in anticipation of a lower market.
However, it said non-follow through selling pressure at 1,671.82 prompted bargain hunting interest, adding that this lifted the benchmark index to a high of 1,691.99 before settling at 1,681.90 (+7.86 , +0.48 %).
"In the broader market, gainers outnumbered losers with 648 stocks ending higher and 257 stocks finishing lower. That gave a market breadth of 2.52 indicating the bulls were in control," said the research house.
AllianceDBS Research said a lower low was made on Dec 17, but the benchmark index managed to hold its low above the 1,670 support level.
The research house said buyers were in better control over sellers in the game play as aggressive market participants took advantage of the lower market level to acquire some of the beaten down stocks with hope to sell at a higher level in later days.
It said following the up close on 17 Dec 2014, the market is likely to test higher level in the coming few days with resistance zone seen between 1,700 and 1,720. 
Indicator wise, the MACD is below the 9-day moving average line, it said.
"The analysis of overall market action on Dec 17 revealed that buying power was stronger than selling pressure.
"As such, the FBM KLCI would likely trade above the 1,691.99 level on Dec 18," said AllianceDBS Research.