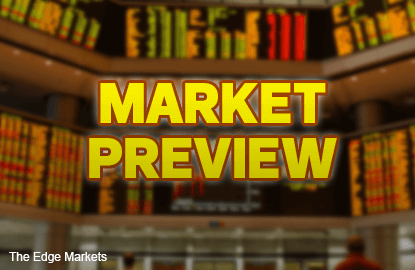 KUALA LUMPUR (Nov 4): The FBM KLCI is expected to trend higher today but gains may be limited in the absence of fresh domestic catalysts, with the index eyeing the 1,680-point level.
U.S. stocks closed higher on Tuesday, adding to the previous session's rally as rising oil prices boosted the energy sector, while U.S. Treasury yields rose on speculation about a possible December Federal Reserve interest rate hike, according to Reuters.
After a volatile morning, U.S. stocks settled into positive territory in the afternoon. The Nasdaq 100 index of major companies closed at a record high, driven by technology stocks while the S&P 500 touched its highest since late July, it said.
AllianceDBS Research in its evening edition Tuesday said that despite the down close in the preceding day, the FBM KLCI had on Nov 3 opened the day on a firm note.
It said the benchmark index went on to gather positive momentum as market participants chose to play on the buying side in anticipation of a higher market.
The research house said under the supportive buying interest, the benchmark index kept its position near the high end throughout the trading sessions before settling at the day's high of 1,677.56 (up 13.49 points or 0.81%).
"In the broader market, gainers outnumbered losers with 520 stocks ending higher and 357 stocks finishing lower. That gave a market breadth of 1.45 indicating the bulls were in control," it said.
AllianceDBS Research said having registered lower lows for 6 consecutive days, the benchmark index reversed its position on Nov 3 to record a higher high.
"This signified that a change of game play pattern from selling to buying.
"Market participants apparently took the chance to buy into the market with a view of market readiness to reverse and turn upward after the higher opening level.
"Moreover, the previous day's low of 1,658.98 (Nov 2) was merely 2 point away from the upper level of expected support zone between 1,647 and 1,657.
"The minority well-informed knowledgeable market participants understand that market is emotional, and that explained why they had been focusing on the possible influences of buying and selling relationship in the last 2 days in an attempt to study what others are doing and going to do," it said.
The research house said following the up close on Nov 3, the market is expected to trade higher again with an eye to test the next hurdle at 1,682.
It said that indicator wise, the MACD was still below the 9-day moving average line.
"The analysis of overall market action on Nov 3 revealed that buying power was stronger than selling pressure.
"As such, the FBM KLCI would likely trade above the 1,677.56 level on Nov 4," said AllianceDBS Research.