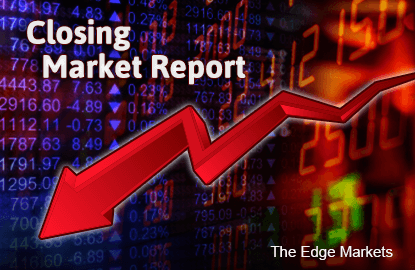 KUALA LUMPUR (Aug 7): The FBM KLCI remained in the red today, as concerns over the weaker ringgit against the US dollar and declining oil prices continued to weigh down the benchmark index.
At 5pm, the FBM KLCI was down 0.71% or 11.99 points to close at 1,682.65 points.
Areca Capital Sdn Bhd chief executive officer Danny Wong said the index was dragged by concerns over the continued weakening of the ringgit.
"The ringgit breached 3.93 this morning, though it rebounded slightly in the afternoon. The market will take some time to settle down, as it is currently moving based on sentiment.
"There needs to be a stabilisation on blue chip stocks. If there is a lead on the blue chips, the market will find the right level. People will then switch to fundamentals," he said.
Wong further added that the fundamentals are still quite attractive, and the concern on cost and slowdown are in terms of corporate earnings. The current market slump has also made some stocks quite attractive.
"These shares will perform once the dust starts to settle, given their solid fundamentals," he said.
On the dampened regional performance, Wong said it is mainly due to continued fall in oil prices.
As for the market outlook for next week, Etiqa head of research for investment division Chris Eng said much will depend on the country's foreign exchange (forex) reserves.
A figure below US$95 billion would be viewed as negative, while anything above US$101 billion would be deemed as positive.
"The current selldown on the KLCI seems linked to the weakness in the ringgit, and rumours of capital controls. An official statement from Bank Negara dispelling such rumours would do much towards reinstilling confidence. We await to see if such a statement will be forthcoming," Eng told theedgemarkets in an email.
The bourse saw a total of 1.86 billion shares worth RM1.8 billion traded today. Decliners beat gainers at 722 versus 187, while 257 counters were unchanged.
The top decliner across the board was TAHPS Group Bhd, while gainers were led by United Plantations Bhd. The counter that saw the highest volume of trade was The Media Shoppe Bhd, with 50.58 million shares traded.
Regionally, South Korea's Kospi declined 0.15%, though Japan's Nikkei and Hong Kong's Hang Seng gained 0.29% and 0.73%, respectively.
Reuters reported that most Asian shares slipped on Friday and are on track for a third consecutive weekly loss, while the US dollar rose as caution mounted ahead of US jobs data that could spur the Federal Reserve to raise interest rates in September.
MSCI's broadest index of Asia-Pacific outside of Japan was down 0.1%, down about 1.5% for the week, weighed by weak US equities, said Reuters.