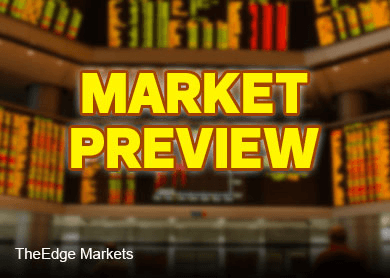 KUALA LUMPUR (Dec 11): The FBM KLCI could trade range bound today despite the slightly improved risk appetite at tghe local bourse as global markets were rattled overnight on worries over the Greek and Chinese economies.
Overnight, oil prices slumped to five-year lows on Wednesday and U.S. and European equity markets fell as investors, worried about the Greek and Chinese economies, withdrew from riskier positions and bought the Japanese yen, which rose against the U.S. dollara, according to Reuters.
U.S. stocks lost more than 1 percent on Wednesday in the S&P 500's biggest decline since Oct. 13 as another big drop in oil prices hammered energy shares.
The S&P 500 has lost 2.4 percent this week so far, reversing a recent trend. The Dow and S&P 500 had capped a seventh straight week of gains on Friday, said Reuters.
In its evening edition Wednesday, AllianceDBS Research said despite the down close in the preceding day, the FBM KLCI had on Dec 10 staged a strong rebound after the opening bell as market participants changed their game play to buying. Under the sustained buying activity, the benchmark index settled at the high of 1,765.52 (+ 27.42, + 1.58%).
It said that in the broader market, gainers outnumbered losers with 497 stocks ending higher and 266 stocks finishing lower, adding that gave a market breadth of 1.86 indicating the bulls were in control.
AllianceDBS Research said the benchmark index had on Dec 10 posted a higher low and higher high for the first time after 9 consecutive days of lower high and lower low.
It said this indicated that buyers took control of the game play.
"The market rebound was timely and helped ease looming pessimism.
"The buying activity on Dec 10 was believed to be more of bargain hunting interest after the recent market falls.
"Following the market rebound, a market bottom at 1,730 is likely to have been formed for the moment. On this note, we should see attempts to carry the market higher with an immediate hurdle seen at 1,769," it said.
The research house said a crossover of 1,769 should see a test of next resistance zone, 1,775 - 1,790.
Indicator wise, the MACD was still below the 9-day moving average line, it said.
"The analysis of overall market action on Dec 10 revealed that buying power was than selling pressure.
"As such, the FBM KLCI would likely trade above the 1,765.52 level on Dec 11," said AllianceDBS Research.