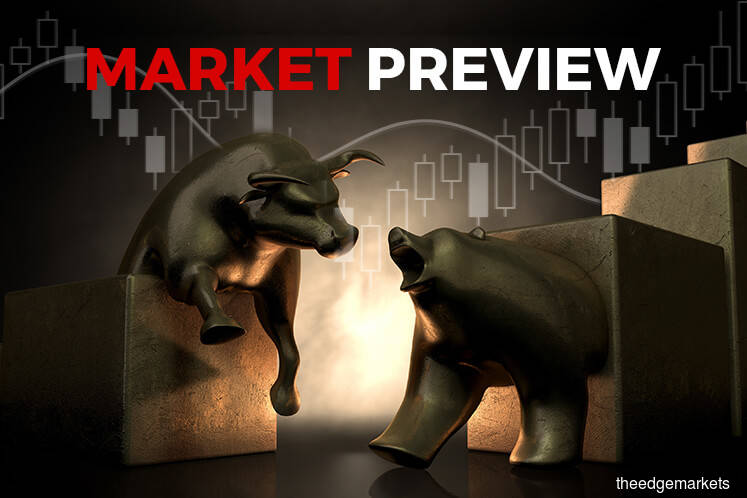 KUALA LUMPUR (Sept 25): The FBM KLCI is expected to start the week on a mute note, in line with the lacklustre risk appetite at most global markets following the escalation of war words between the US President Donald Trump and North Korean leader Kim Jong Un over the weekend.
Risk appetite in Europe chilled on Friday after a new exchange of barbs between North Korea and the US sparked a knee-jerk sell-off in politically sensitive metals, while focus turned to a speech by the British Prime Minister on Brexit, according to Reuters.
Europe's main stock index fell in early trading, following a slide in Asian stocks and a rush to safe-haven currencies overnight after North Korea said it might test a hydrogen bomb in the Pacific Ocean, it said.
Meanwhile, the S&P 500 closed slightly higher on Friday even though Apple was a drag, as worries about Washington's latest healthcare legislation proposal eased and investors shrugged off concerns about North Korea, said Reuters.
The Dow Jones Industrial Average fell 9.64 points, or 0.04 percent, to 22,349.59, the S&P 500 gained 1.62 points, or 0.06 percent, to 2,502.22 and the Nasdaq Composite added 4.23 points, or 0.07 percent, to 6,426.92, it said.
AllianceDBS Research in its evening edition last Thursday said the FBM KLCI had on Sept 21 traded within previous day's range to form an inside day bar as market participants decided not to stage an immediate follow through selling pressure.
It said in the absence of stronger buying or selling interest, the benchmark index was moving between the green and red zones throughout the trading sessions before settling near the day's low at 1,771.04 (down 2.54 points or 0.14%).
"In the broader market, losers outnumbered gainers with 473 stocks ending lower and 384 stocks finishing higher. That gave a market breadth of 0.81 indicating the bears were in control," it said.
AllianceDBS Research said having lost 23 points measuring from the high of 1,793.22 (Sept 13) to the low of 1,770.44 (Sept 20) in 5 market days, the market took a pause on Sept 21.
"This can be seen from the inside day bar formation with both the buyers and sellers were in a balanced position.
"The selling activity in the last 2 market days were believed to be attributed to stock liquidation ahead of long weekend because market participants were unwilling to carry too many stock positions over the long holidays for fear of negative external market development," it said.
The research house said following the down close on Sept 21, there should be selling attempt again with immediate support seen at 1,766.
"The analysis of overall market action on Sept 21 revealed that buying power was weaker than selling pressure.
"As such, the FBM KLCI would likely trade below the 1,770.70 level on Sept 25," said AllianceDBS Research.
Based on corporate announcements and news flow last Thursday, stocks in focus today may include: UEM Edgenta Bhd, OldTown Bhd, Mega First Corp Bhd, Poh Kong Holdings Bhd, NTPM Holdings Bhd, Asia Bioenergy Technologies Bhd, Spritzer Bhd, Yee Lee Corp Bhd, Lien Hoe Corp Bhd, Sentoria Group Bhd and FoundPac Group Bhd.