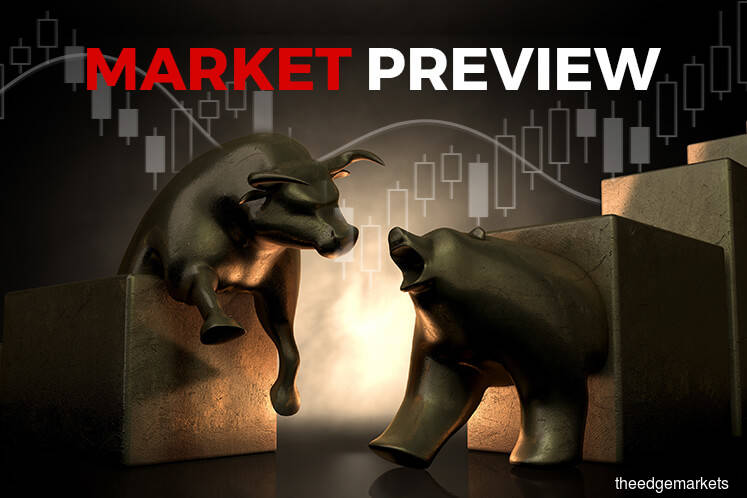 KUALA LUMPUR (July 23): The FBM KLCI is trending lower today, in line with the weaker close at most global markets last Friday, with immediate support at 1,730.
The U.S. dollar weakened, long term Treasury yields rose and stocks closed mostly lower on Friday after President Donald Trump complained again about the greenback's strength and about Federal Reserve interest rate rises, according to Reuters.
Wall Street and European stock markets stalled, despite good corporate earnings, after Trump threatened to impose tariffs on all U.S. imports from China, it said.
On Wall Street, the Dow Jones Industrial Average fell 6.38 points, or 0.03 percent, to 25,058.12, the S&P 500 lost 2.67 points, or 0.10 percent, to 2,801.82 and the Nasdaq Composite dropped 5.10 points, or 0.07 percent, to 7,820.20, said Reuters.
AllianceDBS Research in its evening edition last Friday said that despite the up close in the preceding day, the FBM KLCI had on July 20 traded lower to 1,749.52 as market participants changed their game play pattern to selling in anticipation of a lower market.
It said under the persistent selling interest, the benchmark index was in the red throughout the trading sessions before settling off the day's low at 1,754.67 (down 4.57 points or 0.26%) ahead of the weekend.
"In the broader market, losers outnumbered gainers with 481 stocks ending lower and 411 stocks finishing higher. That gave a market breadth of 0.85 indicating the bears were in better control," it said.
AllianceDBS Research said having made higher high for 8 consecutive days, the benchmark index traded lower on July 20 with the benchmark index falling to a low of the 1,749.52 level.
It said the lower low on July 20 did not come as a surprise for the benchmark index had gained about 102 points in the recent market rise measuring from the low of 1,662 (9 Jul 2018) to the high of 1,764 (19 Jul 2018).
"Moreover, the market was in need of a retracement to balance out the disequilibrium created recently in the demand supply equation.
"This helped to explain the rationale behind the lower low on July 20.
"Unlike the earlier market sessions, market participants were seen more willing to sell on July 20 because they did not wish to carry large stock positions over the weekend for fear external market risk," it said.  
The research house said following the down close on July 20, there should be selling attempt with immediate support at 1,730.
 "The analysis of overall market action on July 20 revealed that buying power was weaker than selling pressure.
"As such, the FBM KLCI would likely trade below the 1,749.52 level on July 23," said AllianceDBS Research.
Based on corporate announcements and news flow, companies that may be in focus on Monday (July 23) include the following: Gamuda Bhd, Iskandar Waterfront City Bhd, BIMB Holdings Bhd, Salcon Bhd, Cabnet Holdings Bhd, Sunway Construction Group Bhd, Sunway Real Estate Investment Trust and Media Chinese International Ltd.