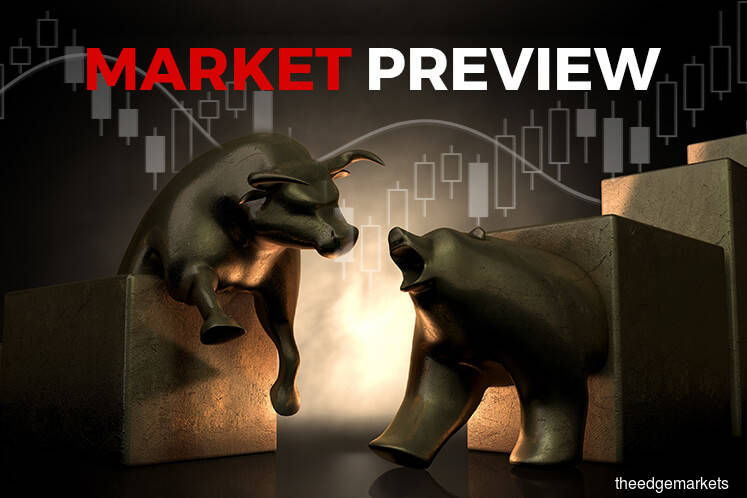 KUALA LUMPUR (Aug 15): The FBM KLCI is seen rising amid some overnight relief rally at most global markets, immediate support at 1,773.
However, the gains at the local bourse will likely be capped as the Turkish lira's recovery is not entirely completely and the rise in global shares overnight was at most a temporary reprieve.
World share markets rebounded on Tuesday as Turkey's lira pulled out of a recent nosedive and reassuring data from Germany helped offset the latest softness in China's economy, according to Reuters.
After three weeks of heavy pounding, the lira recovered some ground, trading at about 6.37 to the dollar, up almost 8 percent from the previous day's close, it said.
Stocks on Wall Street rallied. The Dow Jones Industrial Average rose 112.22 points, or 0.45 percent, to 25,299.92. The S&P 500 gained 18.03 points, or 0.64 percent, to 2,839.96 and the Nasdaq Composite added 51.19 points, or 0.65 percent, to 7,870.89, said Reuters.
AllianceDBS Research in its evening edition Tuesday said that dampened by the down close in the preceding day, the FBM KLCI had on Aug 14 traded lower to 1,778.20 as market participants continued to play on the selling side in anticipation of a lower market.
However, it said there was no stronger follow through selling pressure at 1,778.20.
It said this prompted supportive buying interest to pull the benchmark index up to a high of 1,788.34 before settling at 1,783.78 (up 0.44 points or 0.02%).
"In the broader market, gainers outnumbered losers with 520 stocks ending higher and 374 stocks finishing lower. That gave a market breadth of 1.39 indicating the bulls were in better control," it said.
AllianceDBS Research said the market registered a lower low on Aug 14 with the benchmark index falling below the 1,780 level, but it did not go far down.
It said this can be seen from the day's low of 1,778.20.
"The lack of selling interest in the area of 1,778.20 saw supportive buying interest to pull the benchmark index back up to a high of 1,788.34.
"A study of the way this market carried itself on Aug 14 revealed that many market participants were seen unwilling to play an aggressive selling game as they were generally still seen hopeful about the market development.
"The buying power that lifted the benchmark index into the 1,780 zone was believed to be an attempt made to keep the market sentiment from deteriorating after the sell down on Aug 13," it said.
The research house said following the up close on Aug 14, there should be buying attempt with immediate support at 1,773.
"The analysis of overall market action on Aug 14 revealed that buying power was stronger than selling pressure.
"As such, the FBM KLCI would likely trade above the 1,788.34 level on Aug 15," said AllianceDBS Research.
Based on corporate announcements and news flow yesterday, stocks in focus today may include: AirAsia Group Bhd, Batu Kawan Bhd, Kuala Lumpur Kepong Bhd, DKSH Holdings (M) Bhd, Hock Seng Lee Bhd, IHH Healthcare Bhd, Nestlé (Malaysia) Bhd, Pasdec Holdings Bhd, Scomi Group Bhd, Tan Chong Motor Holdings Bhd, Versatile Creative Bhd and YTL YTL Hospitality REIT.