This article first appeared in The Edge Financial Daily, on May 24, 2018.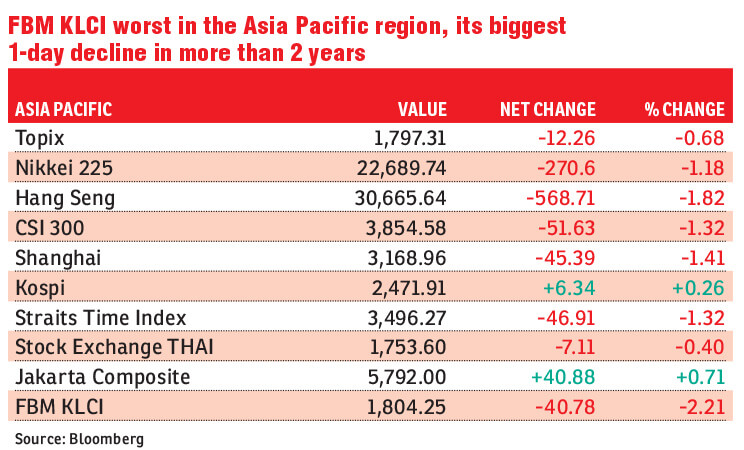 KUALA LUMPUR: The local bourse benchmark, the FBM KLCI, was the worst performing index in the Asia-Pacific region yesterday, falling 2.21% or 40.78 points at 1,804.25 points as new Finance Minister Lim Guan Eng and Prime Minister Tun Dr Mahathir Mohamad revealed more details on the country's fiscal position, especially the government's actual debt of RM1 trillion.
It was the biggest one-day decline in over two years for the benchmark index, while the entire stock exchange saw RM31.7 billion wiped off the market in a single trading day, with 763 decliners and 237 gainers.
Rakuten Trade Sdn Bhd vice-president of research Vincent Lau remains positive on the Malaysian stock market despite the sharp decline seen and urges investors to look past the "noises" dominating headlines.
"If you look at the index, the drop is quite drastic. The RM1 trillion headline has spooked the market. There are also some headwinds on the external front causing a selldown as seen in the region," Lau said.
He reckons it is still too early to consider a downgrade on Malaysia's credit rating as the new government has just taken over and rating agencies are likely to take some time to evaluate policy changes.
"I also think the impact from a downgrade on small- and mid-cap companies would be limited as these companies' borrowings are likely to be coming from local banks. While it's true the borrowing costs could be higher, the impact will not be significant," Lau added.
He is also optimistic that the "new Malaysia" euphoria could translate into something positive, as a more prudent, transparent and open government means better governance, benefiting businesses in the long term.
Hong Leong Investment Bank Bhd head of retail research Loui Low agrees, pointing out concerns about the nation's debt management and a possible shortfall in tax collection, following the announcement that the goods and services tax (GST) will be zero-rated effective June 1 this year, have contributed to the selldown. He said some of the corporate results have dampened investor sentiment as well.
Telecommunications group Axiata Group Bhd, posting a net loss of RM147.41 million in the first quarter ended March 31, 2018 (1QFY18) compared to a net profit of RM239.02 million a year ago, fell 12.6% or 64 sen to RM4.43, with about eight million shares traded.
"The support level for the [FBM] KLCI is at 1,800 and the resistance is at 1,830, based on MACD (moving average convergence/divergence)," Low noted.
Areca Capital Sdn Bhd chief executive officer Danny Wong concurred with Low that the removal of the GST and the potential abolishment of toll concessions have led to concerns over how the new government would replace these revenue shortfalls.
"There is also the RM1 trillion debt level that the ministers have talked about although it's not really a new thing," Wong said, noting that while no further explanation is given on the RM1 trillion debt, it likely includes government guaranteed (GG) debt, at RM226.88 billion as at Sept 30 last year.
As most stocks fell, Wong believes there are pockets of opportunities and value emerging for some sectors such as banking, a proxy to a stronger economic growth, which is expected.
Wong, however, said uncertainties on the global front are also driving the market down as US President Donald Trump said he is "not really" happy with the trade negotiations with China and also warned that the summit with North Korea could be delayed.
Meanwhile, foreign investors continued to sell their holdings with a net sell of RM286.8 million yesterday. In contrast, retailers and local institutions remained net buyers with RM89.9 million and RM196.9 million respectively.
Some of yesterday's decliners included those viewed to have benefited from direct negotiation contracts with the previous government.
E-government solutions provider My EG Services Bhd fell 2.1% yesterday at 91.5 sen. My EG has fallen 64.5% since just before the 14th general election.
Construction players were impacted as well, amid rising concerns over the review of infrastructure projects. Construction player George Kent (M) Bhd, perceived to be linked to former prime minister Datuk Seri Najib Razak, fell 8.1% to RM1.48 yesterday.
However, an analyst requesting anonymity said the Pakatan Harapan government is trying to downplay expectations by highlighting some of the country's financial problems.
"I think the RM1 trillion debt is just being highlighted to manage expectations. If you look at the numbers, it's not something new [if taking into consideration the GG debt). Of course, there is not much clarification by the ministers at the moment," he said.
Nevertheless, he is positive on some of the new government's measures to curb its operating expenditure such as the 10% deduction in salary for ministers, the abolishment of the Land Public Transport Commission, which will be absorbed into the transport ministry, and the government's commitment to reduce the RM1 trillion debt.
"While I think it's not possible to reduce the fiscal deficit with the measures mentioned, and it remains net negative given the removal of GST and the potential removal of tolls, it is however a good start," he said.