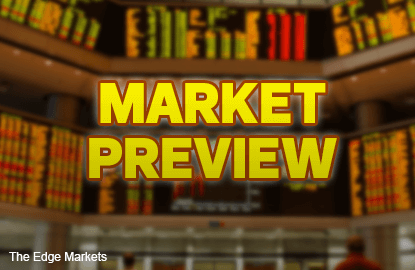 KUALA LUMPUR (Nov 6): The FBM KLCI is in a position to trade higher today, but gains are seen limited as investors may square positions ahead of a holiday shortened trading period next week.
Wall Street closed lower on Thursday as energy shares were weighed down by falling crude prices while U.S. treasury yields rose and gold prices fell as investors bet U.S. jobs on Friday could help prompt an interest rate hike as soon as next month, according to Reuters.
A day after Federal Reserve Chair Janet Yellen referred to December as a "live possibility" for a U.S. rate hike, investors were waiting for Friday's key monthly nonfarm payrolls report to gauge if the data is strong enough to prompt a liftoff, it said.
AllianceDBS Research in its evening edition Thursday said that supported by the up close in the preceding day, the FBM KLCI had on Nov 5 rode on the positive momentum to trade into the 1,690 zone as market participants continued to play on the buying side in anticipation of a higher market.
The research house said the benchmark index subsequently reached a high of 1,696.99.
However, it said profit taking activity pushed the market back down below 1,690 to close at 1,688.54 (+2.92, +0.17%).
"In the broader market, gainers outnumbered losers with 453 stocks ending higher and 412 stocks finishing lower. That gave a market breadth of 1.09 indicating the bulls were in control," it said.
AllianceDBS Research said the benchmark index continued to make higher high on Nov 5 for 3 consecutive days with the upside gap left behind on Nov 4 remained open.
"Over the past 3 days, the market may have risen by 38 points measuring from the low of 1,658 (Nov 2) to the high of 1,696 (Nov 5), but the minority well-informed knowledgeable market participants were seen still taking advantage of the imbalanced buying demand and selling supply forces presented in the game play.
"This is simply because the out-of-balance relationship would determine the next immediate market direction. Following the up close on Nov 5, the market is ready to test higher again with immediate hurdle pegged at 1,695.
"A crossover of 1,695 could send the benchmark index back into the 1,700 zone before running into the resistance selling area at 1,708," it said.
The research house said the market support was pegged at 1,677, adding that indicator wise, the MACD was still below the 9-day moving average line.
"The analysis of overall market action on Nov 5 revealed that buying power was stronger than selling pressure.
"As such, the FBM KLCI would likely trade above the 1,696.99 level on Nov 6," said AllianceDBS Research.