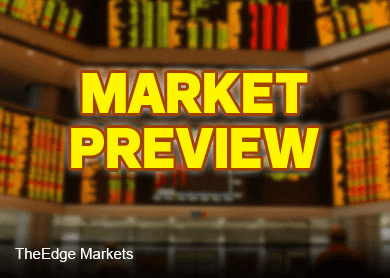 KUALA LUMPUR (June 2): The FBM KLCI is expected to trade sideways today on the back of the modest overnight gains at Wall Street given the still jittery local investor sentiment.
The U.S. dollar gained on Monday after a round of economic data kept expectations alive for an interest rate hike from the Federal Reserve this year, while the euro fell on worry about Greece's financial crisis and soft euro zone data, according to Reuters.
The strengthening dollar weighed on oil prices, which were also dented by expectations OPEC production would remain high, it said.
U.S. stocks closed modestly higher in a choppy session as a deal by Intel Corp to acquire Altera for $16.7 billion helped lift the technology sector, said Reuters.
AllianceDBS Research in its evening edition Monday said that the FBM KLCI had on June 1 broken the 1,740 support to reach an intraday low of 1,732.27 as market participants continued to play on the selling side in anticipation of a lower market.
The research house said that under the persistent selling interest, the benchmark index was in the red throughout the trading sessions before climbing back up above 1,740 to settle at 1,743.41 (- 4.11, - 0.24%).
"In the broader market, losers outnumbered gainers with 436 stocks ending lower and 378 stocks finishing higher. That gave a market breadth of 0.86 indicating the bears were in control," it said.
AllianceDBS Research said that the benchmark index fell further to reach a low of 1,732.27 on the first trading day of June 2015.
The research house said the selling supply was again overwhelming as market sentiments continued to stay weak.
It said many market participants with stock positions in hands were worried about keeping their stock positions longer, this can be seen from the sell down to the low of 1,732.27.
"The recent sell-downs have placed the market in an extended oversold zone.
"Following the off day's low on June 1, some risk taking buyers appeared to have taken advantage of the lower market to establish stock positions in anticipation of a technical rebound.
"However, it is still premature to confirm anything at this juncture," it said.
The research house said a fall below 1,740 again should see the benchmark index gearing downward with subsequent support at 1,700.
It said the overhead hurdle was at 1,760, adding that indicator wise, the MACD was below the 9-day moving average line.
"The analysis of overall market action on June 1 revealed that buying power was weaker than selling pressure.
"As such, the FBM KLCI would likely trade below the 1,732.27 level on June 2," said AllianceDBS Research.