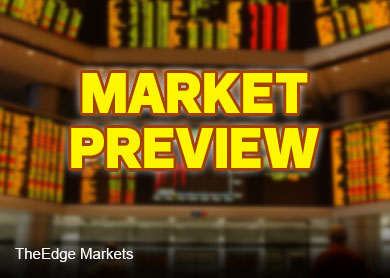 KUALA LUMPUR (Nov 13): The FBM KLCI is likely to extend its losses today on weaker buying sentiment, in line with the slightly lower overnight close at Wall Street.
U.S. equity prices edged off record highs on Wednesday led by weakness in the financial sector after six global banks were fined a total of $4.3 billion for currency rigging, while the oil market sagged on concerns about a supply glut, according to Reuters.
Global regulators fined UBS AG , HSBC Holdings Plc, Bank of America Corp, Royal Bank of Scotland, JPMorgan and Citigroup Inc for failing to stop their traders from trying to manipulate the foreign exchange market, it said.
The Dow and S&P 500 ended slightly lower on Wednesday, breaking their five-day streak of record closing highs as energy and utility shares lost ground, while the Nasdaq climbed, said Reuters.
AllianceDBS Research in its evening edition Wednesday said the FBM KLCI extended its fall on Nov 12, adding that the benchmark index broke the 1,822 support to settle at the day's low of 1,816.24 (- 8.87, - 0.49%) as market participants continued to play on the selling side in anticipation of a lower market.   
It said that in the broader market, losers outnumbered gainers with 510 stocks ending lower and 265 stocks finishing higher.
"That gave a market breadth of 0.51 indicating the bears were in control," it said.
Alliance DBS Research said sellers continued to be the dominant force in the game play on Nov 12.
It said the downside violation of 1,822 [38.2% retracement of the rise from 1,766 (17 Oct 2014) to 1,858 (3 Nov 2014)] did not pose any surprise because there were already attempts made earlier to gauge the availability of supporting strength at that level.
"The inability of the market to pull up strongly on Nov 11 somehow revealed the reluctance on the part of buyers to lend a supportive hand.
"This gave an opportunities for the sellers to capitalise on the situation," it said.
The research house said following the down close at 1,816.24, the benchmark index was likely to test the next support at 1,812 [50% retracement].
Indicator wise, the MACD is below the 9-day moving average line, it said.
"The analysis of overall market action on Nov 12 revealed that buying power was weaker than selling pressure.
"As such, the FBM KLCI would likely trade below the 1,816.24 level on Nov 13," it said.