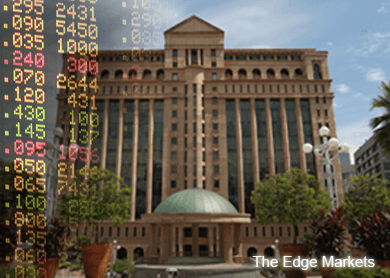 KUALA LUMPUR (June 6): The FBM KLCI is expected to extend its consolidation mode next week as local equities are seen struggling to shrug off their heavy monthly losses in May.
The S&P 500 was trading near flat late Friday afternoon as optimism over further signs of recovery in the U.S. labor market was offset by increasing views the Federal Reserve could raise rates as early as September, according to Reuters.
Stronger-than-expected jobs data for May and a pickup in wages were the latest signs of better momentum in the economy, it said.
Affin IB vice president and head of retail research Datuk Dr Nazri Khan said that following the monthly loss of the FBM KLCI in May (biggest loss since August 2011) and failed test of multiple support level (1800, 1780 & 1750), he expects the FBM KLCI to fall further driven by renewed bond volatility (German 10Y Bond & Japanese 10Y Bond at 1 year high) and ringgit renewed weakness.
Nazri said that local equities were still struggling to recover after having the biggest monthly loss in four years (since August 2011 following oil and ringgit volatility) where the FBM KLCI corrected 135 points or 7.2% over the last six weeks.
He explained that equity markets sentiments were dragged by weak manufacturing data in the USA/Europe and dim hopes that a deal between Greece and its creditors is within reach.
Nazri said that on the domestic front, the ringgit tumbled further and was not relieved from news that 1MDB would be rationalised and debt to be cut by RM16 billion.
"We expect foreign investors to remain sideways despite the 1MDB deal with Abu Dhabi's International Petroleum Investment Company (IPIC) and its unit, Aabar Investments to restructure its debt substantially.
"In exchange, 1MDB will provide IPIC and Aabar with a number of financial assets, including units that are held in the company's BSI Singapore account," he said.
However, Nazri said he expects positive outcome from the meeting between Ministry Finance and Fitch International Rating Agency to discuss Malaysian sovereign rating.
Nazri said he expects robust Malaysian banking system, resilient economic fundamentals and strong initiatives on fiscal consolidation to give positive indicators to the rating agency.
"Two huge corporate news flow is likely to lead market play next week.
"Firstly, Sime Property which propose to take full control of Malaysia Land Development Company via a selective capital reduction and repayment exercise, will allow Sime to venture into hotel resort operations and property development.
"Secondly, Malaysia Airports Berhad which decided to expand substantially airport facilities at Kota Baharu International Airport (KBIA), Kota Kinabalu International Airport (KKIA) and Kuching International Airport (KIA) will boost its bottom line while at the same time promote more international flights and entertainment travellers to Malaysia," he said.
Nazri, who is also president of the Malaysian Assocciation of Technical Analayts, said that on the technical front, the previous week saw the FBM KLCI continue its sixth losing weekly streak, driven down by Telekom Malaysia Bhd and Tenaga Nasional Bhd due to news reported that there could be tariff cuts soon.
He said the FBM KLCI failed to break above 1,750 resistance level while several doji candlesticks appeared in the daily technical chart suggesting more downside ahead.
"With the concern over the uncertainty in Greece, uncertain ringgit and crude oil price underpinned by oversold reading from major oscillators, we believe the FBM KLCI is likely to continue its downtrend testing 1,700 support level over the next weekly session.
"Technology and Trading Service sector led Bursa stock market higher, although the battle with overhead resistance at 1750 has not yet been won," he said.
Nazri said that in fairness to the bulls, however, the uptrend line drawn from the March 2009-December 2014 low had been violated and the overall pattern puts the momentum squarely on the riding bears.
Overall, he said the FBM KLCI should extend its consolidation mode, mirroring bearish global market's performance as the Fed is likely to increase interest rate first time in eight years.
"Strategy wise, conservative investors should stay out while aggressive investors should short index futures while accumulate our Top Buys in June namely IHH Healthcare Bhd, KPJ Healthcare Bhd, TMC Life Scineces Bhd, UEM Edgenta Bhd, Prestraiang Bhd, Westports Holdings Bhd. Berjaya Auto Bhd, Inari Amertron Bhd, Malaysian Pacific Industries Bhd, Globetronics Technology Bhd, Unisem (M) Bhd, GHL Systems Bhd, JCY International Bhd, Elsoft Research Bhd and KESM Industries Bhd," he said.