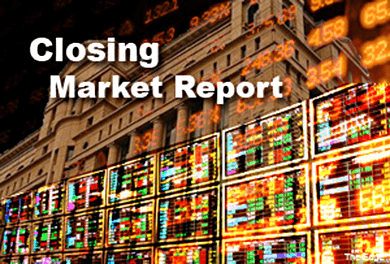 KUALA LUMPUR (July 13): Malaysian stocks closed higher today after Greece avoids an exit from the euro and as a global financial chaos would result, as Eurozone leaders reach a unanimous deal over a third Greek bailout.
At 5pm, the benchmark index inched up 0.53 points or 0.03% to close at 1,716.11 points. It had earlier risen to an intraday high of 1,718.39 points.
Worst performers outnumbered best performers with 360 to 357, while some 322 counters remained unchanged. Some 1.49 billion shares, worth RM1.45 billion, were transacted throughout the trading session.
Rising stocks include British American Tobacco (Malaysia) Bhd, VS Industry Bhd and SAM Engineering & Equipment (M) Bhd.
Declining stocks include United Plantations Bhd, Chintek Plantation Bhd and Genting Plantation Bhd.
Actively-traded stocks include China Automobile Parts Holdings Ltd, Frontken Corp Bhd and AirAsia Bhd.
"As the major external headwinds — the Greek crisis was resolved today, I foresee the stock market to gradually recover.
"I reckon that investors will start to invest in the ACE Market, instead of index-linked put warrants," William Capital's chief investment officer William Ng told theedgemarkets.com over the phone.
He estimated the benchmark index will likely stay between 1,750 points and 1,700 points, until the announcement of the second quarter's corporate earnings.
According to Bloomberg, Greece has reached an agreement with its creditors over the reforms needed to start formal negotiations over a third bailout program.
The report said Greek Prime Minister Alexis Tsipras achieved a settlement with his European creditors, after almost 17 hours of talks in Brussels ended Monday morning.
In the currency market, US dollar appreciated 0.22% against the ringgit to quote at 3.8025 at the point of writing. In comparison, the ringgit strengthened against the Singapore dollar to trade at 2.8097 per Singapore dollar.
Meanwhile, the Brent crude oil for August delivery was down 1.79% to trade at US$57.68 per barrel, while the West Texas Intermediate (WTI) for August delivery also fell 1.93% to US$51.72 per barrel.
Regional bourses were also up: Japan's Nikkei 225 closed 1.57% higher at 20,089.77 points, while South Korea's KOSPI rose 1.49% to close at 2,061.52 points. Hong Kong's Hang Seng Index added 1.3% to 25,224.01 points.
Reuters reported today that the euro steadied on Monday after an early slip, while Asian shares swung higher as European leaders pressed on with talks for a Greek deal, and Chinese trade data beat forecasts in a promising sign for global demand.