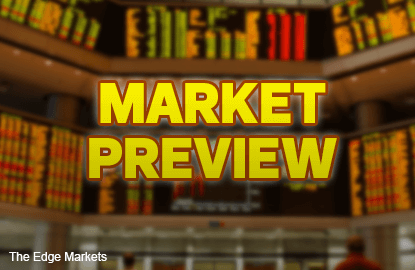 KUALA LUMPUR (Nov 16): The FBM KLCI is expected tro face more downward pressure today in line with the anticipated sell-off  on at most global markets in the aftermath of the bloody terrorist attacks in Paris last week.
Global stocks are set for a short-term sell-off on Monday after Islamist militants launched coordinated attacks across Paris that killed 129 people, but analysts said a prolonged economic impact or market reaction was unlikely, according to Reuters.
President Francois Hollande has declared a state of emergency, ordering police and troops into the streets, and set three days of official mourning after the attacks he called an "act of war" by Islamic State, it said.
AllianceDBS Research in its evening edition last Friday said the FBM KLCI had on Nov 13 traded lower to 1,651.45 as market participants continued to play on the selling side in anticipation of a lower market.
It said that in the absence of stronger buying interest, the benchmark index was in the red throughout the trading sessions before recovering to settle at 1,658.91 (-4.29, -0.26%).
"In the broader market, losers outnumbered gainers with 558 stocks ending lower and 339 stocks finishing higher. That gave a market breadth of 0.60 indicating the bears were in control," it said.
AllianceDBS Research said market selling pressure continued on Nov 13 with FBM KLCI fell further to a low of 1,651.45.
"However, market participants were seen not interested to play a more aggressive selling game in the area of 1,651 for fear of sudden market turnaround as the benchmark index had been falling over the past few days with the day's low of 1,651.45, only 4 points away from the lower end of the support zone pegged between 1,647 and 1,658.
"There may be supportive buying activity to narrow the size of the down close on Nov 13, but it remains pre-mature to confirm a clear direction at this juncture, given the unfilled downside gap left behind on 11 Nov 2015.
"The market hurdle is at 1,670. A crossover of 1,670 should pave the way for the index towards the next resistance at 1,680," it said.
The research house said that indicator wise, the MACD was below the 9-day moving average line.
"The analysis of overall market action on Nov 13 revealed that buying power was weaker than selling pressure.
"As such, the FBM KLCI would likely trade below the 1,651.45 level on Nov 16," said AllianceDBS Research.