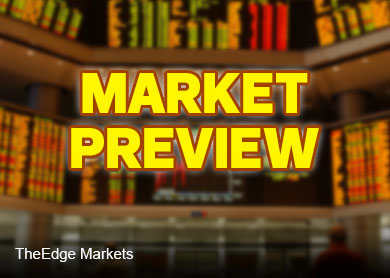 KUALA LUMPUR (Nov 27): The FBM KLCI could extend its positive run today on the back of higher overnighr closing at most bourses and all-time closing highs of the Dow Jones and S&P 500.
At the global markets, the dollar fell on Wednesday after disappointing U.S. home sales data, but global equity markets edged higher on hopes for more stimulus from the European Central Bank and the prospect that stocks may be a better investment than other alternatives, according to Reuters.
The Dow and S&P 500 set all-time closing highs.
The less-than robust data fed worries the U.S. economy might be losing momentum. Also feeding that concern was data showing U.S. consumer spending rose modestly in October while a key measure of business spending plans fell for a second straight month, said Reuters.
M & A Securities researh head Rosnani Rasul in a market preview Thursday said Wall Street resumed their buying momentum after a brief pause yesterday with market participants picking up stocks ahead of the short trading week.
She said the S&P 500 and DJIA gained 5.80 (0.28%) and 12.81 (0.07%) points to end at 2,072.83 and 17,827.65 respectively, pushing both indexes to hit all time high again.
Rosnani said this was arguably Wall Street's longest streak of record smashing feat, adding that investors were bombarded with a host of economic releases on Wednesday of which the results came in mixed at best.
"Above all, there seems to be better risk tolerance yesterday especially in the absence of damaging news flow.
"Note that OPEC will hold its latest meeting in Vienna on Thursday where this could influence the direction of global crude oil price next week.
"In any case, there is a fair chance for the local market to continue gaining traction especially when the mood will be influenced by the brewing UMNO general assembly which is on-going until the end of the week," she said.