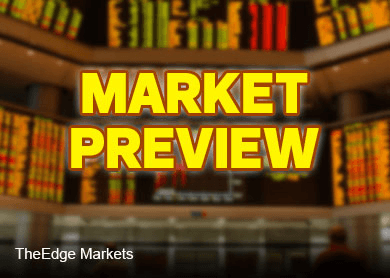 KUALA LUMPUR (Dec 19): The FBM KLCI is expected to trend higher and close the week on a positive note today, in line with the gains at most global markets as Wall Street jumping nearly 2.5% overnight.
Global equities markets rallied on Thursday, with Wall Street  surging nearly 2.5%, as investors buoyed by policy comments from the U.S. Federal Reserve moved into riskier holdings, according to Reuters.
The Swiss franc tumbled after the country's central bank announced a surprise charge on deposits, wary of a flood of money exiting Russia and likely inflows from the euro zone if the European Central Bank starts full-scale money printing early next year.
Wall Street powered higher, with the S&P 500 putting up its best two days of gains since November 2011, according to Reuters data. Health and technology shares were among the strongest U.S. sectors, said Reuters.
AllianceDBS Research in its evening edition Thursday said the FBM KLCI had on Dec 18 started the day on a strong note as market participants decided to stage a follow through buying support in anticipation of a higher market.
It said under the sustained buying activity, the benchmark index crossed over the 1,700 level to reach a high of 1,704.85 before settling at 1,699.95 (+1.05, +1.07%).
"In the broader market, gainers outnumbered losers with 761 stocks ending higher and 180 stocks finishing lower. That gave a market breadth of 4.22 indicating the bulls were in control," it said.
AllianceDBS Research said the benchmark index had on Dec 18 posted for the first time with 2 consecutive days of up close since Nov 27.
It said the follow through buying activity was believed to be more of technical reason as the market was already due for a rebound after the recent sell-off.
The research house said following the up close on Dec 18, the benchmark index has recovered 33 points (1,704 (18 Dec 2014) minus 1,671 (17 Dec 2014)) or 23% out of the 144 points loss (1,845 (27 Nov 2014) minus 1,671 (17 Dec 2014)).
It said a crossover of 1,700 level again should see the benchmark index gearing towards the next resistance at 1,720.
Indicator wise, the MACD is below the 9-day moving average line, said the research house.
"The analysis of overall market action on Dec 18 revealed that buying power was stronger than selling pressure.
"As such, the FBM KLCI would likely trade above the 1,704.85 level on Dec 19," it said.